Five years after his last film, the rather disappointing "My Blueberry Nights," Wong Kar-Wai is back with his latest feature, "The Grandmasters," for which we finally have a trailer.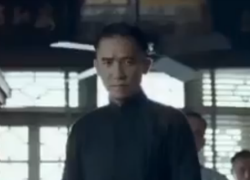 The film, about the life of martial arts master Ip Man, who taught Bruce Lee among others, sees the director, who tends to work with a small pool of actors, reuniting with Tony Leung (who plays the main character), Chang Chen, and Zhang Ziyi. Unfortunately, the trailer is in Cantonese, so we can't really tell you how much of the plot it reveals, but wow, does this film look beautiful (even a drop of blood looks striking). This should come as no surprise to anyone who knows anything about Wong Kar-Wai, who, despite making films that tend to be a little understated, also fills them with images that stick with you long after the closing credits. It should be noted that the cinematographer is Philippe Le Sourd, rather than than the filmmaker's frequent collaborator Christopher Doyle, who he's worked with seven times (from "Days of Being Wild" through "2046″). Only time will tell if "The Grandmasters" is a return to form for the director, who faltered, to the say the least, with his English-language debut, but we have high hopes for his foray into 1930s-set kung fu drama.
-Bryan Hood, BLOUIN ARTINFO
More of Today's News from BLOUIN ARTINFO:
Upcoming Fundraisers to Help Storm-Stricken New York Artists and Spaces
EMERGING: Serra Victoria Bothwell Fels Erects Eerie Environments From Debris
From Catherine the Great's Desk to Arty Action Figures, NYC's Salon Fair Dazzles
Steven Spielberg's Sober, Masterly "Lincoln"