Commuters in Las Vegas were shocked out of their morning traffic routines on Wednesday when they spotted mannequins dangling from a pair of freeway-adjacent billboards scrawled with cryptic messages of discontent about Wall Street and the job market. Concerned motorists began calling 911 as the sun came up, AP reports, for fear that the dangling silhouettes were real suicides. One of the billboards featured the words "Dying for Work" in large white letters, while the other read "Hope You're Happy Wall Street."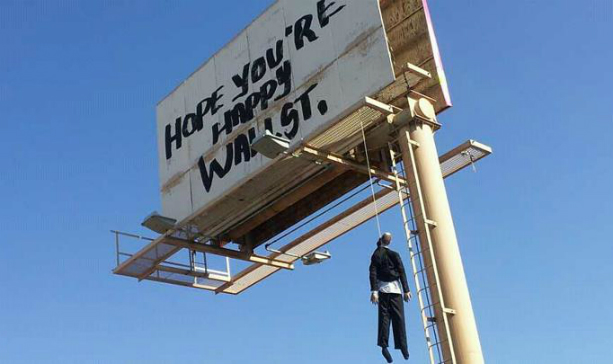 The startling street art in Las Vegas / Courtesy occupylasvegas.org
Though nobody has claimed responsibility for the startling street art stunt, images of the two hangmen billboards were posted on Occupy Las Vegas's website on Wednesday, along with unemployment and suicide statistics for Nevada and Clark County, which includes Las Vegas. "Nevada has the highest sustained unemployment of any state in the U.S.," the post reads, "with almost no real hope in sight and politicians more concerned with corporate campaign donations than they are helping the middle class and poor."
"It's a publicity stunt, obviously done in bad taste," Nevada Highway Patrol trooper Jeremie Elliott told AP.
Responding authorities worked quickly to take the ominous installations down so that they wouldn't distract drivers. An employee of Lamar Advertising Co., which owns one of the billboards, considered the hangmen and their painted messages vandalism rather than a publicity stunt. The other billboard is owned by Clear Channel Outdoor.
"We condemn the destructive behavior against one of our billboards because it is illegal and punishes our advertisers," Clear Channel spokesman Jim Cullinan told the AP. "This is not an innocent protest, but it is illegal and dangerous behavior that Clear Channel Outdoor and the industry will not accept."
Sebring Frehner, who posted the photos of the installation on Occupy Las Vegas's website, had a different take: "People saying it's in bad taste are living sheltered lives and don't pay attention to what affects the working class."
-Benjamin Sutton, BLOUIN ARTINFO
More of Today's News from BLOUIN ARTINFO:
ARTINFO's Definitive List of the 30 Best Dressed People in the Art World, From Klaus Biesenbach to Olympia Scarry
Rio Olympics Masterplan Highlights an Emerging Focus on Leaving a Sustainable Legacy (And Farmers Markets)
Woody Harrelson and Frankie Hyman on "Bullet for Adolf," and the Unforgettable Summer of '83
Dressing Marilyn Monroe: Seven Designers Behind the Bombshell's Iconic Wardrobe
"It Represents the Artifice of Sex": Kiki Smith on Times Square and Her Site-Specific Installation
Like what you see? Sign up for BLOUIN ARTINFO's daily newsletter to get the latest on the market, emerging artists, auctions, galleries, museums, and more.