ARTINFO presents a guide to the most interesting gallery openings and art events in New York each week.
What a week of discoveries, or at least the unveiling of discoveries! Two-thousand-year-old cave paintings are being displayed in Petra, Jordan, while the lost work of Robert Capa has been put on view in New York. Long-private artwork from the Lehman Brothers collection has hit the block, letting the public see its treasures at least briefly.
You want more treasures? Then head to Sotheby's, where former Guggenheim director Lisa Dennison has assembled quite a trove, from the heaven-themed to the hellish. Let's focus on the former first: newly announced "genius" grant winners must be residing there, thinking about their forthcoming $500,000 payout. Prado officials also grabbed a little slice of heaven with the authentication of a brand new Bruegel. Where will Gil Vicente be fated to land now that his violent depictions of the murder of various world leaders has gone on view? It's hard to say, but heaven may be hard to come by now.
This week dancers took to the streets of New York, and now ARTINFO hopes you will take this guide to its galleries!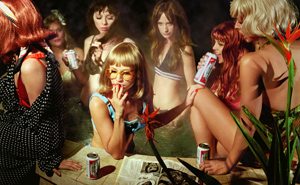 Alex Prager's "Susie and Friends" from the series "The Big Valley," 2008 / © 2010 Alex Prager, courtesy Yancey Richardson Gallery
"New Photography 2010: Roe Ethridge, Elad Lassry, Alex Prager, Amanda Ross-Ho"
Museum of Modern Art, 11 West 53rd Street
Opening Wednesday, September 29, 10:30 a.m.-5:30 p.m.
moma.org
If MoMA's Abstract Expressionist show is the grand museum feast of the season, "New Photography 2010" is the most sumptuous, tantalizing dessert. Photos by Alex Prager (the youngest here) strike most immediately: giant staged shots of individuals and crowds that drip with color and melodrama. Meanwhile, Elad Lassry places otherworldly photos of mushrooms, peppers, and ceramic monkeys in colored frames and Amanda Ross-Ho hones her assembled networks of images. The always-dependable Roe Ethridge outdoes himself with pictures of a pumpkin, a pixilated scarf, and a bowl of fruit draped with a wispy layer of mold.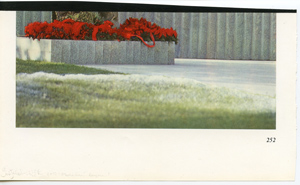 Detail of Svatopluk Mikyta's "Distant Country," 2010 / Courtesy International Studio & Curatorial Program
"There Will Be No Future, There Will Be No Past"
International Studio & Curatorial Program, 1040 Metropolitan Avenue, Brooklyn
Opening Friday, October 1, 7-9 p.m.
iscp-nyc.org
Just a week after the Austrian Cultural Forum opened a show devoted to art from Serbia, the ISCP is looking at art from Central and Eastern Europe. But there is a trick here: curators invited eight artists whose work specifically "does not address the social and political history of their countries." They then asked each of those artists to nominate another artist to participate. Will broad networking lead to a fresh clarity or a tangled curatorial mess? We'll see!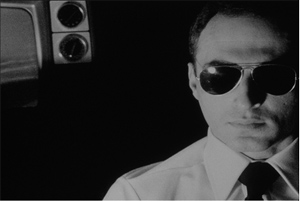 Still from Michael Oblowitz's "Minus Zero," 1979 / Courtesy LOUIS V E.S.P.
"Raw Stock: No Wave Films from Downtown NYC, 1976-1984"
Louis V E.S.P, 140 Jackson Street, #4D, Brooklyn
Friday, October 1, 7-11 p.m.
louisvesp.com
While many of the forces behind New York's abrasive late 1970s No Wave music scene -- Lydia Lunch, Mars, DNA, and so forth -- have since become cult heroes, the filmmakers involved in the movement (if it can be called that) are comparatively little known. This series could help change that, with screenings of films like Michael Oblowitz's 1979 'psycho noir' "Minus Zero" and "Barbie," a 1977 short by Tina L'Hotsky, which organizers bill as a "witty commentary on female objectification." A second night of screenings is scheduled for October 8.
-Andrew Russeth
Visit ARTINFO.com to see the rest of our New York gallery opening and art event picks and to get the latest in art news and culture trends from around the world.
Follow ARTINFO on Foursquare: http://foursquare.com/artinfo