ARTINFO presents a guide to the most interesting gallery openings and art events in New York each week.
All eyes turn to New York auction rooms this week (and next), with the big three set to move a cool billion in art. Sotheby's got a good start on that yesterday, selling a Modigliani for almost $69 million. Christie's, fresh off a record in Dubai, and with a potential buyer circling above, is up tonight. Next week they will be offering one big, shiny Koons.
Off the auction circuit, there is plenty to watch, as well. Saatchi has a new show up, curator Lisa Freiman is getting to work on the U.S. pavilion for the Venice Biennale, and AOL has bestowed $25,000 grants on 25 very lucky artists. ARTINFO has a pair of tantalizing features, if you're looking for something different: a look at a book about the history of nudity in American art and a profile of Takashi Murakami's questionable fashion sense. With all of that said, this week's gallery openings are nothing to scoff at. Let's do this!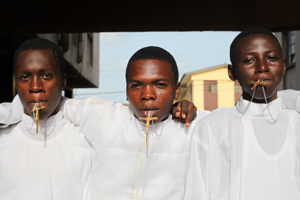 A still from Zina Saro-Wiwa's "The Deliverance of Comfort," 2010 / Courtesy of the artist, Location 1
"Sharon Stone in Abuja"
Location One, 26 Greene Street
Opening Thursday, November 4
location1.org
British-Nigerian filmmaker Zina Saro-Wiwa is at the helm here, bringing together work that concerns the Nigerian film industry, aka Nollywood. Timed to coincide with the 50th anniversary of that nation's independence, the show includes new work by Wangechi Mutu (who also has a new show at Gladstone), Andrew Esiebo, and Mickalene Thomas, whose contribution is a readymade living room that includes a stash of palm wine on a side table. Its walls are covered with large photographic portraits that burst with color, filled with patterned textiles worthy of Malick Sidibé's photographs.
Andy Warhol
"Warhol's Andys"
Ronald Feldman Fine Arts, 31 Mercer Street
Opening Friday, November 5, 6-8 p.m.
feldmangallery.com
Given that a nine-foot-square 1986 Warhol self-portrait sold for $32.6 million at Sotheby's earlier this year (becoming the most expensive work of art from the 1980s ever sold at auction), it certainly seems like an opportune time for a survey of Warhol self-portraits. However, this show, organized around just that premise, takes a look at lesser-known pieces within that body of work, like paintings from the early 1980s, in which the Pop artist depicted himself as the radio character "The Shadow" and a late '70s work that shows him being strangled from behind, a memento mori and self-portrait in one.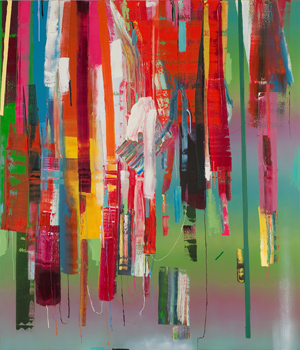 Tomory Dodge's "Absolutely Curtains" is part of "Inaugural Exhibition" at CRG Gallery's new space. / Courtesy CRG Gallery
"Inaugural Show" at CRG Gallery, and Kristen Morgin, "New York Be Nice" at Zach Feuer
548 West 22nd Street
Opening Saturday, November 6, 6-8 p.m.
crggallery.com
Anyone moving into the former home of Dia:Chelsea has big shoes to fill. CRG is approaching that challenge with a 12-artist group show, including ebullient colorist Angela Dufresne, the category-resistant sculptor Colby Bird, and the estimable Tonico Lemos Auad, whose pigeon-rich 2008 show at the gallery was a surprise hit. The young Feuer is opting to christen his new space with a solo show of work by L.A. artist Kristen Morgin, who uses clay, wood, and sundry other materials to build uncanny variations on familiar objects. Will they be up to the task of filling the space that Friedrich and Menil built?
-Andrew Russeth
Visit ARTINFO.com to see the rest of our New York gallery opening and art event picks, to sign up for our daily arts digest email, and to get the latest in art news and culture trends from around the world.
Sign up for ARTINFO's Daily Arts Digest: http://www.artinfo.com/newsletter/
Follow ARTINFO on Foursquare: http://foursquare.com/artinfo