ARTINFO presents a guide to the most interesting gallery openings and art events in New York each week.
If you had predicted 10 -- or even five -- years ago, that two of postwar America's finest and most revered artists would be having shows on the Lower East Side in the fall of 2010, you would have been told that you were out of your mind. But you also would have been smarter than the rest of us: major new exhibitions of work by Bruce Nauman and Pat Steir open to the public in the neighborhood this week, a definite milestone for the fast-maturing district. Another, more ignominious, milestone: some work that was on view in the neighborhood just last year -- a panel piece from Agathe Snow (who recently opened a show in Paris) and a Jacob Kassay monochrome, to name two examples -- found their way to Phillips this week. But they sold, and well: making $12,500 and $86,500, respectively. (The Kassay had an estimate of $6-8,000, so, yow.)
All of that said, there are alluring offerings across Manhattan this week, from an epic Judith Bernstein offering up on Leo Castelli's old street to a sophomore show from a promising young Israeli in Chelsea. It is shaping up to be a thrilling week.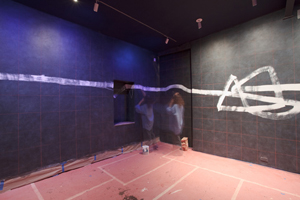 An installation view of Pat Steir's "The Nearly Endless Line" at Sue Scott Gallery / Courtesy Sue Scott Gallery
Pat Steir, "The Nearly Endless Line"
Sue Scott Gallery (1 Rivington Street)
Opening Wednesday, November 10, 6-8 p.m.
suescottgallery.com
Sue Scott Gallery has been offering teases of this hulking site-specific installation on its Web site and its Twitter feed over the past few days, documenting its second-floor space as Steir has transformed it into a dark, purple-neon-lit cave that could be a set for an art-world "Tron" sequel. "Installation allows the artist to paint out of the painting," Steir says in the show's press release. "The space where the act of painting takes place is in the imagination of the viewer." This looks like it has the potential to become the Lower East Side's "Dream House."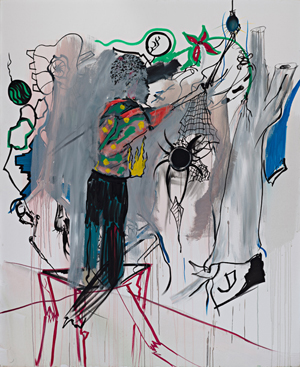 Avner Ben-Gal's "Blue Light Bulb," 2010 / Couresy Bortolami Gallery
Avner Ben-Gal, "Smackville"
Bortolami (520 West 20th Street)
Opening Thursday, November 11, 6-8 p.m.
bortolamigallery.com
Israeli artist Avner Ben-Gal is an accomplished colorist and a sensitive painter of chilly, sometimes dilapidated, scenes of marginal people and places -- for instance, the ruins left by a tsunami or a jail cell -- though he frequently obscures those talents with slapdash drips and cuts of paint. Think of him as a more energetic, charmingly reckless Wilhelm Sasnal, whose color palette he shares. His recent interest is representing the effects of drugs (opiates, specifically) on humans and animals, the inspiration for two new series: a set of oil paintings and giant drawings made with black markers that show his subjects in "hysterical" states.
Visit ARTINFO.com for the rest of our editor's picks for the week's best New York gallery openings.
-Andrew Russeth
Sign up for ARTINFO's Daily Arts Digest: http://www.artinfo.com/newsletter/
Follow ARTINFO on Foursquare: http://foursquare.com/artinfo