ARTINFO presents a guide to the most interesting gallery openings in New York each week.
Summer is in full swing, and ARTINFO is feeling a little schizophrenic -- or rather (James) Francophrenic -- because of all the wonderful opportunities this season presents. Mad Men has returned to TV, chock full of good design; Katy Perry is promoting her new album, Will Cotton in tow; and arty films are in theaters. It's not just New York, though: the art world is buzzing around the globe. The Israel Museum has unveiled a renovation, the Vatican is excommunicating a "Caravaggio," and Lady Gaga is trying her hand at art, with some help from Duchamp.
Below, two great shows (and visit ARTINFO for the rest of our gallery opening picks).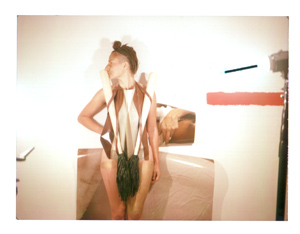 Courtesy Higher Pictures
"MPA + Katherine Hubbard"
Higher Pictures, 764 Madison Avenue
Opening Wednesday, July 28, 7-9 p.m.
higherpictures.com
One of the most electrifying moments of the past art season was a performance by MPA (the stage name of artist Megan Palaima) at Cleopatra's in Greenpoint that involved broken glass, self-mutilation, and blood. For this three-week show, Palaima has teamed with artist Katie Hubbard to make a series of "fashion articulations" for a new art feminist periodical called RANDY that will be published in September. Nine hundred photographs of the duo performing will be posted on walls, free to take for anyone that comes through.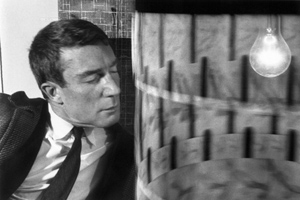 Copyright Harold Chapman/Topham/The Image Works, Courtesy New Museum
"Get Weird: Lee Ronaldo + Leah Singer and Nick Zinner"
New Museum for Contemporary Art, 235 Bowery
On Friday, July 30, 7 p.m.
newmuseum.org
Sonic Youth guitarist Lee Ronaldo is a busy man lately, performing in friend Christian Marclay's Whitney retrospective, playing with his main band, and now linking up with Leah Singer for an audiovisual bonanza inspired by the effects of Brion Gysin's hallucinatory "Dreamachine," on view in the museum. Nick Zinner, guitarist for the Yeah Yeah Yeahs, will share his love for the artist's eccentric spinning artwork with a concert that will be the musician's first-ever solo appearance.
- Andrew Russeth
Visit ARTINFO.com to see the rest of our weekend gallery opening picks and to get the latest in art news and culture trends from around the world.
Follow ARTINFO on Foursquare: http://foursquare.com/artinfo