Today the Indianapolis Museum of Art named Dr. Charles L. Venable as its new director and CEO. Venable, who is currently the CEO and director of Louisville's Speed Art Museum, will begin his new job on October 8. Venable succeeds his close friend Maxwell Anderson, who left Indiana to become the director of the Dallas Museum of Art at the beginning of this year.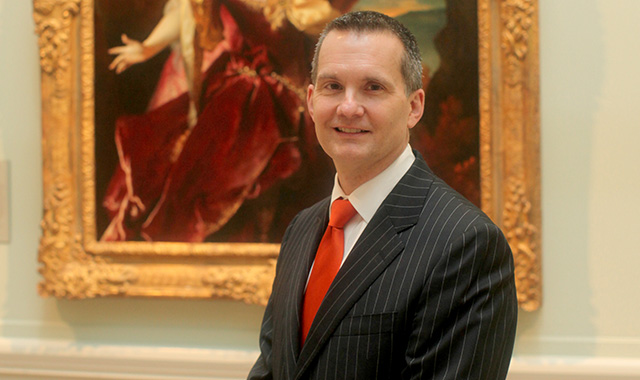 Dr. Charles L. Venable, the Melvin and Bren Simon Director and CEO of the Indianapolis Museum of Art
/ Courtesy James Meredith

"Being in the same part of the country, they are fairly similar in many ways," Venable told ARTINFO of the Speed and the IMA. He spoke to us as he prepared to head on a tour of the director's residence, one of the unusual perks of his new position. (The Clowes family, which donated many of the pieces in the IMA's Old Master collection, also transferred their 1922 estate, which is located five minutes away from the museum, to the director.) "The biggest difference is sheer scale. The IMA is about five times larger than the Speed Art Museum."
Over the course of his 25-year career, Venable has worked at a number of encyclopedic museums comparable to the IMA in scale. He had stints at the Dallas Art Museum and the Cleveland Museum of Art prior to his five-year tenure at Speed. During his time in Kentucky, he launched a top-to-bottom analysis of the institution's 14,000 piece collection, oversaw a series of major acquisitions, and set into motion a major wHY Architecture-designed 200,000-square-foot expansion into a new building, the "New Speed," which is on track to open in 2015. In addition to these major curatorial advances, Venable's tenure saw major increases in membership, a very successful fundraising campaign for the expansion, and a reduction in the museum's draw from its endowment.
Venable began his curatorial career as a decorative arts specialist, building the DMA's holdings of silver and ceramics into one of the preeminent such collections in the country. (He also wrote a 1994 book on the subject, entitled "Silver in America, 1840-1940: A Century of Splendor.") His vision for the IMA, on the other hand, is much broader. Venable said he is most excited about pursuing horticulture and outdoor sculpture at the museum, which oversees an adjacent 100-acre art and nature park. "The IMA has really worked on their 100 Acres: Art & Nature Park, and I'm very interested in how that will be developed over the next decade or more," he said. Venable's own proposal for an art park on the refurbished Speed campus was informed by the IMA's larger version.
The director will have a tough act to follow in Anderson, whose star rose dramatically during his five years at the museum. (Anderson recently made headlines again in Dallas with his announcement that the museum is considering acquiring Leonardo da Vinci's recently attributed $250 million painting "Salvator Mundi.").") Venable said he and Anderson swapped insights on the inner workings of their former workplaces. "I've been coming to the IMA for 20 years and I've seen the institution grow and change, so I didn't need help on 'What is the IMA?,' but it was more about, 'Can you tell me a bit more about the finances and how the endowment works?'"
At a time when the museum-going public seems relatively skeptical about the role of museum directors in the wake of Jeffrey Deitch's struggles at L.A. MOCA, Venable articulated his take on a director's purpose. "No person is an island -- a director should work with trustees and staff for a unified vision," he said. "When it comes to being able to articulate that vision and getting goals accomplished in a timely manner, that's what a director does."
​An earlier version of this article first appeared on In the Air.
-Julia Halperin, Benjamin Sutton, BLOUIN ARTINFO
More of Today's News from BLOUIN ARTINFO:
"Makes Me Not Want to Go to Work Tomorrow": Actual Art World People Respond to Bravo's "Gallery Girls"
"Chloe Sevigny, Karen Finley, and Others Plan NYC Solidarity Reading of Pussy Riot's Courtroom Statements"
"Community-Supported Art: New Orleans Arts Org Brings a Locavore Model to Collecting"
"Former Jail Cells Become Artists Studios in Efforts to Revive Detroit"
"Uncharted Territory: Experts Explain Why Collectors Have Yet to Embrace Alighiero e Boetti's Oeuvre"
Like what you see? Sign up for BLOUIN ARTINFO's daily newsletter to get the latest on the market, emerging artists, auctions, galleries, museums, and more.