Just before the U.S. invaded Iraq nearly 10 years ago, the artist Paul Chan took a trip to Baghdad with a group of activists then called Voices in the Wilderness. One of its members came across a peculiar set of Saddam Hussein speeches promoting democracy -- as he defined it -- from the 1970s, when he was still vice president.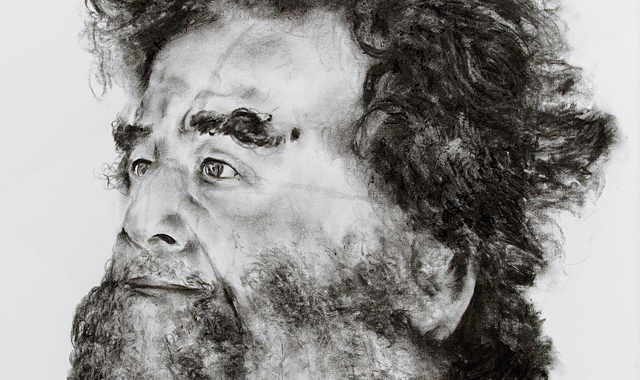 Detail of "The End" (2012) by Paul Chan / Courtesy of Badlands Unlimited

Chan quickly decided that he had to find a way to bring Western audiences this "eerily familiar" rhetoric, which emphasized patriotism and the importance of a strong government. "It was interesting and perverse and I think what we want to read are interesting and perverse things," Chan told ARTINFO.
After years of scrounging funds -- and legal advice -- Chan formed his own press, Badlands Unlimited, and co-published the book with financial help from the DESTE Foundation, the Athens-based nonprofit run by art collector Dakis Joannou. "On Democracy" is now set to debut at the New York Art Book Fair, September 28-30, at MoMA PS1. The paperback version is available for $15 and includes the three speeches, illustrations by Chan and essays by Negar Azimi, Nickolas Calabrese, and Jeff Severns Guntzel; an eBook can be had on iTunes and Amazon for $7.99, in an edition including video clips from the artist's trip.
"I supported the idea because it's a very engaging issue and an engaging theme," said Joannou, who collects Chan's work, adding that "the only way you'd get anyone to read an essay on Saddam Hussein and democracy would be through art."
Chan has also been named keynote speaker (along with critic Lucy Lippard), at this year's fair, which is bigger than ever -- a sprawling 283 exhibitors from 26 countries, up from just over 200 last year. "I see Paul as the future of art publishing," said fair organizer A.A. Bronson of the artist, whose past digital projects include an enhanced eBook of Yvonne Rainer poetry and the iPad app-exhibition "How to Download a Boyfriend." "He is the tip of the iceberg and there's an avalanche coming of eBook publishing in the art world. I really expect that to start happening extremely soon."
eBooks themselves play a tiny role in the object-centered world of artist books. But they are cheaper to produce, can be downloaded instantly, and offer publishers "a real opportunity to experiment with a new form," as Chan put it.
Indeed, if there were ever an opportunity to hunt for new expressions in the field, 2012's particularly robust Art Book Fair would be the place. To free up space for the nearly 300 participants, PS1 is bringing out its performance dome to house the annual conference series, while nearly 80 zinesters will gather under a tent in the courtyard. "I think that's as far as it's going to go," Bronson said. "We squished in every last one we can."
Heavyweight newcomers like Marlborough Chelsea are stepping into the action this year, while Gagosian Gallery returns for its second round with a tribute to the late Mike Kelley. And artist Richard Prince's "by-invitation-only" bookstore, Fulton Ryder, is setting up its first booth at the fair, to be stocked with books from its own imprint, as well as vintage paperbacks ranging in subject from "orgies and lesbians, to psychedelia and gangs, film and incest," said director Fabiola Alondra in an email. "Also, we'll be displaying some 'naughty librarians.'" (Last year the appropriation artist staged another memorable contribution when he sold copies of "Catcher in the Rye" with his own byline replacing J.D. Salinger's.)
It's the fair's "tradition of publishing questionable material" that largely inspired Chan to push ahead with "On Democracy" in the first place, he said. The book falls into a "gray zone" of intellectual property law and the legal concerns led to a delayed release, "But independent publishing friends of mine said, 'you just gotta do it.'"
-Rachel Corbett, BLOUIN ARTINFO
More of Today's News from BLOUIN ARTINFO:
Rediscovering Italian Artist Toni Zuccheri's Alchemical Glass Art Masterpieces
The 10 Best Booths of Art Berlin Contemporary 2012
Where Joaquin Phoenix Sowed the Seeds for His Great Performance in "The Master"
Ten Songs That Influenced How To Dress Well's New Album, "Total Loss"
A Piece of the Legend: Harry Potter's Graphic Designers Launch Fine Art Print Collection
Like what you see? Sign up for BLOUIN ARTINFO's daily newsletter to get the latest on the market, emerging artists, auctions, galleries, museums, and more.