LONDON -- Heiress Dasha Zhukova and leading architect Rem Koolhaas have today announced details of Garage Center for Contemporary Culture's new home. Zhukova's non-profit art foundation - which has welcomed more than 2 million visitors since its opening in 2008 - is to relocate in a 1960s former restaurant in Gorky Park, along the Moskva River in the heart of Moscow. The building has been designed by Koolhaas's leading architectural practice OMA and scheduled for completion in 2013.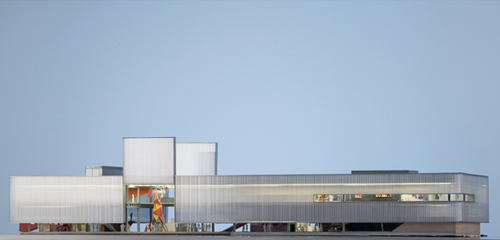 Garage Gorky Park, overview (OMA) / Image courtesy of OMA
OMA's plan for the new building is to use the restaurant's remaining rectangle structure - which is currently derelict and stands without a façade - to create a 5,400 square-meter museum articulated around two levels of galleries and a vast auditorium. The entire building is to be wrapped in a double-layered sheet of polycarbonate, and opened on each side by two eleven meter-wide doors allowing the handling and display of monumental pieces.
"This is the most exciting change the Garage has undergone," said Zhukova, talking at London's ICA this morning. She told journalists that she had been looking "for somewhere a bit more accessible" than the foundation's original location in the Bakhmetevsky Bus Garage - but declined to discuss the costs involved by the move.
Although not small by any stretch of the imagination, the future Garage's relatively modest proportions are key for Koolhaas. "This project fits very precisely with an number of our current preoccupations," said the co-founder of OMA. "Art institutions are getting bigger and bigger. [But] what is for me very significant, is that scale is not necessarily productive for art." "If you look at the Serpentine [Gallery], you can see that small can work extremely well," he added later.
The architect, who has had a long-standing relationship with Russia, described OMA's design project has an "effort in frugality." Some of original decoration, including tiles and murals, will be kept throughout the foundation, including inside the exhibition spaces. Koolhaas sees these "traces of Russia's history as a kind of partner of the art." "I think it's a very daring experimentation," he said. But should artists or curators need more neutral background, hinged panels will be able to turn the galleries into "instant white cubes." The furniture will replicate some of the original 1960s and 1970s design.
"We were able, with our client and her team, to explore the qualities of generosity, dimension, openness, and transparency of the Soviet wreckage and find new uses and interpretations for them," the architect stated. "We can imagine saving Fin de Siècle, early Modernism, but the more anonymous and impersonal architecture that emerged after World War II has few fans and almost no defenders." Koolhaas said he hoped that by rescuing the former restaurant, OMA might be able to intervene in what he described as an "holocaust" of buildings built between the 1960s and 1990s.
Dasha explained that the new space will allow Garage to exhibit more complex artworks, some never shown in the country before. The program will include a special focus on Russian art, as well as "Chinese, Indian, and American art." When asked to give some artists' names, she mused: "It's been my personal dream to bring a Richard Serra exhibition to Moscow." But no dates have been confirmed yet.
-Coline Milliard ARTINFO UK, BLOUIN ARTINFO
More of Today's News from BLOUIN ARTINFO:
Were Alistair Carr's Designs Too Edgy for Heritage Luxury Label Pringle of Scotland?
New Museum Curator Lauren Cornell and Artist Ryan Trecartin to Curate 2015 Generational Triennial
Hoberman: The All-Too Affable Ballad of "Bernie"
Gucci and Martin Scorsese Go Back to Cannes to Screen Sergio Leone Classic
"We Go To Concerts Together": John Elderfield on His New Life Working With Larry Gagosian
Like what you see? Sign up for BLOUIN ARTINFO's daily newsletter to get the latest on the market, emerging artists, auctions, galleries, museums, and more.