Leonardo da Vinci's relationship with fashion became evident in January when Florentine fashion house Gherardini produced one of the polymath's nearly-forgotten handbag designs. Now Italian fashion house Salvatore Ferragamo is helping to support the work of the Renaissance artist by sponsoring a spring exhibition at the Louvre in Paris.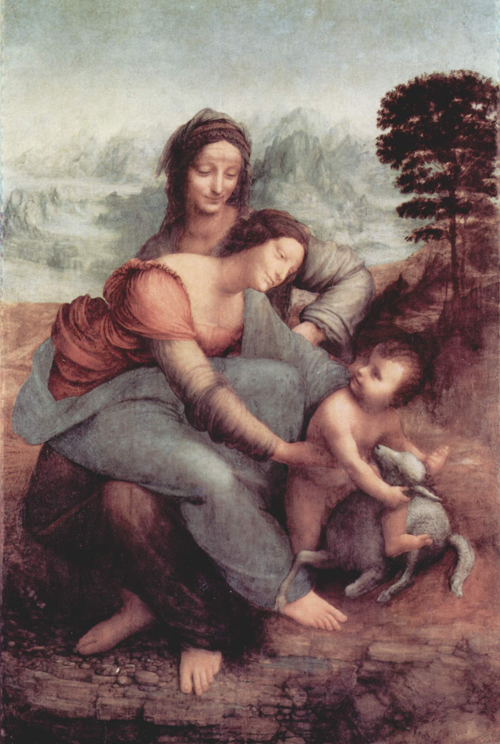 A detail of Leonardo da Vinci's "The Virgin Child with St. Anne," 1510 / Courtesy Wikipaintings
On view from March 29 through June 25, the exhibition will mark the restoration of Leonardo's circa 1510 oil-on-wood masterpiece "The Virgin and Child With Saint Anne." It will bring together pieces related to the seminal painting, which Leonardo vigorously worked on until his death in 1519, leaving it unfinished. The show will also display compositional sketches and landscape studies by Leonardo, along with newer tributes to the artist by Max Ernst, Eugène Delacroix, and Edgar Degas.
"Endless creativity, an innovative aesthetic, artisanal roots, and groundbreaking research have always characterized the Italian genius, as embodied by Leonardo da Vinci, that we have always appreciated," said company chairman Ferruccio Ferragamo, according to WWD. "These values [date] back to my father and have always inspired our work and the reality of our company."
Ferragamo will celebrate its role in sponsoring the exhibition by presenting its 2012 runway show on June 12 inside the French institution -- a first for any fashion label. The runway will span almost 400 feet, beneath the arches of the Denon peristyle that surrounds the Louvre, reports WWD.
The endeavor seems to be a win-win situation for Ferragamo. The brand gets to be associated with the original Renaissance Man, and the large contribution more than likely resulted in the Louvre allowing Ferragamo to hold a fashion show there.
-Ann Binlot, ARTINFO
More of Today's News from Blouin ARTINFO:
http://www.artinfo.com/news/story/760956/lehmann-maupin-grooms-painter-angel-otero-for-global-art-stardom
A Biennial Scorecard: Culling the Highlights of the Whitney's Signature Survey
Faberge's High-Art Easter Egg Hunt Taps Zaha Hadid and Mr. Brainwash to Help Save the Elephants
And the Pritzker Prize Goes To... Chinese Architect Wang Shu
From the Radical to the Ridiculous, A Brief History of Anti-Biennial Activism
Like what you see? Sign up for Blouin ARTINFO's daily newsletter to get the latest on the market, emerging artists, auctions, galleries, museums, and more.