If you've been following the exploits of Lawrence Salander, the disgraced New York dealer who exploited the trust of longtime clients to double-deal them out of millions, wait til you get a load of Kurt Lidtke. Not content to swindle his collectors through creative paperwork and false assurances, this Seattle gallerist actually conspired with an art thief to steal artwork from their homes, and on Friday he was sentenced to four years in federal prison and slapped with a bill for $77,000 to be paid in restitution. According to the Seattle Times, the 45-year-old Lidtke wept in the courtroom as he recalled confessing his larcenous actions to his two young daughters, referring to his actions as "a huge mistake."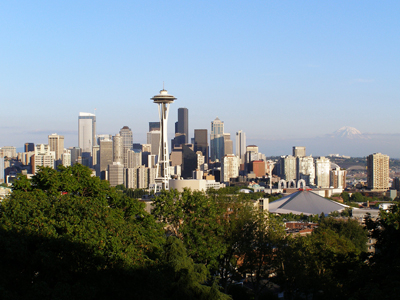 Seattle art dealer Kurt Lidke has been sentenced to four years in federal prison
This is not the first time the gallerist has been placed behind bars -- in 2007 he was convicted for peddling art on consignment and then pocketing the money. Lidtke was then ordered to pay $400,000 and was sentenced to 40 months in the clink. It was there that he buddied up with his cellmate, a "professional art thief" Jerry Christy (alias "Nick Natti") and began planning to burglarize the residences of his Pioneer Square art gallery clients.
In early May, 2010, at the request of the FBI, Christy -- who was found loitering in his truck outside a home containing artworks by Chagall, Renoir, and Abstract Expressionists Mark Tobey and Morris Graves -- was picked up by the cops. The same day, Christy's wife, Georgia, and Lidtke were also arrested in relation to a plan to rob the art-filled residence. Lidtke, under the false name "Victor," had been working out the details of the sale of works -- some of which were still in the art collector's house -- with an undercover FBI agent. According to Seattle Pi, he made the mistake of calling the undercover agent on his own phone.
The 54-year-old Christy and his wife now await sentencing for felony charges, to which they plead guilty, pertaining to this and other thefts orchestrated over the past three years with Lidtke.
"It appears the major tragedy in your life was when you were on the Oregon tennis team and you lost a few matches," the Seattle Times reports a chagrined judge Robert Lasnik told Lidtke from the bench. "It boggles the mind. The evidence has shown that you are a thief who believes he is entitled to other people's property. You used your intelligence and your charming personality, but you are still a thief," the judge said.
-ARTINFO, ARTINFO
More of Today's News from ARTINFO:
Boundary Issues
Prices Rocket Back to Boom Levels At Christie's $99 Million Post-War and Contemporary Sale
Ousted Tunisian Dictator Accused of Looting and Despoiling Carthage
Is That a Shakespeare Which I See Before Me?: The Contested Cobbe Portrait of the Bard at the Morgan
MoMA Curator Tapped to Direct the 30th São Paulo Biennial
Like what you see? Sign up for ARTINFO's daily newsletter to get the latest on the market, emerging artists, auctions, galleries, museums, and more.