LONDON -- The Design Museum has announced its nominees for their annual award recognizing the best in global design.
To see ARTINFO UK's top picks from the nominees, click here for the slideshow.
Over 90 contenders spread across seven categories were selected by a panel of industry experts. Costumes from the movie "Anna Karenina" designed by Jacqueline Durran, the Olympic Cauldron by Heatherwick Studio, The Shard designed by Renzo Piano, and the Louis Vuitton Collection by Japanese artist Yayoi Kusama were among the designs that were nominated.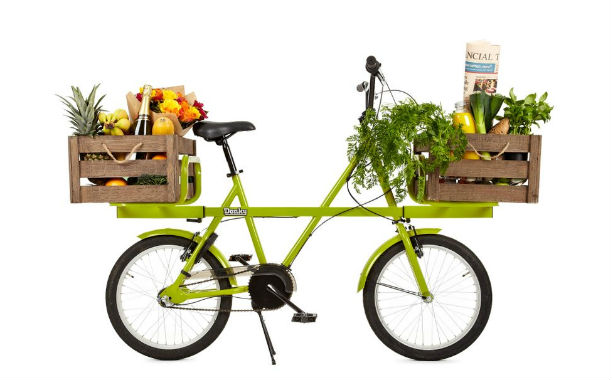 "Donky Bicycle" designed by Ben Wilson / John Selby

The Design Museum's Designs of the Year award is in its sixth year and recognizes international talent in seven areas: Architecture, Digital, Fashion, Furniture, Graphics, Product, and Transport. The winners from each category and an overall winner will be crowned in April.
Veteran designer Zaha Hadid has been nominated twice this year for her work on the Galaxy Soho building in Beijing and the Liquid Glacial Table, which resembles running water. The late architect Louis Kahn, who passed away in 1974, has also been recognized for his work on Four Freedoms Park in New York, which was finally completed late last year.
Emerging designers have not been overlooked. Prototypes from the Varanasi Research Group's non-stick ketchup bottle and the Centre for Vision in the Developing World's self-adjustable glasses aimed at children with no access to opticians both made the shortlist.
The Design Museum will be showing all the nominated works in an upcoming exhibition opening in March.
To see ARTINFO UK's top picks from the nominees, click here for the slideshow.
"Designs of the Year 2013", from March 20 - July 7, at the Design Museum, 28 Shad Thames, London SE1 2YD
-Author, Samantha Tse BLOUIN ARTINFO
More of Today's News from BLOUIN ARTINFO:
Experimental French Fair Cutlog to Take Over LES School During Frieze New York
Nathan Lane on Channeling a '30s-Era Burlesque Republican in "The Nance"
Remembering Aaron Swartz's Ethically Engaged Internet Art Collaboration
How Cult Comedian Andy Kaufman Became Today's Hottest Performance Art Star
Femme Fatale: John Cale Pays Tribute to Nico at BAM
Like what you see? Sign up for BLOUIN ARTINFO's daily newsletter to get the latest on the market, emerging artists, auctions, galleries, museums, and more.