When is jewelry not jewelry? When it's a work of art. Through January 13, Crédit Municipal bank in Paris is showing an unusual exhibition of jewelry by a wide range of artists including André Derain, Max Ernst, Jean Arp, Giacometti, Dalí, and, even more surprisingly, Louise Bourgeois, Lucio Fontana, Martial Raysse, and Giuliano Paolini. These miniature wearable sculptures were first made for the artists' private circles, though some of the earlier designs were later popularized and commercialized by jewelry maker François Hugo in the 1950s.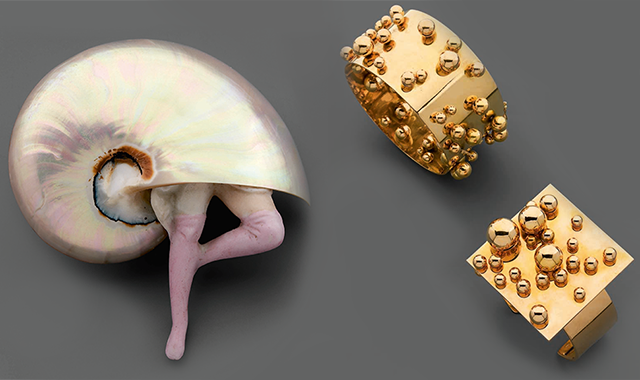 Aube Ellouet Breton, "Broche," 1998 (left) and Pol Bury, "Bracelet," 1968 (right) / Courtesy Musée du Temps, Besanço / © Studio Sebert Paris- Adagp, Paris 2009.jpg
The Musée du Temps in the eastern French city of Besançon showed 150 of these pieces in 2009, from the collection of Clo Fleiss. Now, Crédit Municipal has put 180 of the jewelry items on view. Some can be recognized right away as a particular artist's work: Pol Bury's "erectile entities" (which are very similar to his spherical fountains), Picasso's antique figures in yellow gold, Meret Oppenheim's fur bracelet, Bourgeois's spider brooches, César's compressed Schweppes bottle caps, or Lucio Fontana's scar-like bracelets. Others are harder to identify, though they nonetheless seem to distill the personalities of their creators, such as the playful Surrealism of Man Ray's "Ring Hole" (a ring pierced to hold another ring).
Alexander Calder, whose rings, necklaces, and bracelets are cobbled together from wire and stones, can be seen as the father of this parallel production, since he never stopped making jewelry alongside his other artistic output. (The electrifying earrings he made for Peggy Guggenheim and the spiral eye he gave to Georgia O'Keeffe have become icons.)
Whether they are one-offs or limited editions, personal symbols or spontaneous digressions, wedding rings or tiaras, studs or chains, these jewelry pieces are treasures of miniaturization -- a fact that is all the more striking given that many of these artists worked on a monumental scale.
To see images of jewelry from the exhibition, click on the slideshow.
-Céline Piettre, ARTINFO France, BLOUIN ARTINFO
More of Today's News from BLOUIN ARTINFO:
See Stunning Jewelry by Louise Bourgeois, Lucio Fontana, and Other Great Artists
The Real (And Not at All Universal) Meaning Behind Edvard Munch's "The Scream"
From "Zoolander" to the Boom Boom Room: 10 Years of Roman and Williams Designs
Frida Kahlo Makes the Cover of Vogue for the First TimeY
Does Egon Schiele's Risque Art Make Him a Prophet of Unchained Female Libido?
Like what you see? Sign up for BLOUIN ARTINFO's daily newsletter to get the latest on the market, emerging artists, auctions, galleries, museums, and more.