David Chipperfield's intention in naming the theme of this year's Venice Architectural Biennale "Common Ground" was to highlight the common characteristics held by members of his profession: they share a mutual intellectual lineage, a collective memory from which they draw inspiration. Together, they're isolated in a category separate from the other arts and sciences.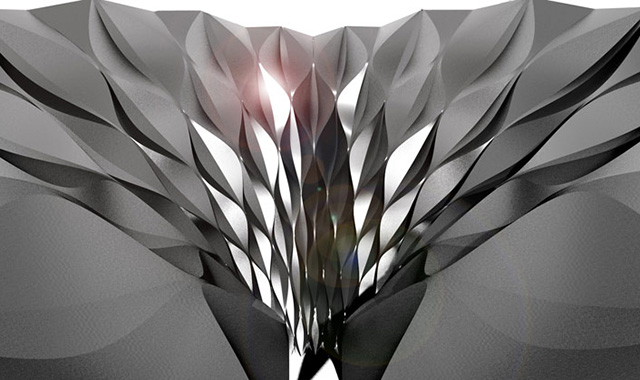 Zaha Hadid's Arum Shell / Courtesy Zaha Hadid Architects

Taking this into account, Olympic starchitect Zaha Hadid looked to honor her own predecessors by paying homage to German structural engineer Frei Otto, master of tensile structures, whose pioneering experiments in structural efficiency and calculation heavily influences Hadid's recent works (see 2009's Manchester International Festival installation; 2009's Burnham Pavilion in Chicago's Millennium Park; 2007's "Lilas" installation for the Serpentine Gallery, or any one any of her magically suspended, curvilinear structures as evidence). Like Hadid, he was also an architect of the Olympics, having designed the roof of the of the 1972 Munich Olympic Arena -- and he still actively works today.
Yesterday, Zaha Hadid Architects unveiled their plans to erect the Arum Shell, a tensile steel structure that looks like a mass of the flower from which it gets its name. The algorithmic basis of the structure pays homage to Otto's skill in calculating structural stresses, as well as the elegance of his designs. To see the design concepts in motion, see the trippy animation here.
- Janelle Zara, BLOUIN ARTINFO
More of Today's News from BLOUIN ARTINFO:
Hoberman: "Cosmopolis" Take Two - On Second Viewing, the Film Reveals a Layered Metaphor for the 21st Century
Slow Art Day Fights Visual Grazing With a Deep Dive Into Museums
SHOWS THAT MATTER: Franz Xaver Messerschmidt's Freakishly Fascinating "Character Heads" at the Getty
All About Ideas: The British Pavilion in Venice Puts 10 Architecture Teams' Thinking Processes Under the Spotlight
Vienna Tourist Board Calls On Street Artists to Glam Up Klimt
Like what you see? Sign up for BLOUIN ARTINFO's daily newsletter to get the latest on the market, emerging artists, auctions, galleries, museums, and more.