Shepard Fairey's Los Angeles gallery Subliminal Projects will be among the first to show the rarely-seen visual art of Ramones founder Dee Dee Ramone when it opens "Dee Dee Ramone: A Memorial Exhibition" on October 26, just in time to mark the 10th anniversary of the punk rock legend's death. The 25 works in the exhibition also include collaborations between Ramone and Paul Kostabi -- an artist and musician who is also the brother of New York artist Mark Kostabi -- and Ramone's widow Barbara Zampini.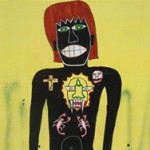 "I did not realize Dee Dee Ramone made art until a few years ago, but it does not surprise me that Dee Dee mixes the same sensibilities in his art that the Ramones had as a band," Fairey says in the exhibition press release. "In Dee Dee's art there is a connection to Warhol's Pop art, Basquiat's street scrawl, and Punk's sense of humor and antagonism that feels like an uninhibited visual manifestation of the fun and bizarre world of Dee Dee."
The paintings in the exhibition, provided by the artist's estate, are being displayed in public for the first time. Fairey will also create a new print based on images provided by the estate that will be for sale, along with Ramone's 2002 print "Untitled (Self Portrait)." A portion of funds from sales of the later will be donated to the Los Angeles Food Bank.
-Benjamin Sutton, BLOUIN ARTINFO
More of Today's News from BLOUIN ARTINFO:
Shepard Fairey Giving Dee Dee Ramone Posthumous Gallery Show in L.A.
"The Audience Seemed a Bit Quiet": A Tepid Auction for Phillips de Pury London
FRIEZE Report: The Fair Shines in Tough Times as Dealers Up Their Game
ARTINFO"s Top 10 Booths From Frieze 2012
Andy Warhol Stars (Again) as Sixth-Grade Boy's Unlikely Confidant
WTF Is Yellowism? A Guide to the Obscure Movement Behind the Tate Rothko Attack
Like what you see? Sign up for BLOUIN ARTINFO's daily newsletter to get the latest on the market, emerging artists, auctions, galleries, museums, and more.