Sailing uncharted waters in sustainability, London-based architect and designer Jack Munro goes above and beyond boiler plate adaptive reuse -- shipping containers, reclaimed wood scraps, yawn -- and raises you bricks that recycle slaughterhouse run-off, a.ka. cows' blood.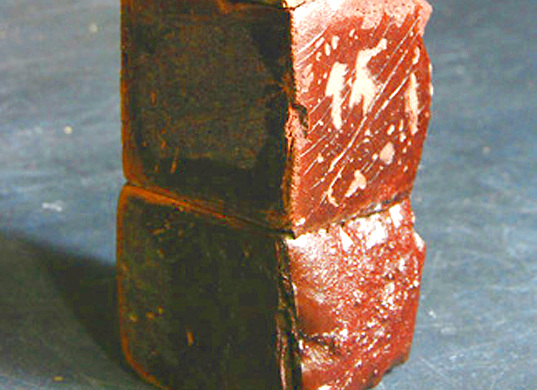 Blood brick or burger? Look at that marbling.
According to Munro's website, animal blood is one of the world's most abundant waste materials. What isn't made into black pudding is normally tossed or incinerated, but he found that by mixing it with a preservative, some sand, and a bit of subversion, it coagulates into a solid after just an hour in the oven. Currently, he's raising money to build a prototype house in Siwa, Egypt, where the bricks' waterproof qualities would suit the erosion-prone area. In the meantime, we bet his Halloween decor is probably going to blow away all his neighbors'. [Jack Munro via Phaidon]
-Janelle Zara, BLOUIN ARTINFO
More of Today's News from BLOUIN ARTINFO:
Slaughter House: A British Architect Fashions Bricks Out of Blood
Does Egon Schiele's Risque Art Make Him a Prophet of Unchained Female Libido?
Everything You Need to Know About the Booming Market for Fine Art Prints
The Dark Side of Spring 2013: A Color Theorist Analyzes the Collections
The Haute List: Iris Apfel's Shoe Collection, Unpaid Fashion Internships Up for Auction, and More Fashion News
Like what you see? Sign up for BLOUIN ARTINFO's daily newsletter to get the latest on the market, emerging artists, auctions, galleries, museums, and more.