HONG KONG -- We're at the half-way mark of ART HK 2012 and the rain has set in. Unlike sales, which are patchy, the showers are heavy and show no signs of letting up, but the fairgoers are turning out in droves and keeping things busy for the galleries between sales.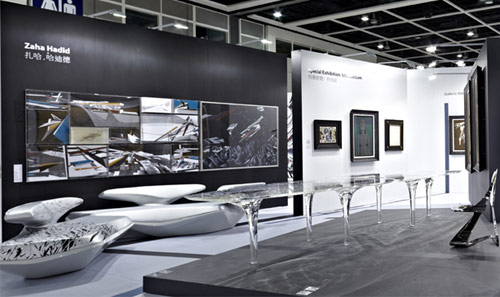 Galerie Gmurzynska's booth at ART HK 12 / Courtesy of Galerie Gmurzynska

Meanwhile here at ARTINFO Hong Kong it's time for us to give our verdict on this year's fair.
-- Best Booth: Galerie Gmurzynska called in Zaha Hadid to design their booth, thus blowing all opposition out of the water. That they went on to fill it with the fascinating work of Cubist-cum-Surrealist Wilfredo Lam is icing on the cake.
-- Best Alley: Last year ART HK's ASIA ONE section, devoted to emerging galleries from the region, was tucked away on a separate floor from the main exhibition space. This time around, the booths are at the center of the action, running straight down the middle of the fair on both its two floors. These Asian alleys provide an exhilarating tour, from the strange evolving cityscapes of Jane Dyer at China Art Projects to Tsuyoshi Ozawa's ladies toting vegetable weapons at Misa Shin Gallery to the sublime simplicity of Song Hyun-Sook's paintings at Edouard Malingue Gallery.
-- Best Fix for Abstraction Junkies: This is a tie between the Hans Hartung canvases at Cheim & Read and two major works by Joan Mitchell, one to be found at Acquavella and the other at Hauser & Wirth. These are ravishing works, unmissable.
-- Best Display of Focus: The curated presentation of 20th-century German painting at Michael Werner provides a model in focus. In collaboration with Dr. Dimitri Ozerkov, the director of the contemporary art department at the Hermitage in St. Petersburg, the gallery provides a window on German modernism through key works from artists such as Ernst Wilhelm Nay, Markus Lupertz, and Georg Baselitz.
-- Best Way to Brighten Up a Corner: When asked by his gallery Eslite to create a work especially for their booth in Hong Kong, Taiwanese artist Michael Lin asked them for a corner. The resulting work is a joyous example of Lin's dedication to the celebration of the indigenous designs of his home, the "other China," Taiwan.
-- Best Introduction to Chinese Contemporary Art: There are a number of significant galleries attending from China this year, from Platform China to Beijing Commune to Chambers Fine Art, but perhaps the best sense of the maturity of the Chinese contemporary art scene can be experienced by visiting the booth of pioneer gallery ShanghART. From the canvases of Li Shan, Yu Youhan, and Zhang Enli to the installations by Madein and Zhou Tiehai, this booth shows the weight of talent in the Chinese scene.
-- Creepiest Work of Art: This was easily won by Chinese conceptual artist Shen Shaomin for his contribution to the ART HK Projects section of the fair, entitled "I Sleep on Top of Myself." This installation of life-size domestic animals, minus their fur or feathers, rendered in spooky silica gel and lying on a bed of salt is alarming enough, but the added touch of tiny concealed motors that make these hairless horrors "breathe" is something that quickly outstays its welcome in one's memory.
-- Best Offsite Fun: Here we also declare a tie between the cluster of leading galleries at the historic Pedder Building in Hong Kong's Central -- Ben Brown, Gagosian, Hanart TZ, Pearl Lam and Simon Lee -- and Sotheby's new gallery space at their headquarters at 1 Pacific Place. The latter has given itself over to an exhibition of Yayoi Kusama with a gusto which has included inviting the artist's studio to deck out their lifts, floors, and signage in trademark dots.
ART HK continues at the Hong Kong Convention and Exhibition Centre through Sunday May 20.

Click on our slide show for some images from the fair.
-Madeleine O'Dea, BLOUINARTINFO
More of Today's News from BLOUIN ARTINFO:
Architects Versus Economists: The Battle for the Future of Urbanism, From Honduras to Upstate New York
Paging Dr. Barnes: New Downtown Philadelphia Foundation Works Overtime to Stay True to Its Founder's Vision
MOCA Cleveland's New $27-Million Building Relaunches the Institution as a Cutting-Edge Kunsthalle
ARTINFO Does Design Week: 6 Highlights, From a Pirate Radio Station to Apocalyptic Furniture
Model Agyness Deyn's Acting Career Takes Off With a Starring Role in Terence Davies's "Sunset Song"
Like what you see? Sign up for BLOUIN ARTINFO's daily newsletter to get the latest on the market, emerging artists, auctions, galleries, museums, and more.