ARTINFO France surveyed Paris's lively visual arts scene and presents this guide to the top 10 shows to see this summer in the City of Lights, the grand art capital that many people consider the birthplace of modern art. And don't forget to check out a slide show of the crown jewels of each Parisian exhibition.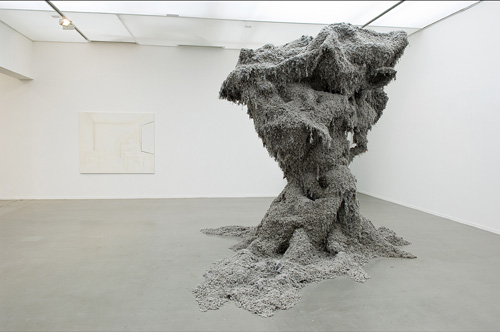 Courtesy the artist, Galerie YR, Paris
"Dynasty" at the Palais de Tokyo and Musee d'art moderne de la Ville de Paris, 13 Avenue du President Wilson and 11 Avenue du President Wilson, through September 10, dynasty-expo.com
The Dynasty curators insist that this is no new French Wave -- though there certainly are stellar prospects among the 40 artists presenting 80 works at the two museums. Take your time; the dizzying variety of works -- from giant dust sculptures to epic video art -- require a full day to comfortably absorb and will leave plenty of strong impressions.
Q&A with "Dynasty" participant Benoit Maire
"Yves Saint-Laurent" at the Petit Palais, Avenue Winston Churchill, through October 29, petitpalais.paris.fr
The runaway hit of this summer, a retrospective journey through Yves Saint Laurent's trailblazing achievements, from the seminal women's tux, to gorgeous ballgowns, to colorful Van Gogh-inspired dresses, and the scandalous Spring 1971 collection that threatened to derail the fashion designer's career. Hundreds of outfits and personal objects are lined up for close inspection and appreciation.
"Routes d'Arabie" at the Musee du Louvre, through September 27, louvre.fr
A first look at Saudi Arabia through the ages for the Louvre, which has used its Middle Eastern connections to procure 300 pieces for the exhibition, many of which departed their land of origin for the first time. If the vast show still leaves you wanting, the perennial favorite "Venus de Milo" is well worth a visit in her new quarters, where a very subtle southern light gives the statue new life.
"Paris & Creation" Vanessa Bruno storefronts at Galerie des Galeries in the Galeries Lafayette, 40 Boulevard Haussmann, through August 5, galerieslafayette.com
Best known for their traditional Christmas displays, the enormous Galeries Lafayette shopping galleries welcome art to their storefronts this summer, with a curator's 'carte blanche' given to star-magnet fashion designer Vanessa Bruno. Photos by Mark Borthwick and videos by Stephanie Di Giusto are included in this double-hit blend of art and retail therapy.
Pierre Etaix at Le Nouveau Latina, 20 Rue du Temple, through August 10, lenouveaulatina.com
Paris doesn't come with a sunshine guarantee and a rainy day is well spent at this independent film house, rejoicing that the Jacques Tati-like filmmaker Pierre Etaix has finally won the battle to have his works shown again. "Yoyo," the story of a rich man who leaves his castle to join the circus with his wife and child, is not to be missed.
Valerie Jouve at the Centre Pompidou, Place Georges Pompidou, through September 13, centrepompidou.fr
A first solo show for one of the most influential contemporary artists in Paris. Valerie Jouve presents 30 photographs taken outside the West that examine various facets of human existence in urban environments.
"Klara Liden: Toujours etre ailleurs" ("To always be elsewhere") at Jeu de Paume, 1 Place de la Concorde, through September 5, jeudepaume.org
Swedish installation artist Klara Liden tacitly invades and reinterprets the Jeu De Paume's space with stacks of ad banners, subtle pumping rhythms, and flickering slide shows. The show is a commentary on the tyranny of society's unwritten rules, according to curator Elena Filipovic.
"Vanite: Mort, que me veux-tu?" ("Vanity: Death what do you want with me?") at Fondation Pierre Berge Yves Saint Laurent, 1 rue Leonce Reynaud, through September 19, fondation-pb-ysl.net
If you can stomach Joel-Peter Witkin's Mexican morgue shots, then this examination of death's representations in the swanky 16th Arrondissement is worth a visit. Giacometti, Man Ray, and Richter are among the ghastly guest stars.
"Museogames" at the Musee des Arts et Metiers, 60 Rue Reaumur, through November 7, museogames.com
More than a cursory replay of childhood memories, this fascinating show presents a myriad of thought-inspiring interviews about the social impact of video games through time. Not to worry, visitors do get to indulge their pangs of nostalgia -- there's plenty of hands-on play with classic console and arcade games.
THE DAY TRIP: "Formica" at Domaine Pommery, 5 Place du General Gouraud, 51100 Reims, through August 26, pommery.com
There's nothing like a summer afternoon sipping champagne in sunny castle gardens -- though at the Domaine Pommery, the cool darkness of the cellars present an intriguing alternative courtesy of Jean-Pierre Formica. His installation of salt sculptures small and large slowly degrades and decays, so catch it before it melts in the underground humidity.
See a slideshow of the crown jewels of each exhibition or visit the original top ten must-see shows in Paris on ARTINFO France.
-ARTINFO France
Follow ARTINFO on Foursquare: http://foursquare.com/artinfo