As protests fill the streets of Turkey -- and the news internationally -- how are the nation's artists responding? This morning, ARTINFO spoke with Turkish photorealist Taner Ceylan in Istanbul, where he lives and works.
He described a situation that is steadily worsening and said that he and other artists -- including Erinç Seymen, Asli Cavusoglu, Volkan Aslan, Ali Emir Tapan, Burak Arikan, Genco Gulan, and many others -- are supporting the democratic protests against unwarranted police violence.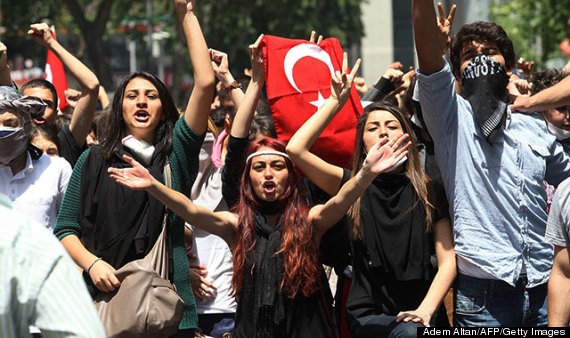 Demonstrators protest in Istanbul/Photo: Adem Altan/AFP/Getty Images
"The result of the last ten years has been a lack of respect for human rights, women's rights, freedom of expression, and freedom of speech," Taner explained. He mentioned the disproportionate number of journalists currently imprisoned in Turkey and said he and other artists had received death threats as a result of the content of his work in recent years. Such pent up grievances help explain the explosiveness of the current wave of protests in Turkey, which has gone from a demonstration over a park to widespread confrontations with the police in a short period.
As an example of the repressive climate, Ceylan pointed to an incident around his painting, "1879." For the work, he painted an Ottoman woman standing in front of Gustave Courbet's infamous "L'Orgin du monde" (which depicts the lower half of a nude woman). "[The Courbet] painting was commissioned by an Ottoman pasha to Courbet and this scene was probably a real scene," Ceylan explained. "When my painting was published in a Turkish newspaper I received death threats."
"Cultural centers are being closed and censored," he added. "Big projects, such as mosques and bridges, are being realized without asking citizens for input." Ceylan said the government's decision to replace a park in Taksim Square with a replica of an Ottoman-era army barracks was a breaking point for many citizens. "This was the point where the explosion started."
Ceylan also added that he and other artists have been in contact with doctors to help injured people. "We are trying to keep the situation in a positive way."
"The situation is getting worse," he added. "We hope that the government will be more apologetic to the citizens and will work to become more democratic. Otherwise we don't know what is going to happen."
More of Today's News from BLOUIN ARTINFO: