If I read that an art collector has paid $3 million for a Damien Hirst "Spot Painting," I will probably roll my eyes and turn the page. If read for the three-millionth time that an art critic thinks Damien Hirst is overrated, I will probably do the same thing.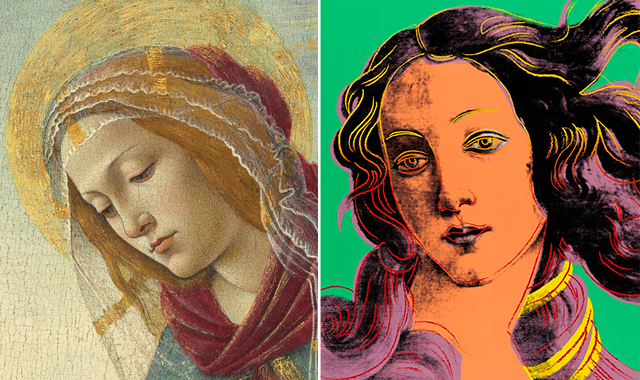 Detail of Botticelli's "Madonna and Child with Young St. John the Baptist" and Warhol's "Birth of Venus (After Botticelli)" /© Christie's Images Ltd . 2013 (left) / © Sotheby's (right)

That's because the struggle to prove superior taste has been a sort of high-brow pissing match since ancient Greece. And, to this day, it's a cat's game: Critics bank on their cultural capital -- their fluency in the language of art -- to undermine the dominance of wealthy philistines, who, in turn, demonstrate their good taste by buying status symbols, like Damien Hirst paintings. The circle goes round and round and, in the end, your dad's occupation is probably as strong a predictor of taste as any.
Nonetheless, the debate rages on, most recently in this Sunday's New York Times, which asked readers to weigh in on the question, "What is that art worth?" Counterintuitive auction results fuel many of the misgivings people have about the reliability of the art market, like the fact that Jeff Koons's prices trounce those of Diego Velazquez, or that Andy Warhol's record is about the same as Peter Paul Rubens'.
The Times' query on art's monetary worth is impossible to answer, of course. But, as galleries and auction houses prepare for New York's "Old Masters Week," January 26-February 3, it seems like a good time to ponder the factors that make art valuable today. Is it whose names we will remember 100 years from now? Or is historical relevance no longer relevant when it comes to the market?
To demonstrate just how subjective these questions of taste can be, we present a slideshow of Old Master works about to hit the auction block alongside 10 contemporary counterparts that went for the same price. Which is worth more, Warhol's riff on Botticelli or the actual Botticelli? Basquiat or Bronzino? Judge for yourself.
To see our side-by-side comparison of contemporary art with classic art that you could buy for the same price, click on the slideshow.
-Author, Rachel Corbett BLOUIN ARTINFO
More of Today's News from BLOUIN ARTINFO:
In the Studio With Robert Lazzarini, Master of Sculptural Illusions
Self as Canvas: The Art World's Best Dressed
Awards Latest: "The Master" Isn't "American" Enough for Oscar Glory
In the Debate About the Art Bubble, the Dealer Is the Missing Piece
Design for Iraqi Parliament to Replace Saddam Hussein's Super-Mosque Revealed
Like what you see? Sign up for BLOUIN ARTINFO's daily newsletter to get the latest on the market, emerging artists, auctions, galleries, museums, and more.