LONDON -- The legendary British sense of irreverence is having a field day with the Olympics. Alternative versions of the Games's hyper-protected logo are popping up everywhere, from street murals to t-shirts, cocking a snook at the draconian rules dictating the commercial use of the interlocking rings.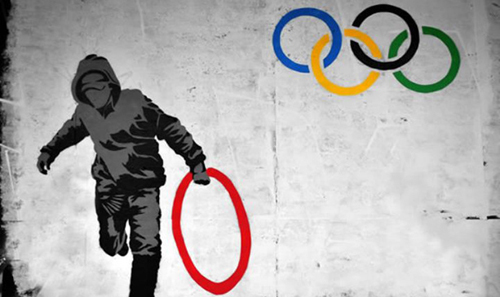 Criminal Chalklist, 100 meter Dash, 2011, Stokes croft Bristol
First seen last year in Bristol as a street artwork attributed to Criminal Chalklist, the image of a young hooded rioter looting a ring has gone viral, and it is cropping up on t-shirts available from market stalls around the country and online (try searching for "alternative/rude/funny" Olympic t-shirts on Ebay).
The rings have also appeared carried by the Beatles in a revision of the iconic Abbey Road album cover. They have morphed into toasters at Shoreditch overground station, courtesy of the Toaster Crew, and street artist Teddy Baden has imagined a steamy encounter between a dog and the London 2012 mascot Mandeville.
"It's just a cheeky little thing," Baden told the Associate Press. "It's a quite British thing to kind of take the mick [poke fun] a bit. It's not malicious."
The Olympic officials in charge of protecting the logo are surprisingly tolerant towards this grassroots satirical outburst but they have been shockingly uncompromising with small businesses trying to get into the spirit with a spontaneous display of rings or torches.
A few months ago a florist in Stoke-on-Trent had to take down her tissue paper Olympic rings or face prosecution for unauthorized use of the Olympic logo. A café owner in Camberwell was ordered by community wardens last week to remove the five interlocking bagels he had put in his shop window -- and, preposterously, the Olympic Café in Stratford has had to change its name to Lympic Café.
These over-zealous clampdowns have been heavily criticized, not least by mayor of London Boris Johnson, and former International Olympic Committee marketing chief Michael Payne. "The public do get it," he told the Independent. "They do understand that Coca-Cola has paid, Pepsi hasn't, so Coca-Cola should be entitled to provide the soft drinks. But what's that got to do with a flaming torch baguette in a café?"
For now, street artists and pranksters seem to be getting away with it. "It wouldn't help uphold the commercial interests of the sponsors to persecute the artists," said Global Street Art Web site's Lee Bofkin.
-Author, BLOUIN ARTINFO
More of Today's News from BLOUIN ARTINFO:
Roger Sanchez Drops "Zaha Hadid," First Cut From His Starchitect-Themed House Album
Upcycling the Past to the Present, Inside Yesterday's Skin
"Britain Creates 2012: Fashion + Art Collusion" Displays the Results of 9 Designer and Artist Pairings
The Windy City is Blowing Up: Rahm Emanuel Releases Detailed Plan to Turn Chicago Into Art Oasis
Banksy Wannabe Mr. Brainwash Unveils Massive Kate Moss Mural in London
Like what you see? Sign up for BLOUIN ARTINFO's daily newsletter to get the latest on the market, emerging artists, auctions, galleries, museums, and more.