Though there was none of the pomp and circumstance associated with the Sun King, Monday was nevertheless a historic day for the Château de Versailles, as it officially welcomed Wikipedia intern Benoît Evellin into the palace for six months. From within the historic institution, Evellin is charged with organizing a community of contributors to improve Wikipedia articles on Versailles and to create digital images. The 27-year-old studies the applications of new technologies to cultural heritage and describes himself on his Wikipedia contributor's page as a geek who likes role-playing games, trains, and the cuisine of Brittany.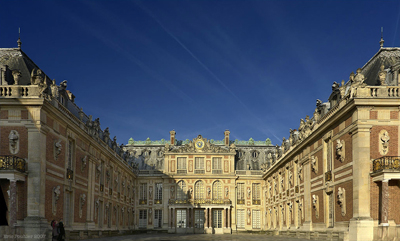 The above photograph of the Château de Versailles is, appropriately, from Wikipedia. Courtesy Wikimedia Commons
The initiative is inspired by a similar program that took place at the British Museum for five weeks last year. Laurent Gaveau, assistant director of information and communication at Versailles, learned about this at a Wikimedia conference in Paris in December, Libération reports, and quickly set up something on a larger scale for Versailles, engineering Evellin's six-month official appointment as Wikipedia point man. Adrienne Alix, president of Wikimedia France, said that Evellin will operate under the leadership of Versailles, but that Wikimedia will devote "material and human resources" to the joint project.
Wikimedia France recently engaged in a similar project on a smaller scale at Toulouse's archeological museum, which gave several volunteers access to professional equipment for taking photos of its collection and disseminating them online. In the case of the Versailles partnership, the fact that experts at the institution will edit the articles generated by the project may raise some eyebrows, and French art site Artclair has already been wondering if contributors will still have the ability to modify the articles that are officially sanctioned by the château.
Gaveau told AFP that Wikipedia ranks as the number two online source of information about Versailles for French users (its official site being number one), and the number one source for international users. The partnership with Wikimedia will let the institution "develop content and do a better job at disseminating digitally all kinds of information related to the Château de Versailles," according to a Versailles spokesperson quoted by AFP.
For a palace that's over 400 years old, Versailles is certainly up-to-date, having invited contemporary artists including Jeff Koons and Takashi Murakami into its halls (though not without controversy). The château is also proficient in new technologies. It is participating in the Google Art Project, had a contest via Flickr for crowd-sourced photos of the buildings and gardens, has developed mobile apps, and is active on Facebook and Twitter.
-Kate Deimling, ARTINFO
More of Today's News from ARTINFO:
At Sotheby's London, Richter, Warhol, and Munoz Fetch Millions in "Orgy of the Rich"
After Two Decades of Secrecy, A German Museum Can Finally Unveil Its Mystery Monet
Will "Red Bull Street Art View" Give Street Art Wings?Will "Red Bull Street Art View" Give Street Art Wings?
The British Art Show Returns to London With Uncanny Nudes and an Absurdist Sitcom
The Agenda: February 16-22
Like what you see? Sign up for ARTINFO's daily newsletter to get the latest on the market, emerging artists, auctions, galleries, museums, and more.