England's historically well-funded arts community was left reeling after a series of March budget cuts eliminated funding for over 200 previously subsidized groups. Now, a coalition of eight unions -- including the Writers' Guild and the Musicians' Union -- are taking to the Internet to document the losses and what they mean for England.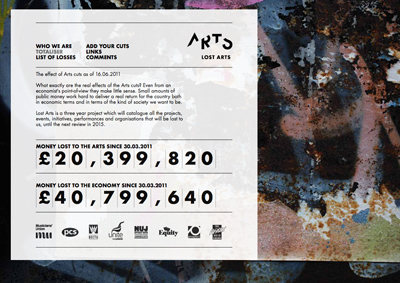 Eight unions have come together under Lost Arts to combat the UK budget cuts. / Courtesy Lost Arts
Launched last week, the Web site Lost Arts takes a strong, minimalist approach to the issue. Its main page features two constantly updated, scoreboard-style numbers. The first tabulates how much money has been slashed from England's art budget since March 30, 2011, when the cuts were first instituted. (The answer? £20,399,820, or approximately $33,242,500, to date). The figure is based on public reports, but readers can add updates from their own organizations through a form on the site. The second number tracks how much money the economy has lost due to arts cuts (£40,799,640, or $66,485,100, to date). The total is based on the oft-reported figure that the economy returns £2 for every £1 invested in the arts.
"We are not saying that the Arts are more important than other sectors," organizers wrote in a statement on the Web site. "We just want to make sure that the effects of these cuts are properly recorded and publicized." The site pledges to record all the projects, initiatives, and performances lost due to funding cuts and keep a tally of art jobs under threat through 2015, when the March 2011 cuts expire.
Britain's arts cuts -- totaling 30 percent of its 2011 budget -- made headlines across the globe earlier this spring for their unorthodox methodology. Instead of the traditional "salami" cut (i.e., eliminating an equal percentage of funding for every organization), Britain's arts coalition decided to distribute cuts individually, based on a review of each organization. The outcome was, as promised, uneven: 200 groups saw their funding cut entirely while over 100 groups were funded for the first time. A selection of organizations even saw their funding increase -- some, by over 100 percent.
"When we get to the end of this three-year funding period we can be pretty sure that we won't get the money that's been cut back," said John Smith, president of the Federation of Entertainment Unions, at the site's launch. "So we will have to be in a position to remind the public just what this nation has lost, and we'll spell it out company by company, orchestra by orchestra, museum by museum."
-ARTINFO, ARTINFO
More of Today's News from ARTINFO:
Eminent Max Ernst Expert Sued as Fallout From $49 Million German Forgery Ring Spreads
LACMA Acquires Rodarte's New Bernini-Inspired Collection, Unveiled at Florence's Pitti W
Were the Boom Times Back at Art Basel? Parting Words (and Shots) From the Fair
James Franco Takes to Kickstarter to Help Launch a Museum of Non-Visible (More or Less Non-Existent) Art
New York Birthplace of John Coltrane's "A Love Supreme" Declared an Endangered Treasure
Like what you see? Sign up for ARTINFO's daily newsletter to get the latest on the market, emerging artists, auctions, galleries, museums, and more.