BERLIN -- Programming for the inaugural Berlin Art Week -- the latest moniker for the September weekend that includes the Art Berlin Contemporary (abc) and Preview Berlin art fairs, but not Art Forum Berlin, which has been canceled -- was announced by representatives from the participating fairs and institutions during a gathering in city hall today. Pointing to Berlin's Fashion and Music weeks, as well as the upcoming DMY design week, Sybille von Obernitz, Berlin's senator for economy, technology, and research, said that there was an obvious gap to be filled. However, reflecting the furrowed brows across the room, Silke Neumann, speaking on behalf of abc later clarified, "This is not the first time we have all stood together."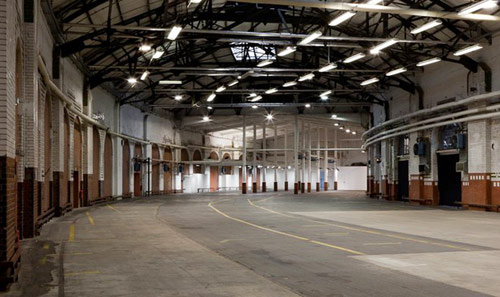 Station Berlin, the location for Art Berlin Contemporary (abc) / Courtesy Station Berlin
For years now, abc and Preview have coincided with openings at galleries and museums represented on the Berlin Art Week committee: the Nationalgalerie, the KW Institute for Contemporary Art, the Berlinische Galerie, the Neue Berliner Kunstverein (n.b.k.), and the Neue Gesellschaft für Bildende Kunst (NGBK). However, Nationalgalerie director Udo Kittelmann said, "We had to start something new," and that, "It was only possible here in Berlin and at this very time."
After the collapse of Art Forum last year, there had been the distinct feeling that Berlin's future as a commercially viable art capital was at the very least uncertain. Abc, though full of high quality works, has thus far been unable to bring in high-profile international collectors, even on the scale of Berlin Gallery Weekend. However, it remains to be seen whether this grouping of events under one name will have the desired effect -- after all, the weekend has always had the loose title of "Kunstherbst" (fall art season). If anything, by not including Berliner Liste -- the largest fair in terms of the number of participating galleries -- on the official roster, the organizers actually narrowed the week's focus.
Two things do set Berlin Art Week apart: its €500,000 ($621,000) advertising and development budget courtesy of the state; and its open format. Actually, the two go hand in hand, the former ostensibly alleviating political tensions surrounding the latter. Some of the most interesting effects of the week may very well be how Berlin's other institutions, art spaces, and studio complexes respond to the incentive and encouragement to join in the event. Berlin cultural secretary Anrdé Schmitz said, "With over 400 galleries and 6,000 actively practicing artists, we are not only Europe's biggest gallery city but also the most innovative," pointing to the number of Berlin-based artists in Documenta and last year's Venice Biennale.
On the other hand, the result may be over-stimulation and saturation, as happened when this year's Gallery Weekend and Berlin Biennale overlapped. Though that combination seemed to bring in a critical mass of people, it also drew criticism from both organizers and viewers for being too much in too little time -- time will tell whether September's first Berlin Art Week will suffer from the same art overdose.
Berlin Art Week takes place from September 11-16, kicking off with the Hamburger Bahnhof and Verein der Freunde der Nationalgalerie's presentation of the shortlist for the Young Art Prize. The full program can be seen here.
-Alexander Forbes ARTINFO Germany, BLOUIN ARTINFO
More of Today's News from BLOUIN ARTINFO:
"We Had to Start Something New": Art Fairs and Museums Unite for September's Inaugural Berlin Art Week
Warhol's Jagger Attracts Top Price at Mossgreen Sale of Hamel and Cook Collection
Artist Stages Weird Candid Photos of Queen Elizabeth, Mocking Britain's Monarchy Fetish
Hoberman: In "5 Broken Cameras," an Unflinching View of the Palestinean Experience
A David Lynch Creation That Won't Give You Nightmares: The Auteur Designs an Eerily Normal Paris Hotel Suite
Like what you see? Sign up for BLOUIN ARTINFO's daily newsletter to get the latest on the market, emerging artists, auctions, galleries, museums, and more.