Of all the clichés of American political life, one of the most stubborn is that the Republican Party hates the arts. Come election time, Republican candidates begin bashing the creative class, whether it is to attack Hollwood's supposed liberal bias or pledge to curtail federal culture funding.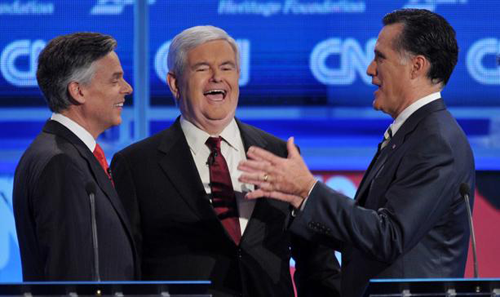 Former Utah governor Jon Huntsman (L) confers with former House speaker Newt Gingrich (C) and former Massachusetts governor Mitt Romney (R) prior to the start of the Republican presidential debate on national security November 22, 2011. - AFP/Getty Images
In 16 bruising debates that sent assertions flying, the two leading Republican presidential candidates (Mitt Romney and Newt Gingrich) did nothing to dislodge this impression. Spending cuts dominated the discussions, coupled with increasingly extreme positions on such red-meat Republican issues as gay marriage, Sharia law, taxes, and Israel. Then, of course, there is John Huntsman.
To coincide with the first Republican presidential primary in Iowa on January 3, ARTINFO decided to review the arts credentials of these three candidates.
NEWT GINGRICH
PRO
- Gingrich wrote in 1993 that he considers himself a "definer of civilization," as well as an "advocate of civilization," a "teacher of the rules of civilization," an "arouser of those who form civilization," an "organizer of the pro-civilization activists," and the "leader (possibly) of the civilizing forces."
- A Francophile, Gingrich first dreamt of entering public office after visiting a memorial to the Battle of Verdun as a boy, and later went to live with his parents in a château in the Loire Valley, where he "had enough French to survive" and would go off exploring the area on his own, according to biographer Mel Steely.
- He loves the opera, spending this year's anniversary of September 11th seeing a $1,000-per-ticket performance of "Tosca" at the Washington National Opera. In fact, he is a longtime supporter of the Washington National Opera.
- His wife, Callista, is a photographer, filmmaker, and author of the illustrated (partisan) children's book "Sweet Land of Liberty," featuring Ellis the Elephant.
- Callista likes singing, too. "Michael Novak, a prominent Catholic writer on philosophy and political culture now teaching at Ave Maria University, a Catholic institution in Florida, said he remembered running into the Gingriches in Rome when Mrs. Gingrich was singing at the Vatican with the basilica choir from Washington, according to the New York Times.
- He and Callista made a documentary film together called "Nine Days That Changed the World," about Pope John Paul's part in shaking Poland free of Communism. The film was co-produced by Citizens United, the right-wing organization that won the landmark 2010 Supreme Court ruling "Citizens United v. Federal Election Commission" that allowed corporations to spend unlimited amounts of money on campaign ads under the banner of the First Amendment.
- "I am for the Atlanta Ballet," Gingrich said in 1995. "I'm for the Metropolitan -- maybe the greatest art museum in America -- in New York City." However, he then added that he was "against self-selected elites using your tax money and my tax money to pay off their friends."
- He loves hard-edge realist painter James H. Cromartie, calling the artist's painting of the Capitol building "an exceptional and truly beautiful work of art." He also loves Norman Rockwell. Since 1965, however, "there has been a calculated effort by cultural elites to discredit this civilization and replace it with a culture of irresponsibility that is incompatible with American freedoms as we have known them," he writes.
CON
- Gingrich wrote in 1993 that he considers himself a "definer of civilization," as well as an "advocate of civilization," a "teacher of the rules of civilization," an "arouser of those who form civilization," an "organizer of the pro-civilization activists," and the "leader (possibly) of the civilizing forces."
- Gingrich doesn't include any cultural pursuits under the "Personal Interests" section of his Facebook page, unless you count "reading," "writing" (he has a penchant for revisionist historical fiction that glosses over atrocities by Confederate troops), and "visiting zoos in different cities."
- He believes that "we are engaged in a cultural struggle with a cultural elite that believes that life is random and has no moral meaning." Much of his perspective on the arts, in fact, is colored by his animus against cultural elitism. But he loves the opera.
- When the National Endowment of the Arts's financial support for Robert Mapplethorpe's infamous "X Portfolio" came under fire in 1991, Gingrich tried to push through a bill barring the NEA from sponsoring any projects that could be said to "promote, disseminate or produce materials that depict or describe in a patently offensive way sexual or excretory activities or organs." This key salvo in the culture wars set the tone for Gingrich's tenure as speaker of the House after Republicans swept into power there in 1994.
- In 1994, Gingrich proposed cutting the NEA's funding by 50 percent. "Gingrich said he hoped to go even further, privatizing the NEA and public broadcasting," according to ThinkProgress.org.
- A devout Catholic, he has written that he believes the "the crisis of European civilization" is that "militant, government-imposed secularism undermines and weakens Christianity."
- On "Piss Christ" versus the Muhammad cartoons that inflamed deadly riots across the Middle East: "That is why Yale agrees not to print the Muslim cartoons because after all you wouldn't want... freedom of speech means having the 'Piss Christ' at a public facility so people can come and look at Christ in urine. That is totally appropriate. But now a cartoon that shows Mohammed, oh, that would be highly inappropriate."
- He is, generally, a paranoid antimodernist.
MITT ROMNEY
PRO
- According to ThinkProgress.org, "Perhaps the most controversial thing Republican Mitt Romney's ever said about the arts was his brief declaration in 2007 that his favorite book was Scientology classic 'Battlefield Earth' -- keeping in character and good sense, he soon reversed himself and declared that Mark Twain's 'Huckleberry Finn' had pride of place on his bookshelf instead." He also enjoys the "Twilight" series. Oh, and the Holy Bible. It's a big tent.
- On his Facebook page, Romney lists "watching movies" as among his pasttimes -- he's an originalist when it comes to the great franchises of the 1970s, citing the original "Indiana Jones" and "Star Wars" films as among his favorites -- and he enjoys "Seinfeld," "Modern Family," "Friday Night Lights," "Justified," "30 Rock," and "American Idol." As for music, he lists "Roy Orbison, the Beatles, the Eagles, Clint Black, Randy Travis, [and] Johnny Cash."
- Romney can claim descent from the 18th century British society portraitist George Romney, a fashionable artist in London circles who was the arch-rival of the superior Joshua Reynolds.
- Romney's official campaign song is Kid Rock's "Born Free."
- He's a Francophile, too. He spent his years as a Mormon missionary in Paris and Provence in the 1960s, and has been known to speak French on the campaign trail.
- Romney's official portrait as governor of Massachussets has him posed in front of a painting that resembles a weird mash-up of Impressionist, Pointillist, and Futurist styles.
CON
- In an op-ed in USA Today, Romney said that as president he would "enact deep reductions in the subsidies for the National Endowment for the Arts." His campaign later elaborated on this position, saying Romney would slash funding for the NEA and National Endowment for the Humanities in half.
- After being voted governor of Massachusetts in 2002, Romney hoped to prevent the arts budget from going any higher than $7.3 million, the amount it was when he took office. However, he was unable to stop the state legistlature from raising it. When he stepped down to run for president in 2007, the arts budget was $12.1 million.
JON M. HUNTSMAN, JR.
PRO
- On his Facebook page, Huntsman lists "progressive rock" as his only cultural interest. That's something of an understatement. In 1978, Huntsman grew his hair long and dropped out of high school to play in a prog-rock band called Wizard. Recently, when he appeared on "The Late Show," David Letterman pulled out an incriminating photograph from this period and invited him to jam with Paul Shaffer on "Johnny B. Goode." Huntsman displayed some impressively jazzy skills on the piano.
- He has said, "I love music, I love all kinds of music, particularly jazz. Jazz is an extension of America. There's no other country in the world that could have produced jazz."
- On August 18, Huntsman first tweeted about his love of Captian Beefheart, aka Don Van Vliet, the cult hero of avant-garde '60s music (who later became an expressionistic painter represented by blue-chip dealer Michael Werner). Pressed on this issue, Huntsman proved his bona fides by calling "Trout Mask Replica" "part poetry, part improvisation, all cutting edge" and then claimed the 1978 record "Bat Chain Puller" to be "a little more accessible." That album was never officially released, and has circulated among Beefheart fanatics only in bootleg form; it may be released, finally, this month by the Zappa Family Trust.
- In the CNN/Tea Party debate, Huntsman made a crack about Romney's book "No Apology," saying, "I don't know if that was written by Kurt Cobain or not." If any of the Republicans present got the Nirvana joke, they gave no indication of it.
- In April, a week before he officially stepped down from his post as U.S. ambassador to China and two weeks after Ai Weiwei was detained by the Chinese government, Huntsman wrote in Time magazine that "Ai Weiwei is the kind of visionary any nation should be proud to count among its creative class. He has drawn the world's attention to the vibrancy of contemporary Chinese culture.... It is very sad that the Chinese government has seen a need to silence one of its most innovative and illustrious citizens."
- As ambassador, Huntsman was an advocate of intellectual property rights and pledged that the Obama administration would "continue to speak up in defense of social activists, like Liu Xiaobo, Chen Guangcheng and now Ai Weiwei, who challenge the Chinese government to serve the public in all cases and at all times."
- Huntsman's three eldest daughters are a cultural force to be reckoned with. Mary Anne, 26, is a classically trained pianist; Abby, 25, is a former PR hand who now books her dad's media appearances; Liddy is an aspiring "Saturday Night Live" comedian. Together they have made winningly goofy attempts to back their father, such as a parody of Justin Timberlake's "Sexyback" ("We're bringing Huntsman back..."). Huntsman also has two sons, and two adopted daughters, one from India and one who was found abandoned in a Chinese vegetable market.
- In a recent survey of the Republican candidates' homes conducted by the New York Times, a jury of designers liked Huntsman's five-bedroom house in the D.C. area the best. A tour of the home revealed "a man of many interests in the artwork, vases and other ceramics, perhaps collected on Mr. Huntsman's travels in Asia."
CON
- As governor of Utah, Huntsman toured Robert Smithson's "Sprial Jetty" and fielded the Dia Art Foundation's concerns that oil drilling in the Great Salt Lake might devastate the Land Art masterpiece. Despite Huntsman's creation of a government body to handle Dia's pursuit of the lease for the land "Spiral Jetty" occupies -- land originally leased by '70s art patron Virgina Dwan -- a bureaucratic shakeup rendered those efforts moot, bringing Dia "back to step one."
- Politico reports that, as governor of Utah, "Huntsman moved the Utah Arts Council from its status as a fully independent agency to part of the Department of Community and the Arts. While reorganizations can be a bad thing if they're done essentially to eliminate government work on the arts, they can also reduce administrative costs or improve opportunities to do joint agency projects. Huntsman justified his reorganization on the latter grounds, saying, according to U.S. States News, 'Utah's population is becoming more heterogeneous, reflecting a need for more attention to certain government services.'"
ENDORSEMENT
In light of the above, ARTINFO declares its endorsement of Jon Huntsman as the most arts-friendly candidate in the 2012 Republican primaries.
-- Additional reporting by Chloe Wyma
-Benjamin Genocchio, Andrew M. Goldstein, ARTINFO
More of Today's News from ARTINFO:
Feminist Cred?: Demi Moore Signs Up to Play Gloria Steinem in Linda Lovelace Biopic
Why Did "Mona Lisa" Become an Icon?: New Book Examines How History's Most Famous Images Went Viral
The Top 20 Shows to See in 2012, From Cindy Sherman to Ellsworth Kelly
When Cleanliness Is Next to Ungodliness: Furor Erupts Over Louvre's Scrubbing of Holy Leonardo Painting
Got Synesthesia?: Hong Kong Artist Lio Yeung Lets Viewers See Like a Butterfly, or a Baby, in New Show
Like what you see? Sign up for ARTINFO's daily newsletter to get the latest on the market, emerging artists, auctions, galleries, museums, and more.