Less than two years ago, Chicago-based Perkins+Will completed construction for a 27-story building in South Mumbai, an eccentric accordion-like high-rise equipped with nine elevators, parking space for 168 cars, three helipads, and an "ice room" filled with artificial flurries. Though generous enough to make a hundred working Google employees happy, this would be the new private residence of Indian business magnate and ninth richest man in the world Mukesh Ambani and his family. The building was formally christened after a mythical island on the Atlantic, Antilia, but it was quickly dubbed the "Taj Mahal of the 21st Century" for its elite, palatial extravagance.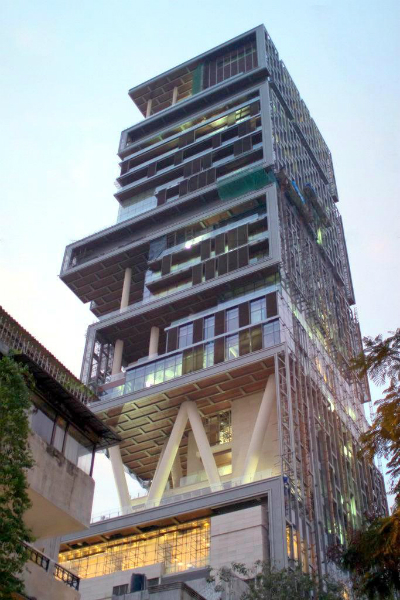 e
Ambani house mumbai / Jhariani via Wikipedia
But since completion in October 2010, Antilia has been empty of its occupants at night, its ballroom, swimming pool and hanging gardens inhabited by Ambani and his nearest and dearest only during the day. As Architectural Record reports, despite the Chicago firm's dedication to making every floor plan unique, Antilia "fails to conform to Vastu Shastra, an ancient version of feng shui that guides temple architecture in India. Many Indians refer to these principles when constructing their homes." Architect and builders in India are noticing a growing need for assurance of Vastu Shastra compliance when it comes to designing private residences.
So was Antilia tainted by a $1-billion design oversight? Or had Ambani intended on a daily commute back to his 14-story residence? No one will confirm or refute the rumors surrounding Mumbai's monument to the .001%. Ambani's business spokesman, Tushar Pania, dismissed the questions as "idle gossip." But as the rumors gain traction, Antilia loses more of its intended regal air and devolves further into folly.
-Kelly Chan, BLOUIN ARTINFO
More of Today's News from BLOUIN ARTINFO:
K8 Hardy Ripped Fashion a New One at Her Riotous Whitney Biennial Runway Show
Reagan's Blood, Bieber's Hair, Ally McBeal's PJs: 10 Freakish Items From PFCAuctions's Current Online Sale
See French Street Art Star JR's Enormous New High Line Mural
The ARTINFO Bookshelf: 40 Books That Every Artist Should Own, Part II
What If Your Prized Painting Turns Out to Be Nazi Loot? The Niche Market for Art Title Insurance
Like what you see? Sign up for BLOUIN ARTINFO's daily newsletter to get the latest on the market, emerging artists, auctions, galleries, museums, and more.