NEW YORK--Ingrid Homberg, the 59-year-old woman whom a police officer roughly ejected from Gagosian's Anselm Kiefer show last year after she became entangled in a peaceful protest, has followed through with her threat to take the gallery to court, filing her suit on the cusp of what may be the global blue-chip operation's most high-profile weekend of the year. The claim, lodged with the U.S. District Court for the Southern District of New York at 10:30 a.m. this morning, seeks as-yet-unspecified damages for a litany of alleged wrongs that includes "debasement, fright, fear, humiliation, embarrassment, psychological and emotional trauma, [and] physical and mental injury." Homberg is also suing the city of New York.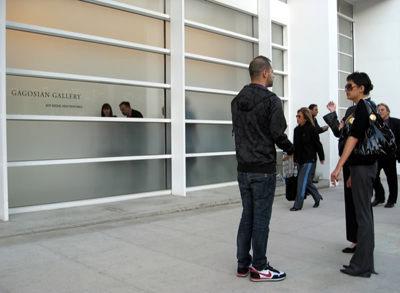 This weekend Gagosian Gallery, which is now being sued by Ingrid Homberg, plans to host shows at its Beverly HIlls space (pictured) featuring work by Ed Ruscha and a collaboration between James Franco and Gus Van Sant. Courtesy gordoncupcake, Photobucket
The incident behind the lawsuit occurred on December 18, the last day of the Holocaust-referencing German artist's show at Gagosian's 24th Street space in Chelsea, when a police officer called to expel peaceful demonstrators from the group U.S. Boat to Gaza grabbed Homberg -- a gallerygoer who had struck up a conversation with the young protesters -- by the arm and dragged her, screaming, out of the gallery. She afterward went to a hospital emergency room to be treated for her injuries.
According to Homberg's lawyer, Joel Berger, a career civil rights attorney who claims to have won millions of dollars from New York City for police abuse, the gallery and the police have "joint and several liability" for the harm to his client, because the Gagosian staffers who called the police should have told the responding officers that she was an innocent bystander. "In all my years of practicing law, I have never seen such brutality take place in such a supposedly civilized setting," Berger said in a statement. Asked in a telephone interview with ARTINFO if he could point to a legal precedent in such a lawsuit, the lawyer responded, "To say that there's legal precedent... of course, there isn't any specific case, but it's generally accepted as part of tort law that you have responsibility in cases like this."
A Gagosian representative declined to comment on the lawsuit, which happens to come at an awkward time for the gallery. The next few days feature several high-profile Gagosian events in Los Angeles -- where dealer Larry Gagosian had his start selling posters outside of UCLA -- timed to introduce the gallery's expanded West Coast ambitions to a high-wattage crowd in town for the Academy Awards. Tonight Ed Ruscha will debut new work at one gallery in the city, followed by an exclusive dinner at Mr. Chow; tomorrow night will see the opening of a collaborative show by actor, artist, and Oscar co-host James Franco and filmmaker Gus Van Sant, followed by a starry dinner sponsored by Gucci; then this Sunday, the dealer is rumored to be hosting a lunch at his new L.A. house, once owned by Gary Cooper, that will feature furniture by Richard Prince.
The timing seems unintentional. Last month, Homberg and Berger announced their intention to file the suit 30 days hence, a day which happens to fall on today. Asked about the Gagosian events, the lawyer said, "I didn't even know any of this."
In the statement Berger issued, the lawyer emphasizes both Homberg's history of poor health -- listing several chronic ailments, including fibromyalgia, scoliosis, and arthritis -- and the fact that she was especially affected by the police incident due to her upbringing in postwar Germany, a place and time that Kiefer treats obsessively in his work. "She's very traumatized by stuff involving abuse of government authority, especially physical abuse," Berger told ARTINFO. "She had experiences with a police state. A lot of people she knew growing up had been involved in the war. Her father had been a U-boat commander, so she has some issues with this kind of abuse of authority."
The purpose of stressing these points is to "send a message to Gagosian," according to Berger. "I want Gagosian to know that this is a serious matter that affects their public image, not just a lawsuit," he said. "They have to understand that this is not something that should happen at their gallery, and that is a matter of public interest."
Last month Berger said he was optimistic that Gagosian would settle before the case went to court. He declines to say how much money his client is seeking from the gallery in damages. "Only lawyers who are out to grab headlines do that," Berger said. "Intelligent lawyers don't do that any more."
-Andrew M. Goldstein ARTINFO
More of Today's News from ARTINFO:
What Good Is Political Art in Times Like These?
Caravaggio's Rap Sheet Reveals Him to Have Been a Lawless Sword-Obsessed Wildman, and a Terrible Renter
Russian Billionaire Roman Abramovich Calls a Starchitect Search for Dasha Zhukova's Art Island
No Friend of the Nude: A Blushing Facebook Wages a Campaign Against Courbet and Au Naturale Art
Billions of Blistering Barnacles! A French Court Upholds Tintin Parody
Like what you see? Sign up for ARTINFO's daily newsletter to get the latest on the market, emerging artists, auctions, galleries, museums, and more.