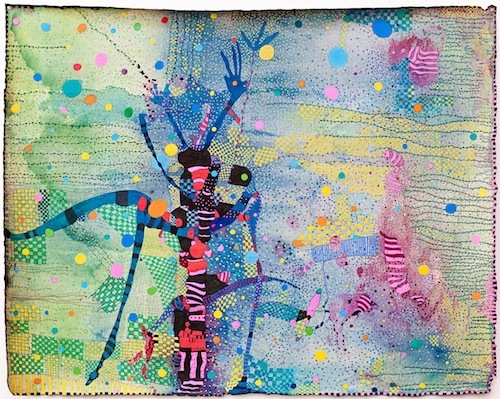 Brienne Walsh, March 3, 2015
This week is Armory Week in New York, which means that the piers over the frozen waters of New York's rivers will be inhabited by a variety of art fairs. Whether you're a film aficionado, a young collector, a fan of emerging art or merely interested in getting a finger on the pulse of what's going on in the art world at the present moment, there's plenty to do. We've put together a guide to the 8 fairs to help you navigate this exciting week of art.
1. The Armory Show
Piers 92 & 94
Twelfth Avenue at 55th Street
March 5-8
Although not the only game in town, The Armory Show is the headline event of the week. This year's iteration will feature booths from 199 galleries hailing from 28 countries. The themed section of the fair, curated by Omar Kholeif, the current Curator of Whitechapel Gallery in London, is entitled "Armory Focus: Middle East, North Africa and the Mediterranean" ("Focus: MENAM"), and will feature galleries and artists from a region that includes cities such as Beirut, Dubai, Athens and Istanbul. Along with checking out the booths, be sure not to miss "A Convention of Tiny Movements" (2015), a work by the 2015 Armory Commissioned artist Lawrence Abu Hamdan that consists of an audio essay, a series of amalgamated objects and 5,000 potato chip packets distributed as a free souvenir.
2. The ADAA Art Show
Park Avenue Armory
Park Avenue at 67th Street
March 4-8
Generally the most blue chip of all of the fairs during Armory Week, the ADAA Art Show will feature curated solo, two-person and thematic exhibitions by 72 of the nation's leading art dealers. Highlights include never-before-seen photographs from Lorna Simpson's series "Walking and Lying Objects" at Salon 94's booth, and "The Heart Has Its Reasons," a bronze sculpture by Tracey Emin presented by Lehmann Maupin. If you don't have money for an original but want a piece of the action, Pace Prints has printed a special edition by Ella Kruglyanskaya. Each of the 30 prints will be sold for $1,500, and the money raised will go to benefit the Henry Street Settlement.
3. Independent
548 West 22nd Street
March 5-8
Once the most avant garde of the fairs, the Independent has since become a mainstay for academics and art world cool kids. Held at the former DIA building, the fair will host over fifty emerging galleries and non-profits from 14 countries including Balice Hertling from Paris, CANADA from New York and Gaga from Mexico City. Expect less an art fair than a sprawling group exhibition that reads something like a biennial or triennial at a museum. A special edition publication has been produced on the occasion of the event with the Independent's media partner Mousse.
4. Volta
Pier 90
Twelfth Avenue at 48th Street
March 5 - 8
A sister fair to the Armory, Volta focuses on solo projects presented by 93 galleries from six continents. Located on a pier a few blocks south from the main event, galleries at Volta offer more in depth views of the artists they represent. Time your visit around The Volta Salon, presented in collaboration with artnet, which features panel discussions by art world professionals. Highlights include CUBA AFTER THE THAW, a conversation moderated by Claudia Calirman, Assistant Professor of Art History at John Jay College of Criminal Justice (March 6, 6-7pm), and ART AND THE CLOUD: COLLECTING AND INVESTING IN DIGITAL ART, moderated by Paddy Johnson, the founder of Art F City (March 7, 4:30-5:30pm).
5. Scope
639 West 46th Street
March 6-8
Also located a few blocks away from the Armory Show, Scope, a satellite fair that also pops up at Art Basel Miami Beach, among other major fairs, prides itself on its open format layout. The 2015 iteration in New York houses presentations by 60 international galleries including SCAI, Seoul, Rebecca Hossack Gallery and Gallery on Wade. Focusing on less well known galleries in the international art scene, SCOPE also hosts a Breeder Program that introduces new galleries to the contemporary market -- alumni of the program include the now well-known galleries Peres Projects, Daniel Reich Gallery, Bischoff/Weiss and INVISIBLE-EXPORTS.
6. Pulse
125 West 18th Street
March 5 - 8
Like Scope, Pulse is a satellite fair that has annual editions in both New York and Miami Beach. What sets it apart from the other fairs is the PROJECTS program, which features audience-engaging large-scale sculptures and installations. At Pulse New York 2015, Projects include "Scudder Towers Down," (2008) a video with sound by Jonathan Calm, who explores his childhood growing up in the projects in East New York, and "The Cloud," (2013), an interactive lighting fixture by Richard Clarkson that senses a viewer's presence, and mimics their behavior in the form of a thundercloud.
7. Art on Paper
Pier 36
On the FDR Between Montgomery and Clinton
March 5 -8
Appearing for the first time, Art on Paper is an event that features artists who look to paper as a major influence on their sculpture, drawing, painting and photography. Located on a vista in downtown Manhattan with sweeping views of the Manhattan and Brooklyn Bridges, Art on Paper is presented in collaboration with the Brooklyn Museum and the Wall Street Journal. Special projects include "Dave Eggers: Untitled," an installation of larger than life reproductions of drawings by the famous writer presented by Electric Works, and "Dogfight," a work by Michael Scoggins consisting of paper airplanes engaged in a war game.
8. Moving Image
Waterfront Tunnel
Eleventh Avenue between 27th and 28th Street
March 5 - 8
Free to the public, galleries and institutions participating in Moving Image present single-channel videos, single-channel projections, video sculptures and other larger video installations. Projects include presentations by Charlie Ahearn in collaboration with P·P·O·W gallery (New York, NY) and Pink Twins with Sinne Gallery (Helsinki, Finland). On March 5, the day the fair opens, organizers will announce the artist chosen for the Midnight Moment, a video screened just before 12am on the jumbo screens in Times Square for the month of April. The Midnight Moment program is held in collaboration with the Times Square Advertising Coalition (TSAC) and Times Square Arts.
Sign up for our weekly newsletter to get the best of ARTPHAIRE delivered straight to your inbox!
Brienne Walsh is a freelance writer who contributes to Art in America, Interview Magazine, The Huffington Post, Glo, NY Mag, The New York Times, and the NY Daily News, among other publications.
PHOTO GALLERY
8 Fairs to Visit during Armory Week