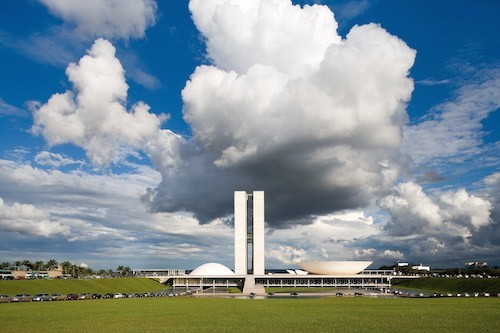 By Ann Binlot, June 2, 2015
To mark the 60th anniversary of its first survey of Latin American architecture, the Museum of Modern Art in New York decided to examine its evolution with the exhibition "Latin America in Construction: Architecture 1955-1980."
On view through July 19, the exhibition is a comprehensive display of how the region pushed itself into the modern age through daring, experimental designs. Over 500 never-before-shown pieces of architectural drawings and models, vintage photographs, footage, as well as ephemera from universities, and architecture offices are now on display.
Situated on the sixth floor inside the Joan and Preston Robert Tisch Exhibition Gallery, the exhibition begins with a precursor on the 25-year period with charcoal drawings Le Corbusier made while lecturing in Buenos Aires in 1929, Frank Lloyd Wright's 1931 scrapbook of a visit to Rio de Janeiro, and photographs of the 1931 construction of Diego Rivera and Frida Kahlo's home and studio designed by Juan O'Gorman, as well as Brazilian architect Oscar Niemeyer's 1947 sketches of the United Nations. Then it takes a broad look of the rapid cultural and political changes taking place in Latin America during the mid-50s through a series of commissioned videos of footage from the time edited by filmmaker Joey Forsyte. Enormous skyscrapers were sprouting out of the town, entire cities were being built, and the architects of the period wanted to take part in the new wave of architecture that was being built.
Visitors will travel through every aspect of the urbanization of Latin America, starting with the construction of university campuses, like the American influences on the Beaux Arts-style campus of the Universidad de la Habana (1905-30s) Frank Lloyd Wright's influence on the Universidad de Puerto Rico (1946-66), along with the modernist campuses of the Universidad Nacional Autónoma de México (UNAM) in Mexico City and the Universidad Central de Venezuela (UCV) in Caracas. It continues to glance at the rise of the single-family home, thanks to increasing incomes, with photographs of Henry Klumb's home in San Juan, Puerto Rico and Guillermo Bermudez's blueprint for his house in Bogota.
The exhibition is full of treasures, like Alexander Calder's studies for his acoustic clouds at the Universidad Central de Venezuela (UCV) and Oscar Niemeyer and Roberto Burle Marx's site plan for Sao Paulo's Parque Ibirapuera and the model for Lina Bo Bardi's Museu de Arte de Sao Paulo. Architecture exhibitions can be challenging due to the amount of sometimes dry content, but MoMA architecture curator Barry Bergdoll nailed it with "Latin America in Construction: Architecture 1955-1980." Any architecture enthusiast or those who have a connection to Latin America will be able to appreciate the photographs, models, sketches and footage from this quarter of a century.
Visit "Latin America in Construction: Architecture 1955-1980" on display at the Museum of Modern Art in New York through July 19.
Sign up for our weekly newsletter to get the best of ARTPHAIRE delivered straight to your inbox!
--Ann Binlot is contributor to ARTPHAIRE. This New York-based writer and graduate of Columbia University School of Journalism covers the spectrum from foreign affairs and politics, to fashion and art. Binlot has also contributed to several publications including TIME, Marie Claire, Newsweek and more.
PHOTO GALLERY
A Daring Show on Latin American Architecture Shines in New York
Follow ARTPHAIRE on Twitter: www.twitter.com/ARTPHAIRE