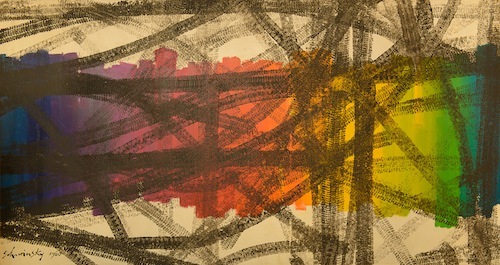 By Justin Quirk, April 7, 2015
A new show at Zurich's Migros Museum re-examines the work of Swiss artist Xanti Schawinsky, a European creative whose work is inextricably bound up with the chaotic period that he had the misfortune to be born into.
The child of Polish Jewish parents, Schawinsky worked briefly in architecture before enrolling at the Bauhaus in 1924. This immediately placed him shoulder to shoulder with those of his fellow students who would go on to exert such influence over visual culture, including Walter Gropius, Wassily Kandinsky, Paul Klee, and Josef Albers. During this time, Schawinsky experimented in the movement's theater and music departments, work that was later included in the original 1938 MoMA Bauhaus exhibition.
While much of Schawinsky's time at the Bauhaus was a formative creative period, it also impressed upon him how inseparable art was from the political culture around it. During his tenure, the Bauhaus was pressured, marginalized, stripped of its leaders and eventually shut down. In 1936 - thanks to Josef Albers - Schawinsky and his wife secured safe passage to America, originally for a teaching post in North Carolina, then to New York where he reunited with Gropius and other Bauhaus luminaries. There he perfected his "Spectodrama" pieces, early version of countercultural happenings, bringing space, light, sound and color together.
Schawinsky went on to produce a body of visual work that still looks remarkably fresh. It has the clean, formal discipline that gives away his architectural training, but with a sense - thanks to comic touches, surreal flashes and experimentation - of an artist constantly pushing at the boundaries of genre. Cut-outs, optical tricks, the repurposing of brand identities and early mechanical graphic treatments: all contribute to work which manages to be genuinely avant-garde without snobbishly pushing the viewer away. Schawinsky deserves to be a better known name, both in art and also in the world of graphic identity which now permeates almost all aspects of modern life.
Xanti Schawinsky is on view at the Migros Museum in Zurich through May 17, 2015.
--Justin Quirk is an ARTPHAIRE contributor, and the Editorial Director of HOUSE magazine, as well as a contributor to The Guardian, Esquire, Shortlist, Stylist, Grazia and The Sunday Telegraph. Quirk is based in London and explores the writing world in the realm of arts and culture.
Sign up for our weekly newsletter to get the best of ARTPHAIRE delivered straight to your inbox!
Follow ARTPHAIRE on Twitter: www.twitter.com/ARTPHAIRE