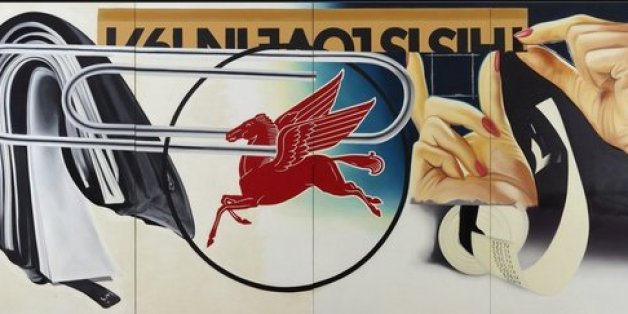 Public advertisements have become such a commonplace part of the American landscape that we don't even consciously register them anymore -- that is unless they contain something extraordinary.
Such will be the case with Art Everywhere US, an initiative that will transform as many as 50,000 billboards, bus shelters, street furniture and subway platforms into public artwork this summer. They will feature reproductions of 58 iconic American paintings, including Jasper Johns' "Three Flags," Romare Bearden's "Soul Three" (1968), Willem de Kooning's "Montauk Highway" (1958) and Cindy Sherman's "Untitled" (2008).
The paintings were chosen by online voters, who looked at 100 images nominated by Art Institute of Chicago, the Dallas Museum of Art, the Los Angeles County Museum of Art, National Gallery of Art in Washington DC, and the Whitney Museum of American Art in New York. Beginning with John Singleton Copley's "Watson and the Shark" (1778), the works run the gamut from the 18th century all the way to the 21st century. The most contemporary of these is Sherman's photograph. The entire collection show the progression of American art from figurative painting through Impressionism, Surrealism, Abstract Expressionism, Pop Art and photography. Even controversial photographer Robert Mapplethorpe is included with Ken Moody and Robert Sherman (1984), which depicts a black man and a white man locked in an embrace.
The work that received the most votes, perhaps unsurprisingly, was Edward Hopper's "Nighthawks" (1942), the iconic image of a diner as seen from the street outside, which is currently in the collection of the Art Institute of Chicago.
The event follows a similar initiative in the United Kingdom last year. It will begin on August 4 in New York City, where digital billboards will display all 58 of the art works, and end on August 31. Along with gazing at the transformative images, viewers will be invited to download an app. The app will unlock augmented reality experiences and audio guides to enhance the experience. All that it requires to enjoy them, however, is being present on your daily commute, where you're likely to see one pop up during your travels.
Art Everywhere begins August 4 around the United States.
--
--Brienne Walsh is a writer and photographer who contributes to publications such as The New York Times, Art in America, Interview, ArtReview, Modern Painters, Departures, Paper, New York Magazine, and Forbes among others. She has also appeared as an art expert and blogger on television programs including Today and Anderson Cooper Live. Brienne received her BA in art history from Brown University in 2004, and her MA in Critical Studies from Columbia University in 2011.
PHOTO GALLERY
Art Everywhere in August