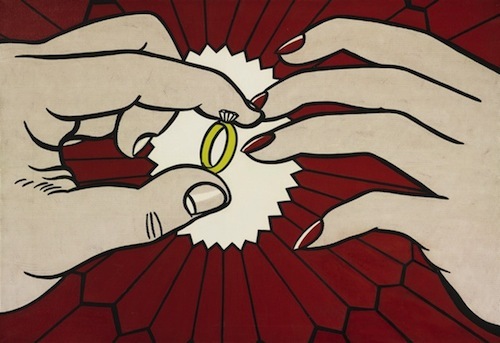 By Brienne Walsh, March 31, 2015.
As spring blossoms, so does the reach of the art world. In the past few weeks, it has expanded across disciplines, borders and the Internet, with Sotheby's announcing a partnership with the rapper Drake, international art fairs reputedly accounting for 40% of sales in the art market, and Google continues to work on its Art Project.
1. A Rare Roy Lichtenstein Will Get Auctioned: Entitled "The Ring (Engagement)," the painting is from a series Lichtenstein made based on scenes from love and war comic books made between 1961 and 1965. One of the largest works from the period at 48 x 70 inches, "The Ring (Engagement)" has had only two owners -- the last was Stefan T. Edlis, a Chicago businessman who has held the painting in his private collection since 1997. The work is expected to fetch at least $50 million at Sotheby's Contemporary Evening Auction in New York on May 12. In advance of the sale, it will be on view at the Sotheby's headquarters in Hong Kong and London.
2. Google Encounters Road Blocks In Its "Art Project": Launched four years ago, the Art Project is part of Google's "Cultural Institute," which thus far has digitized over 45,000 artworks, the Dead Sea Scrolls, Nelson Mandela's archives and 360-degree views of Stonehenge and the Great Barrier Reef, among thousands of other places. Unfortunately -- or perhaps fortunately, at least for institutions -- the project has encountered many copyright restrictions, forcing it to blur out images on digital tours of the Getty Center in Los Angeles, the Art Institute of Chicago and the Thyssen Museum in Madrid, among many other places. The Spanish artist Mario Santamariá has documented these blurred works in "Righted Museum," a series of screenshots he captures, and then posts daily on Tumblr. Even still, the Cultural Institute will continue in its quest to make everything available to everyone.
3. Bears, Skulls And Masterpieces: A sale of the private collection of an unnamed individual brought in over $53.7 million at an auction held at Sotheby's London from March 10 - March 12. Entitled "Bear Witness," the collection included 284 works of contemporary art by the likes of Gerhard Richter and Tracey Emin, as well as countless bear and skull-themed artifacts and curiosities. The collector, apparently, had eccentric taste -- as well as a clear aesthetic vision. Some surmise that he or she may be Guido Orsi, an Italian shipbuilder whose name is close to the Italian word for bear -- this, however, has not been confirmed. For seven days before the auction itself, "Bear Witness" was on view at Sotheby's in London.
4. Graham Steele Joins Hauser, Wirth & Schimmel in Los Angeles: Hailing from White Cube, where he helped found its Hong Kong location, Steele will be a senior director at Hauser, Wirth & Schimmel. Located in a historic 100,000-square foot building in downtown Los Angeles, the mega-gallery's California outpost is being helmed by Paul Schimmel, the former senior curator at the Los Angeles Museum of Contemporary Art. As the senior director, Steele will lead the sales team, as well as curate site-specific projects and exhibitions. He will join the team in April of 2015.
5. Basquiat Buyer Is Revealed: "Dustheads"(1982), a painting by Jean-Michel Basquiat, was purchased for $48.8 million by an anonymous buyer at an auction at Christie's in May of 2013, causing much speculation. Earlier this month, the buyer was revealed as Jho Low, the Malaysian financier who has gained notoriety as the buyer of a penthouse in the Time Warner Center that once belonged to Beyoncé and Jay Z. Only 33-years-old, Low frequently buys real estate or art on behalf of investors -- he confirmed, however, that he bought Dustheads for his family trust. Depicting two bug-eyed figures presumably high on Angel Dust (otherwise known as PCP), the painting shattered Basquiat's previous auction record, which was set at $26.4 million.
6. Art Fairs Continue Their Success: It's no wonder, considering that the European Fine Arts Foundation (TEFAF) reported that 40% of global art sales, which hit $54 billion in 2014, come from art fairs. Art Basel Hong Kong, which was held at the beginning of March, featured booths by 233 galleries from 37 countries and territories, and attracted over 60,000 visitors. Major dealers such as David Zwirner reported strong sales -- works in his booth by Yayoi Kusama, Oscar Murillo, and Wolfgang Tillmans, for example, were sold within an hour of the opening.
Other fairs that took place in March included Art Fair Tokyo. Since it was founded in 1992, the fair, which has taken on different names, has experienced some turbulence. Japanese art collectors burned by the boom and bust cycle of the early 1990s are hesitant to make major purchases -- and moreover, feel culturally isolated from the art market model established by the West. The Japan Times suggests this may change as rival Chinese collectors become increasingly prominent.
Currently the largest showcase of artists from the Arab world, the 2015 iteration of Art Dubai featured booths by 92 galleries, over 30 of them from the region. Following a model established by fairs such as Art Basel and The Armory, it featured workshops and talks by the likes of Hans-Ulrich Obrist.
7. Sotheby's Partners With Drake: In a world where hip hop royalty such as Jay Z and Kanye West are increasingly players in the art market, Sotheby's is wise to team up with the rapper Drake. Together, they have created an exhibition of works by black American artists on sale at its New York headquarters from April 28 to June 12. Drake has been tasked with choosing music to accompany roughly 20 works by the likes of Glenn Ligon, Kara Walker, Nick Cave and Rashid Johnson. His picks will be available to visitors at listening stations throughout the gallery. He is not being paid for his contribution.
Brienne Walsh is an ARTPHAIRE contributor, as well as a freelance writer who contributes to Art in America, Interview Magazine, The Huffington Post, Glo, NY Mag, The New York Times and the NY Daily News, among other publications.
Sign up for our weekly newsletter to get the best of ARTPHAIRE delivered straight to your inbox!
PHOTO GALLERY
ARTPHAIRE Art News Roundup - March 27, 2015