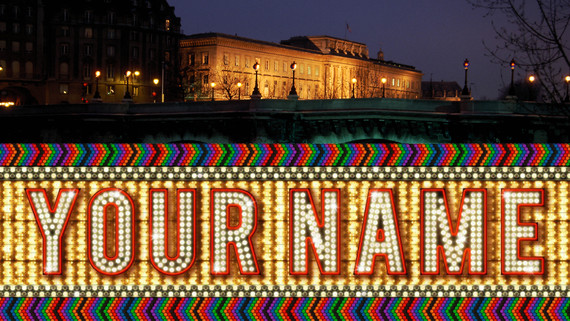 John Baldessari, "Your Name in Lights." Courtesy of Monnaie de Paris.
Originally a painter, American artist John Baldessari's work began to mutate in the mid-1960s as he started to incorporate everything from found photography to phrases and slogans of art theory, decontextualized and repainted onto canvas. After a symbolic destruction of his early work in 1970 entitled "The Cremation Project," Baldessari has produced neon-enhanced monochrome photographs, color-tinted juxtapositions of different artistic images, sculptures, installations, and linguistic jokes. Then there's his instructions, perhaps most famously - his text work outlining "Tips For Arists Who Want To Sell" that include, "Subjects that sell well: Madonna and Child, landscapes, flower paintings, still lifes (free of morbid props - dead birds etc.) nudes, marine pictures, abstracts and surrealism."
Now aged 83, Baldessari's brand of conceptualism has proved to be both influential and enduring, with his stock as high now as at any time in his career. In 2009, he was awarded the Golden Lion for Lifetime Achievement at the Venice Biennale and staged a 130-work show at Tate Modern, London. This was followed in 2010-11 with a major retrospective at the Metropolitan Museum of Art in New York. And this week sees the opening of a huge public installation in Paris.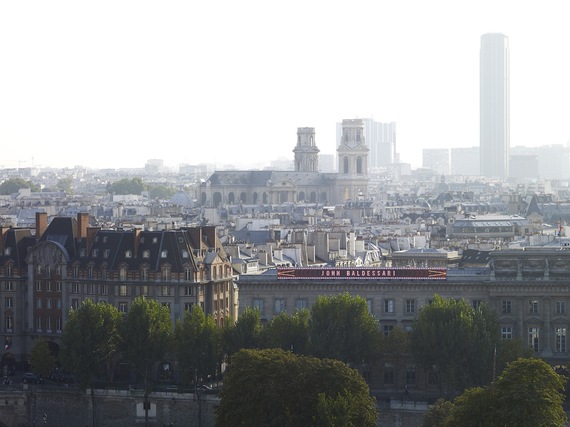 John Baldessari, "Your Name In Lights." (c) Marc Domage.
Presented by Monnaie de Paris, "Your Name In Lights" is a rooftop work consisting of a 30-meter illuminated display. Members of the public who have signed up via the site will see their name in lights for 15 seconds. The work will light up the sky and the Seine between the Pont des Arts and Pont Neuf bridges. Through the installation's existence, 100,000 people will be acknowledged by the work with the spectacular multi-colored light show promising to bring "the sparkle of Hollywood" to the City of Light. The installation will run for one month, with a live stream of the installation broadcasting on www.monnaiedeparis.fr.
John Baldessari's "Your Name in Lights" began September 13th in Paris.
--Justin Quirk is contributor to ARTPHAIRE. He is a journalist and editor based in London, England. He is editorial director of House, the Soho House Group's quarterly culture journal, and also of Victor, Hasselblad's photographic biannual. He writes features for The Guardian and Sunday Times newspapers, Wallpaper* magazine and Phaidon's Agenda site. When not working he mentors young creatives at The Cut, he writes graphic novels and curates exhibitions for the Canadian artist Nathan James.