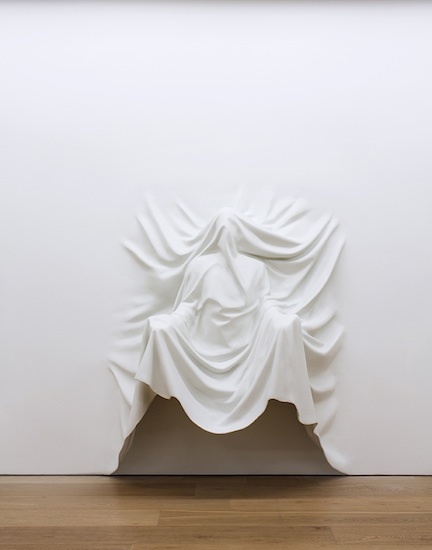 Image: "Draped Figure," 2013. Fiberglass, paint. 73 ​ x 65 x 23 inches ​ Image courtesy of the artist.
By Daniel Arsham, May 5, 2015
The first pieces I made that were tied to the architecture were very sort of simple, subtle gestures that caused the architecture to look as if it was being stretched or that there was wind blowing behind it and the wall was kind of being blown up.
I never had figures in my work at all prior to working with Merce Cunningham. It was pointed out to me that once I had begun working with Merce for a couple of years, these figures started to appear. I think that I had always resisted that in my painting work before, because I felt that whenever I painted a figure, depending on the way they were dressed or what their hair was cut like, it tied it to a specific time period.
In these figure works that I'm making now, where the figures are embedded into the surface of the architecture, you can't see them. You can't see what they're dressed as. And in many cases, it's just kind of a form of a figure without being able to see the figure at all.
For me, it's about a kind of interaction with this architectural surface. It creates a somewhat uncanny effect. These are works that have a very sort of strong impression, and they can be somewhat disturbing. Yet, they're very quiet. You could be in a room with one and you might not notice it immediately because they're nearly completely white and they blend into the architecture.
Daniel Arsham's "Remember the Future" is on view at CAC Cincinnati through August 30, 2015.
Daniel Arsham is an ARTPHAIRE visionary, and a New York based artist who meshes art, architecture and performance. Arsham's work has been shown at PS1 in New York, The Museum of Contemporary Art in Miami, The Athens Bienniale in Athens, Greece, The New Museum In New York, and more. He is represented by Galerie Emmanuel Perrotin in Paris, Hong Kong and New York, OHWOW in Los Angeles, Baró Galeria in Sao Paulo and Pippy Houldsworth in London.