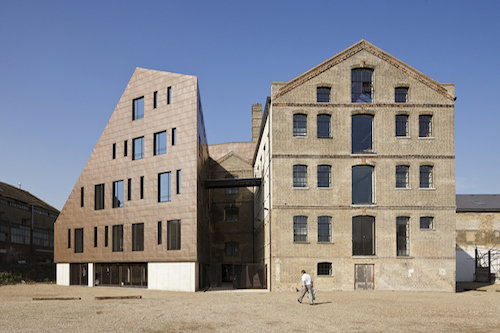 By Ann Binlot, March 18, 2015
Over the last month, one award-winning design firm announced its plans to work with a new social-good accelerator, while Teresa Borsuk was named Woman Architect of the Year. Anticipation for the upcoming Milan Expo is on the rise as Thinc released its exhibition plans for the U.S. Pavilion.
1. Teresa Borsuk Crowned Woman Architect of the Year 2015
Teresa Borsuk, a partner at the London-based firm Pollard Thomas Edwards, was awarded Women Architect of the Year 2015. Borsuk has championed female presence in her firm, with over half of the staff being female, a tough feat, considering the industry is male dominated. Borsuk beat out a number of accomplished women for the honor, including Cristina Segni of Foster + Partners, Carme Pinos of Estudio Carme Pinos and Wright & Wright partner Clare Wright.
2. Thinc Design Releases Exhibition Plans for U.S. Pavilion During Milan Expo: New York-based Thinc Design unveiled their exhibition plans for the U.S. Pavilion at the upcoming Milan Expo, which takes place in May. The exhibition, which will take place in the 26,000 square foot U.S. Pavilion, focuses on the expo's theme "Feeding the Planet, Energy for Life." Immersive installations and guides will take visitors through an interactive journey that presents an American look at global food security, farming, sustainability, contemporary American food culture, nutrition and international relations.
3. Yves Behar's Fuseproject to Design for New Social-Good Accelerator
ARTPHAIRE visionary Yves Behar's award-winning design firm fuseproject announced that it will provide services for Spring Accelerator. According to its website, the venture "supports businesses whose products and services could transform the lives of adolescent girls" in Uganda, Rwanda and Kenya. For the next five years, Spring -- which was formed by Nike Projects, USAID and the UK Department for International Development -- will provide finance, technical expertise and mentorship for 18 endeavors annually for the next five years.
4. More British Architecture Arrives in Manhattan: British architects are on a roll on the other side of the Atlantic. Zaha Hadid, Norman Foster and David Chipperfield all have projects in the works in New York. Hadid will have an 11-story apartment block, with units going from $4.6 million to $35 million that overlooks the High Line. Meanwhile, Chipperfield is returning to Bryant Park with a 32-story building called The Bryant, which house both a hotel and residences, and Foster + Partners has a 61-story high-rise building in the works.
5. Fab Acquired by PCH to Create the Netflix of Design
After what seems like several lifetimes in Fab's five-year existence, manufacturing company PCH has acquired the design ecommerce site. "I believe that PCH is the perfect partner to carry the Fab brand forward," said Fab co-founder Jason Goldberg, according to Dezeen. "PCH is known for its world-class operations, and its deep appreciation for brand, design, and the customer experience. PCH is the perfect home for Fab." The company plans to commission designers to create products unique to the site, as well as items by other brands. PCH founder and CEO Liam Casey told Dezeen he hopes Fab will become the "Netflix" of design.
--Ann Binlot is contributor to ARTPHAIRE. This New York-based writer and graduate of Columbia University School of Journalism covers the spectrum from foreign affairs and politics, to fashion and art. Binlot has also contributed to several publications including TIME, Marie Claire, Newsweek and more.
Sign up for our weekly newsletter to get the best of ARTPHAIRE delivered straight to your inbox!
PHOTO GALLERY
Design News Roundup - March 2015