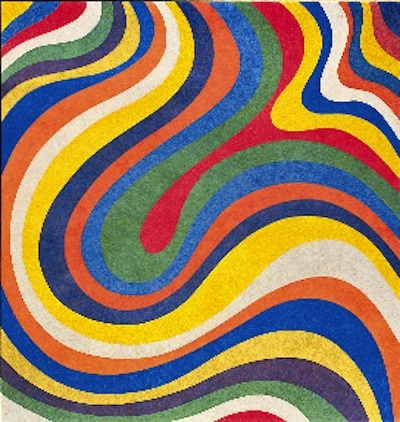 Sol LeWitt, (IRREGULAR WAVY COL- LOR BANDS, Wall DRAWING No 1133), Mural, 7.00 x 7.5 m. Courtesy of Park Hyatt Zurich.
Like many of the Park Hyatt hotels around the world, the Park Hyatt Zurich paid special attention to the 91 pieces in its art collection, which is hung throughout the public spaces in its six-story building.
Rather than conforming to the current trend of acquiring contemporary art, the collection, chosen by Dr. F.W. Meyer, focuses on "classic modern art," which Meyer defines as works marked by noble elegance and beauty.
Visitors to the property, designed by Zürich-based architect Marcel Meili, are immediately greeted by two large Sol LeWitt gouaches hung in the foyer. Entitled "Brushstrokes" (1996), the works consist of serpentine lines wrought in colors such as red, black, yellow and blue. They appear to be woven together at random, but are actually dictated by a complex logic.
This complex logic, rendered using colors, patterns and lines, is characteristic of all of the artist's works, including the crown jewel of the Park Hyatt Zurich's collection, a mural displayed in the three-story reception area. Commissioned especially for the hotel, "Wall Drawing No 1133″ (2004), a 23-foot by 25-foot painting, was applied directly to the wall in advance of its opening. Its dynamic, flowing bands mesmerize viewers, who are able to follow the lines to discern what system is at play -- or, at the very least, guess what LeWitt's systems might have been.
Of the 91 works in the collection, 71 are displayed on the ground or mezzanine floors. In the reception lounge, two relief-sculptures by Gregor Frehner and Katharina Henking flank either side of the fireplace. Created from Cararra marble, and commissioned by the hotel, the untitled works (2004) create a sort of three-dimensional chiaroscuro. Providing stark relief from the dark stone walls surrounding them, the sculptures are marked by small squares rising at regular intervals from the surface of the otherwise flat piece. Depending on from what angle you approach it, these small squares cast different patterns of shade that are given additional texture by the marble.
Visible from the reception lounge, German artist Heinz Mack's "Lumière et Couleur" (2004), is an acrylic on canvas that practically radiates with color. Consisting of saturated patches of violet, aquamarine and yellow, which are marked by jagged edges that recall the tops of crowns, the work seems to build upon itself to create a towering beacon of light. The texture of light is also captured in "L-7-1973″ (1973), a lithograph by Hans Hartung that hangs in Parkhuus, the hotel's restaurant.
Reminiscent less of a painting than it is a veil hanging over an open window through which both the sun and air passes easily, the work consists of shades of blue. In opposition to the cool, almost dreamy feel of the Hartung work is 'Interferenzen 2001," a lithograph by Günther Uecker also hanging in the Parkhuus. A pointillist work consisting of distinct spirals of magenta, indigo, dandelion yellow and burnt sienna, the colors come together in the center to produce of burst of joy that visually resembles the frenetic energy of a swarm of bees.
Wordless thoughts and emotions are further provoked by any number of color-block abstract canvasses throughout the property, including "Wassili" (1973), a lithograph by Italian artist Pietro Dorazio that seems to be an homage to Wassily Kandinsky and "Composition abstraite" (1969), a black, red and blue lithograph that vibrates with dark fury.
Other notable works include 12 prints by Anne Blum, a Cairo-based photographer whose digital photo collages often are layered on top of images of her own body. The mute, gentle tones in her work are matched by "Sitting Lady" (1972), an elegant lithograph depicting a lithe form clad in yellow harlequin strips, and sitting in a green-striped tent by British painter and architect Lynn Chadwick. They, along with pieces by Eduardo Chillida, Giuseppe Santomaso and Ossip Zadkine, are just a few of many works to discover in the halls and hidden coves of the Park Hyatt Zürich.
--Brienne Walsh is a writer and photographer who contributes to publications such as The New York Times, Art in America, Interview, ArtReview, Modern Painters, Departures, Paper, New York Magazine, and Forbes among others. She has also appeared as an art expert and blogger on television programs including Today and Anderson Cooper Live. Brienne received her BA in art history from Brown University in 2004, and her MA in Critical Studies from Columbia University in 2011.
PHOTO GALLERY
Installation by Sol LeWitt for Park Hyatt Zurich