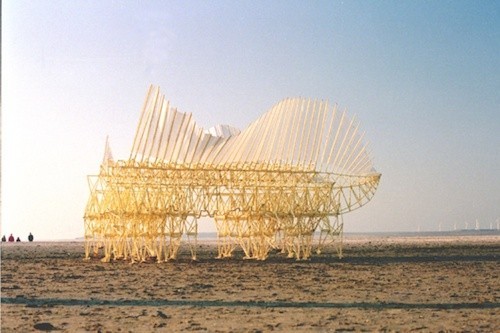 By Justin Quirk, April 14, 2015.
Ever since Marcel Duchamp posed the Dadaist question with his readymades, "Can one make works of art which are not "of art," the boundaries of art have been a flexible, permeable thing. Why are some things considered "art" - and afforded the respect and criticism that comes with that - and others not? The most contentious examples of this question are explored in "Le Bord des Mondes," the new show at Paris' Palais de Tokyo curated by Rebecca Lamarche Vadel.
Essentially, this means a collection of work which, while produced by creatives and possessing many of the qualities of traditional art, have generally not been made for sale, exhibition or as part of a canon. This includes the work of Theo Jansen, who each year unleashes his wicker-and-pipework "Strandbeests" on Scheveningen Beach where they are moved and manipulated by the wind; Kenji Kawakami's "Chindogu" - useless objects created for everyday "problems"; and the culinary creations of chef Pierre Gagnaire who has worked alongside chemist Hervé to push the limits of what a meal can be. There is also documentation of individuals and groups who live their lives as some kind of creative statement - the elegantly dressed sapeurs of Congo-Brazzaville and the players of the eastern European strategy game "Game of States."
There is some track record at Palais de Tokyo for this kind of playful approach to classification - Jeremy Deller's retrospective occurred there in 2008 and included an extensive collection of the hand-made banners produced over the last 30 years by Londoner Ed Hall for trade unions, activists and political protest groups. As with that show, this one suggests that the distinction between formal art and invention for its own sake is blurred - and that often the most interesting work can be found in the gap between those two worlds.
"Le Bord Des Mondes" is open at Palais de Tokyo in Paris through May 17th, 2015.
Sign up for our weekly newsletter to get the best of ARTPHAIRE delivered straight to your inbox!
--Justin Quirk is an ARTPHAIRE contributor and the Editorial Director of HOUSE magazine, as well as a contributor to The Guardian, Esquire, Shortlist, Stylist, Grazia and The Sunday Telegraph. Quirk is based in London and explores the writing world in the realm of arts and culture.
PHOTO GALLERY
Paris' Palais de Tokyo Assembles a Playful Show Inspired by Duchamp
Follow ARTPHAIRE on Twitter: www.twitter.com/ARTPHAIRE