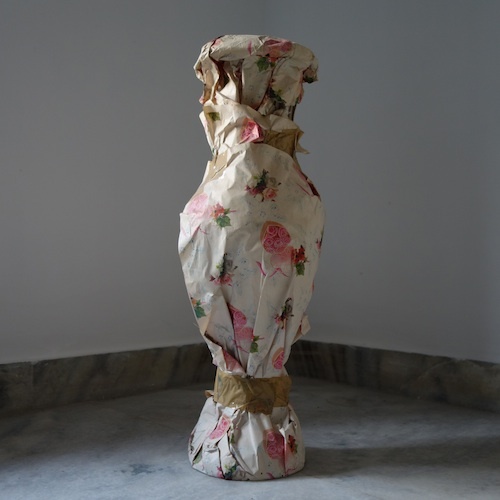 Mariam Suhail, "Vase Of Flowers," 2014.
Now that the fall art season is well underway, we've picked the Top 10 global art shows to see this season.
1. Alexandre Singh, "The Chorus" Galerie Art : Concept, Paris, September 6-October 18
"The Chorus" is part of a larger, three-act theatrical project that takes a fantastical allegory as its starting part: two kingdoms separated by a mountain, one reigned by sculptor Charles Atlas, and the other by N, a rabbit queen. Two protagonists navigate Singh's complex fantasy, breathing life into sculptures. "The Chorus" will display solid bronze busts of masks worn by Singh's characters, who were once works of art but now flesh-and-blood human beings. Allegory, indeed.
2. Harun Farocki, "Parallel" Greene Naftali Gallery, New York, September 9-October 4
Having recently passed away, Harun Farocki's third exhibition with Greene Naftali is a fitting send-out; it screens his final work, "Parallel I-IV" (2012-14), a four-part video installation chronicling the increasing sophistication of computer graphics, from 1980 to today. Also on display is "Ein Bild [An Image]" (1983), which turns its attention from a model getting prepped for a Playboy shoot to the staffers who prep her, turning the construction of an image inside-out.
3. Trisha Donnelly, Serpentine Galleries, London, September 17-November 9
Trisha Donnelly is known in part for eschewing press releases and exhibition checklists; for a 2002 solo show in New York, she made a front desk staffer play a series of electronic beats when asked for exhibition titles. For her show at the Serpentine, she's removed sections of gallery walls and built a new entryway to change the perceptual viewing experience for her projections, sculptures, and sound works which together scramble conventions of artistic media and production.
4. Moshe Gershuni, "No Father, No Mother" Neue Nationalgalerie, Berlin, September 13-December 31
His first significant solo exhibition at a European institution in more than thirty years, Israeli-based artist Moshe Gershuni's "No Father, No Mother" features uncompromising, expressive works. Made by dipping his hands in paint and crawling over sheets of paper, Gershuni's works are riven with both gestural marks and historically-loaded symbols - including hand-written Hebrew - that together ask convey a sense of existential questioning.
5. Jack Smith, "Theater and Performance Works" Gladstone Gallery, Brussels, September 12-November 8
Jack Smith was one of the most influential underground artists on the 1960s, 70s, and 80s, staging colorful, dazzling performances, photography, and video works that turned New York, and his own downtown loft, into a vibrant stage set for his spectacles. Building on his landmark 2013 survey "Ritual of Rented Island" at the Whitney, this exhibition continues in that vein, showing recreated environments, props, photographic stills, and posters.
6. Peter Perri, "The Reign of Quantity" Pearl Lam Galleries, Singapore, September 26-November 9
Peter Perri's first exhibition in Asia takes its title from René Guénon's 1953 novel, in which Guénon describes the orthogonal cross as a symbol of "universal man." Fittingly, there is a kind of transcendentalism in Perri's canvases, which are monochromatic planes striated by hundreds of thin, horizontal lines. Here, early modernism meets the infinite in almost spiritual terms.
7. Pedro Cabrita Reis, "Fourteen paintings, the preacher, and the broken line," The Power Plant, Toronto, September 20-January 4
Working site-specifically, Pedro Cabrita Reis combines everyday, ordinary objects like chairs, tables, and doors, with bricks, steel girders, neon lights, and other industrial materials. In the process, his all-encompassing installations challenge both given architectural spaces and the conventions of sculpture and painting. Expect no less when Cabrita Reis takes over The Power Plant, the first Canadian solo exhibition for this Portuguese artist.
8. Diana Al-Hadid, "The Fates" Secession, Vienna, September 11-November 2
Taking a cue from European Renaissance and Mannerist painting, Diana Al-Hadid takes apart landscapes, poses, and compositions only to reconstitute them as spectacular two and three-dimensional works. Made out of ordinary building materials, Al-Hadid's Secession installation similarly pries apart histories of painting, her interlocking shapes, cavities, and forms seemingly hovering between construction and collapse.
9. Andy Warhol, "Shadows" Museum of Contemporary Art, Los Angeles, September 20-February 2
While Andy Warhol is nearly synonymous with portraying celebrities and other cultural icons, Shadows (1978-1979) is the rare work that contains neither. Rather, it depicts shadow lines as seen in his Factory space, repeated in silkscreen and paint over a span of 102 canvases. It's a monumental, uncharacteristically abstract work, in which composition and color serve as noteworthy references to film and droning underground music.
10. Mariam Suhail, "Accidental Excavations" Grey Noise, Dubai, September 20-October 24
Mariam Suhail alters snippets of conversation, notes, texts, and media to blur the fine line between historical events and everyday life. For her exhibition at Grey Noise, book interventions, scanner malfunctions, and old and new found material on the birth of a new city comprise a liminal space between studies and proposals.
Discover more ARTPHAIRE Top 10 Lists.
--David Everitt Howe is a regular ARTPHAIRE contributor. He is a Brooklyn-based writer and curator who hails from the Deep South, but can barely manage a mountain drawl. He writes primarily on contemporary art, culture, and technology for ArtReview, Modern Painters, frieze, Afterall, and Mousse, among other publications.
PHOTO GALLERY
Top Art Shows - Fall 2014