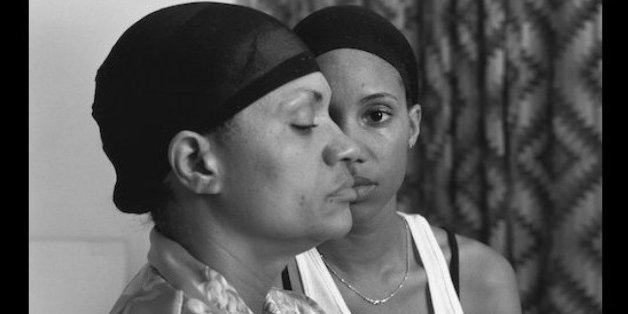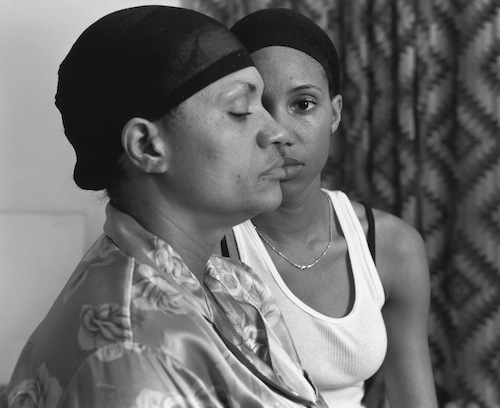 LaToya Ruby Frazier, "Momme," 2008, from "The Notion of Family" (Aperture, 2014).

Paris Photo takes over the Grand Palais through Nov. 16 with over 169 galleries and 1200 artists featured. Poring over the artist list with a discerning, fine-toothed comb, we've selected the Top Five Artists to Watch.
1. Yto Barrada, Galerie Polaris, Paris
Yto Barrada's photography, film, and sculptural work is almost exclusively concerned with Tangier, Morocco. The city of her birthplace, she finds the northern African city compelling for its fraught social and political history, with migration, indigenous communities, and colonization providing enough fodder for a lifetime of work. She even purchased and renovated a crumbling theater downtown, turning it into the Cinémathèque de Tanger - concrete evidence that she's in it for the long haul.
2. LaToya Ruby Frazier, Aperture Foundation, New York
A standout at both the Whitney Biennial in 2012 and the Brooklyn Museum in 2013, LaToya Ruby Frazier chronicles her hometown of Braddock, Pennsylvania using documentary photography and portraiture. Once a bustling steel town, its population has dwindled to just 2,500 people, and part of her role as an artist, and former resident, is to foreground the adverse effects of de-industrialization with moving, if gritty photographs of families and friends.
3. Mickalene Thomas, Galerie Nathalie Obadia, Paris-Brussels
You know a Mickalene Thomas when you see one: her paintings, collages, and photographs are distinctive, flamboyant throwbacks to 60s and 70s Afro-Americanism. The ARTPHAIRE visionary juxtaposes sparkling rhinestones and enamel paint, or cut papers and photographs, with poses from Ingres, Courbet, and Manet. Many of her works feature proud females and their almost melodramatic afros that form a kind of trademark Thomas leitmotif. Making the museum rounds, her afros are gaining more widespread attention.
4. Carlos Motta, Galeria Filomena Soares, Lisbon
Spanning many different media, from video to sculpture, newsprint to photography, Carlos Motta's work is resolutely political, challenging dominant conventions of gender, sex, and sexuality. In collaboration with a local journalist, "Brief History of Homosexuality in Ukraine" (2014) took the form of a printed timeline placed around the city in lightboxes and given away as broadsheets. Other endeavors of Motta's include symposiums at Tate Modern and New Museum, that gathered together artists, activists, and researchers; and gallery exhibitions of sculpture and other works engaging colonial sites of repression as loaded subjects.
5. David Benjamin Sherry, Danziger Gallery, New York
Utilizing a hand-made wooden camera and adopting the aperture favored by Ansel Adams and Edward Weston, David Benjamin Sherry shot incredibly detailed photographs of popular Western vistas: Yosemite, Monument Valley, the Grand Canyon. With their stereotypically Adams-like settings and subjects, they would be seen as second-rate imitations if it weren't for their color; deep purples, reds, and greens turn these cliché, if beautiful, landscapes into trippy color fields, putting a new and queer spin on conventions of classic photography.
Explore even more contemporary art in Paris by downloading the ARTPHAIRE art-focused city guide here.
--David Everitt Howe is a regular ARTPHAIRE contributor. He is a Brooklyn-based writer and curator who hails from the Deep South, but can barely manage a mountain drawl. He writes primarily on contemporary art, culture, and technology for ArtReview, Modern Painters, frieze, Afterall, and Mousse, among other publications.
PHOTO GALLERY
TOP 5 ARTISTS TO WATCH AT PARIS PHOTO 2014