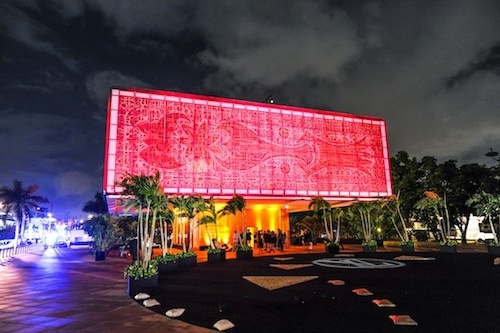 On view through December 7, 2014. Louis Vuitton Unveils "Playing with Shapes, Pierre Paulin 1972."
Art Basel in Miami Beach kicks off this week, and design enthusiasts will flock to Miami to visit the fair, as well as the adjacent Design Miami/, But that doesn't mean there isn't more design to be had. ARTPHAIRE takes you through the design highlights of Miami Art Week.
Ann Binlot, December 4, 2014
1. Peter Marino Gets Design Visionary Award, Opens Exhibition and Unveils New Bulgari Store: He may not have a household name, but design enthusiasts know Peter Marino as the retail architect behind the flagship boutiques of fashion's most coveted labels, like Chanel, Dior and Louis Vuitton. This Miami Art Week is all about Marino. On December 3, "One Way," a survey of his work, opens at the Bass Museum. Later that day, Design Miami/ honors him with the inaugural Design Visionary Award. On December 4th, Marino will unveil his latest masterpiece, Bulgari's first Marino-designed store in Bal Harbour.
2. Bally Constructs Original Jean Prouvé Home
From December 3 through 7, Swiss luxury label Bally brings "Triangle Walks" to South Beach, where it will reconstruct a home designed by the late French Modernist architect and designer Jean Prouvé in the garden. Inside will be an evolving exhibition featuring original pieces by from Robert Mallet-Stevens, Charlotte Perriand and Pierre Jeanneret from the Bally collection, as well as works by artists Zak Kitnick, Samuel Boutruche and Benjamin Moreau of Kolkoz.
3. Louis Vuitton Realizes Unreleased 1972 Pierre Paulin Design
In 1972 French furniture designer Pierre Paulin designed a residential project for furniture company Herman Miller that never saw the light of day. Louis Vuitton caught wind of the design and decided to make it a reality. Last night, Louis Vuitton opened a Design Miami/ satellite exhibition, "Playing with Shapes: Pierre Paulin 1972" in the Design District. The show, which is up through December 7th, will feature the original maquette from 1972, as well as 18 one-of-a-kind pieces of furniture from the original design, produced for the first time.
4. Moroso Unveils Ron Arad Seating Systems: Italian design brand Moroso will unveil new Ron Arad seating systems at Design Escape at Miami Ironside through December 7 in the Ron Arad Moroso Lounge, which will display Arad's famous chairs, like the Victoria & Albert, the Ripple Chair and the Misfits. Arad will also partake in a panel discussion there with Alastair Gordon, Patrizia Moroso and Piero Lissoni on the Future of Design on December 4 at 11am.
5. Escape to the Architectural Digest Oasis: Visitors can enjoy a relaxing getaway conceived by Thom Filicia from December 4 to 6th at this immersive lounge. There, have the opportunity to check out design exhibitions, sip on cocktails and take a break from the surrounding activity of Miami Art Week.
Explore all of our coverage of Miami Art Week, including Art Basel Miami Beach and surrounding fairs.
PHOTO GALLERY
TOP 5 DESIGN HIGHLIGHTS OF MIAMI ART WEEK