The opening round of fall exhibitions continues with our realization that longtime sculptor James Magee's below-the-radar body of work on view in Dallas has achieved a formidable fusion of delicacy and profundity. In Santa Fe, Patrick McFarlin's "reproductions" of recently deceased artists of fame is, but goes well beyond being, an apt homage. Top shows in California and Washington round out this week's selections.

James Magee, ''Orange,'' c. 1990-91, steel, rust, weathered wood, wallpaper, cardboard, tar, glue, Goop, screw, and glass, 53 1/4 x 53 1/4 x 3 1/4'', at the Nasher Sculpture Center.

Continuing through November 28, 2010
Nasher Sculpture Center, Dallas, Texas
The loveliest things with which we keep company, art included, burn with the burden of the unspeakable. They remain smudged mysteries, objective correlatives, that affect our psyches so profoundly that we're rendered stunned and happy mutes. How wonderful, then, that "Revelation: The Art of James Magee" encompasses an array of sculpture so profound it carries enough pent-up sonic jolt to create a new world, whole and entire.
For forty years Magee has worked quietly, attracting only the attention of a handful of scholars and devotees. His work is clearly an amalgam of the sacred and the profane -- but rarely has an artist made it more apparent that both spheres share space and are inextricably woven. They don't reside independently; rather, what one could call artistic "transubstantiation" is Magee's perpetual work in progress. His career has spanned the gamut of cab driver, welder, legal advisor and inveterate survivor of the Hudson River Piers, a vast collection of abandoned warehouses that provided a place for men to explore their homosexual inclinations without the intrusion of daylight. These assorted vocations meld with a sensibility so delicate and profound that one feels they're in the presence of what the Psalmists refer to as "the secret place of thunder."
-- Patricia Mora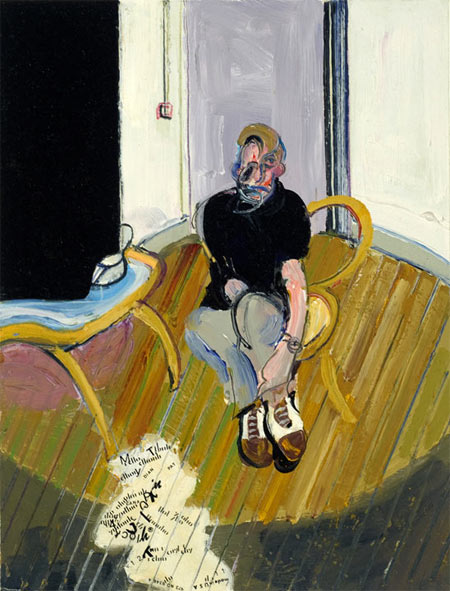 Patrick McFarlin, "Bacon - Self Portrait, 1973," 2010, oil on paper, 14 x 11", at Launch Projects.
Continuing through October 17, 2010
Launch Projects, Santa Fe, New Mexico
Taking for his subject the obituaries published in a major art magazine's Annual Guide, Patrick McFarlin reproduces the obits and in so doing, allows us to reconsider the lives and works of these so-called masters. That McFarlin calls his well-executed homages "mini" masterpieces, further subverting the whole "great artist" theme. If you get your name into Art in America after you die, is that true success? Or does the magazine rightfully acknowledge, complete with artists' photographs and the obligatory approbation expressed in text, the lives that -- in many cases -- helped make the publication tick? McFarlin chooses familiar names to further his case: These are the anointed ones whom we continue to chase through major exhibitions, biographies, and the stuff of legend.
The diptychs and triptychs that function as obituary-plus-examples of the artwork are the most successful part of the show. Without these mini "isms" alongside their creators' black-and-white portraits and roughed-in text, the show is merely a lineup of talented people who happen to be recently deceased. Presented this way however, "Bacon - Self Portrait" looks out with greater vulnerability, and the copy of a portrait of a seated figure becomes more nuanced in the immediate presence of death -- a neat trick with a subject whose whole being could be said to have courted Thanatos.
- Kathryn M Davis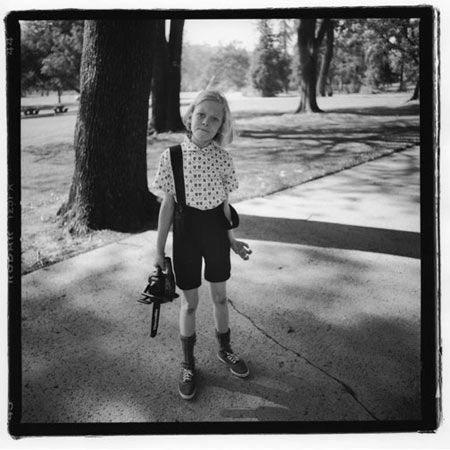 Hugh Brown, "Diane Arbus (allegedly), Child with toy chainsaw in Griffith Park, Los Angeles," 2008, at Robert Koch Gallery.
Continuing through October 30, 2010
Robert Koch Gallery, San Francisco, California

If collage with its juxtaposition of disparate elements was the primary art strategy of the twentieth century, then its sly descendant, appropriation, may well succeed it in the twenty-first, judging by the promiscuous intermingling of sampled, recontextualized originals and copies in the Facebook/YouTube age. Considering the level of technology available to even the average techno-shlub these days, it seems nothing less than bullheaded or heroic that Hugh Brown, a talented, award-winning graphic designer, should have decided to make parodies of famous artworks, all featuring his trademark object of desire, the chainsaw glamorized in countless guilty-pleasure splatter flicks, in the same media as the originals. "Allegedly" purports to reveal undiscovered originals by various masters of painting photography, and sculpture. It is testament to Brown's wit and talent that his humorous homages provoke delighted chuckles from art mavens and art-history classes alike.

John Baldessari, Diane Arbus, Harold Edgerton, Walker Evans, Lucio Fontana, Keith Haring, David Hockney, Jasper Johns, David Levinthal, Robert Mapplethorpe, Henri Matisse, Vik Muniz, Paul Outerbridge, Irving Penn, Jackson Pollock, Man Ray, Ed Ruscha, Hiroshi Sugimoto are some of the blue-chip artists getting celebrity-roasted here. Particularly funny are works that play the idea of appropriation self-referentially, like Brown's saw-enhanced version of Sherrie Levine's "After Walker Evans"; his parodies of Barbara Kruger and Jenny Holzer; his Andres Serrano "Piss Saw"; and his version of Roy Lichtenstein's "Masterpiece" entitled, "Why, Roy, Darling," with Roy's girlfriend cooing, "This painting is a masterpiece! It ... it transcends appropriation, becoming outright theft!" (The De Stijl chainsaw has been rebranded Steal.) Some of the pieces make satisfying artworks even once the punch lines have faded: Christo's "Wrapped Chainsaw," Joseph Cornell's "Untitled (Woodpecker Habitat)," Bruce Nauman's "Was/Saw," Méret Oppenheim's "La Tronconneuse en Fourrure," and Andy Warhol's "Diamond Dust Chainsaw and Sickle" all make the cut for this masked heavy breather.

-- Dewitt Cheng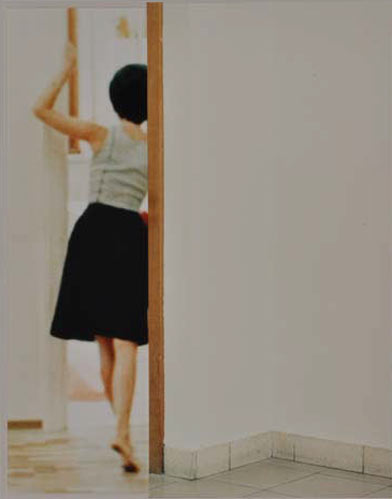 Martina Sauter, "Schwarzer Rock," 2010, dual panel C-print, 11 3/4 x 9 1/4", at Ambach & Rice.
Continuing through October 31, 2010
Ambach & Rice, Seattle, Washington

The work in "Shapely Shadows and a New Apartment" feels vaguely familiar. German photographer Martina Sauter uses still images from films by Lynch, Goddard and Hitchcock as source material and adds elements from her studio to fabricate mysterious landscapes full of curtains, doors, and empty chairs. This cinematographic approach, in which the individual image is understood as part of a sequence, specifically a sequence of pictures, is a fundamental aspect of Sauter's work, which points to the temporality of perceptions. But the work carries its own essence of suspense, as if any moment a figure might enter the picture and catch us in the act of watching. That thrill is what gives life to these photographs.

"Roter Vorhang" follows in the vein of Robert Mapplethorpe and Nan Goldin, pushing us over the edge of voyeurism and into desire. The left half of the image is obscured by a red curtain. The remainder of the image is Brigitte Bardot, wrapped only in a red towel, reclining on a bed with her back turned to us. We know we're supposed to look away but the anticipation of what will happen next keeps our gaze. Creating tension in her compositions seems to be her trademark.

- Joey Veltkamp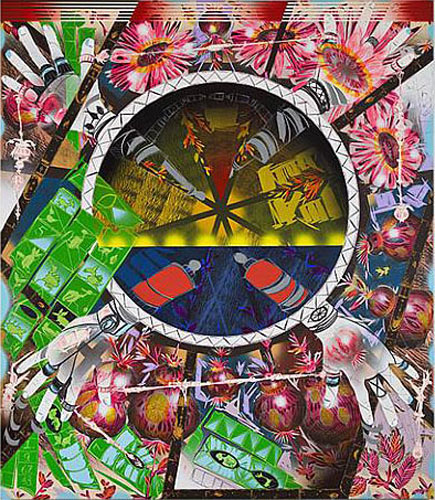 Lari Pittman, "Untitled #2," 2010, acrylic, Cel-Vinyl and aerosol lacquer on gessoed canvas over panel, 102 x 88", at Regen Projects.
Continuing through October, 2010
Regen Projects, West Hollywood, California
When Immanuel Kant wrote that aesthetics involved 'disinterested pleasure' he bred what is a mistaken suspicion for beautiful form on two counts -- pleasure and interest. Flagrant (that is too say, female, gay, primitive) pleasure is a dangerous and spontaneous force in a (still) masculinist society that dictates desire's boundaries, subjects, objects, normalcy, arenas of delight or prurience. As for disinterest, well, in mostly patriarchal capitalist and for that matter socialist (faux) utopias, the absence of interest is equally dangerous, since vested interest means commitment to the ideological flavor of the day -- and you need to be vested to get your way.
Enter Larry Pittman. There is not much left to say about Pittman that has not been penned; he is indeed an elder statesperson of art in L.A. Numerous of reviews have been written, most recently an interview reminding us how deep this 'disinterested pleasure' runs for Pittman.
- Marlena Donohue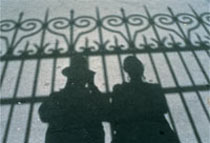 Rick Steadry, "Shadow Gate" from "Love Letters from Paris," photograph, at Orange Coast College.
Continuing through October 20, 2010
Orange Coast College, Frank M. Doyle Arts Pavilion, Costa Mesa, California
The highlight of "Photo Environment" a group exhibition featuring the work of eighteen artists from the U.S. and Canada is an installation by Quebec-based Diane Landry. She fuses high and low tech to create evocative works that explore time and movement in innovative ways that take the premise of the show - twist up the idea of a photograph, the environment and image presentation - to an extreme. Using the spinning mechanisms of a functioning washing machine, she creates two portraits of women whose heads bob up and down with the motion of the appliance. Tripped by a sensor, it starts up when a viewer enters the space. The whirl of the machine draws views up close, where a disk houses 12 portraits that become an animation when reflected in a 12-sided mirror placed atop the washing machine.
The majority of works here consist of landscapes and other outdoor scenes that appear beautiful and/or bucolic, but have darker psychological messages that express their current perspectives shaped by matters such as the economy. James Hill's "The Long Cold Summer Project," a large, free form mixed media and collage work, depicts traditional images of summer: trees, car interiors, small bedrooms, statuary and watches. But while the images are familiar, the total effect is of chaos and depression. Rick Steadry's "Shadow Gate," from "Love Letters from Paris," is a large and haunting photograph of a couple's shadows (Steadry and his wife) set against an ornate Parisian gate. The image is made especially poignant by the fact that it was shot by the artist shortly before his wife passed away. Barbara Higgins' "Femmes a l'Opera Garnier, Paris," a collage photo of store mannequins in bras and panties against a traditional opera house exterior, contrasts our personal transparency today with the dressed up world that many of us grew up with. Other striking images include a portrayal of empty gun shells besmirching a desert landscape, "Shells in the Desert" by Blade Gillisen; and luminous, flowing water scenes, "The Waters," shot in several different countries by Chinese artist Zhou Ning.
- Jody Zellen / Liz Goldner
ArtScene and Visual Art Source are the in print and online resources to fine art galleries and museums in Southern California and the Western United States. Visit us online or pick up a copy for complete listings of art venues and editorial Reviews, Recommendations and Previews of the best current exhibitions. Be sure to visit our Openings Calendar page so you can plan visits to the latest exhibitions--of wherever you may be in the Western States.
Want to opt-in for a free subscription to stay current every day on our Weekly Newsletter, as well as new shows, events and (if you are an artist) artists' calls? It's easy.