Presenting the third and final of our three Top Ten Exhibitions of 2010 lists, this one for Southern California. This follows publication of our picks for the Northwest and Southwest regions. For each exhibition we have republished the article about it as it originally appeared in the Visual Art Source Weekly Newsletter.
Reviewing over 300 exhibitions that our editors and writers selected each week there were naturally shows that fairly jumped out at us. Their sheer visual strength, emotional authority, conceptual wit, and aesthetic authenticity serve as the guidelines by which we and our contributors separate top shows from also rans.
- Bill Lasarow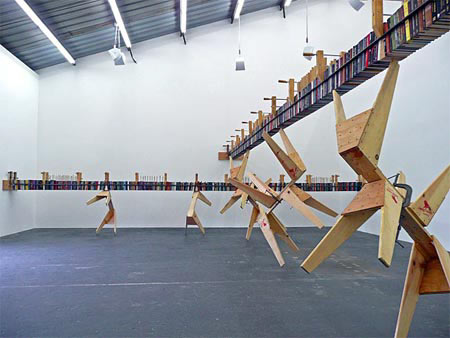 David Adey, "John Henry," 2010, mixed media installation, at Luis De Jesus Los Angeles.
10. . . .
Luis De Jesus Los Angeles
Santa Monica, California
According to folklore, John Henry, a man of near-mythical strength and determination, made fifteen feet of railroad line to the steam drill's nine. In the face of the machine's purported ease and convenience, Henry made his stand with his bare hands. Inspired by Henry's mythical dedication to human accomplishment, artist David Adey uses bridge-building principles to wedge several hundred books across a gallery room using thousands of pounds of pressure on the facing studs.
The sculptural effect is monumental and anti-monumental at the same time -- think of a giant-sized card catalog suspended at eye level, but just the cards between two thin metal rails -- no card catalog bureau. The books themselves make for an odd assortment of literature; crime fiction jostling up against "Fly Away Home," but they were chosen for size and binding, nothing else. In fact, that is what makes the proposition interesting; the idea propelled the object making and there really is a "sense of human purpose" here.
- Jeannie R. Lee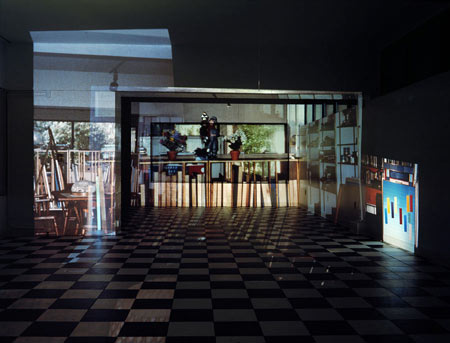 Augusta Wood, "Downstairs (1985, 1991, 1999, 2008)," 2009, chromogenic print, 29 3/4 x 39", at Angles Gallery.
9. . . .
Angles Gallery
Culver City, California
"I have only what I remember" is a surprisingly beautiful show of crisp color photos made from interior projections in Augusta Wood's grandparents' former home. Wood projected slides spanning over five decades -- from the '60s to the present -- on walls throughout the now empty rooms, combining anywhere from two up to six slide projections per chromogenic print. Wood's grandparents were both painters themselves, and so it's appropriate that one of the most visually complex photos (though each image delivers its own caliber of complexity), "Downstairs (1985, 1991, 1999, 2008)" appears to feature the former layout of the painters' studio recreated on the walls of the same space.
There are separate projections of the couples' painting storage racks, one of them set into the very same formerly active alcove at the end of a black-and-white-tiled floor. It's a mesmerizing image, as is "To The River (2002, 2006, 2008)," which brings the outside in. In mixing and matching vintage images and making them the stars of their own photographs, Wood manages to both summon and dispense with nostalgia simultaneously.
-- Michael Shaw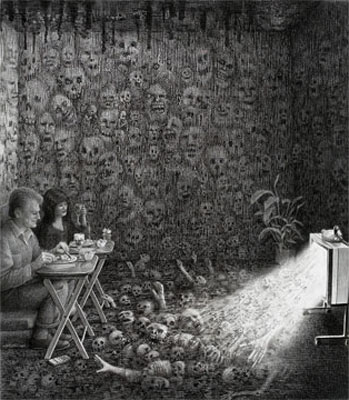 Laurie Lipton, "Prime Time," 2006, charcoal and pencil on paper, 26 3/8 x 22 7/8", at CSUF Grand Central Art Center.
8. . . .
CSUF Grand Central Art Center
Santa Ana, California
We are rarely astonished by art created on paper with a pencil and charcoal. But the eye-opening work of Laurie Lipton serves as a reminder of just that surprising fact. Her virtuoso skill is yoked to a visionary and deeply historical sensibility influenced by 17th century masters including Francisco Goya, Albrecht Dürer and Jan van Eyck, as well as religious painters, particularly Heironymus Bosch. Her supremely detailed imagery, built up in an endless flurry of minute pencil strokes, feature profoundly disturbing themes and a rare kind of beauty.
- Ray Zone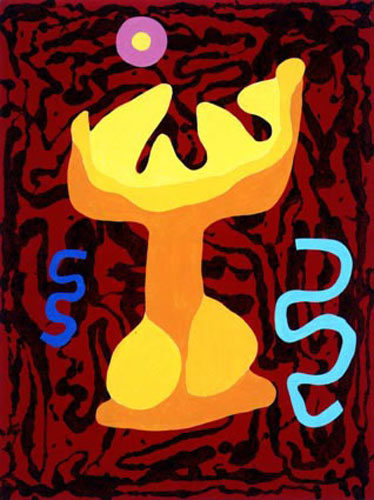 William Brice, "Untitled," 1997-98, oil on canvas, 24 x 18", at L.A. Louver Gallery.
7. . . .
L.A. Louver Gallery
Venice, California
William Brice's work has been a low key yet persistent force in the increasingly cacophonous Los Angeles art landscape over the decades. Two years after his death, in 2008 the primary focus of this mini-retrospective is on his drawings from the heart of his career; though 'the heart' of one's career is typically a slippery notion. In this case it appears to hold true to the extent that the exhibition documents the evolution and transformation of Brice's work at its most volatile: from traditional female nudes in charcoal of the early 1960s to the Venus of Willendorf-meets-Greek-classicism abstractions from the mid-'70s and beyond, for which he became most recognized.
-- Michael Shaw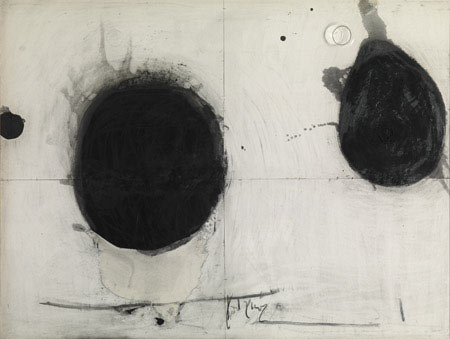 Jordi Alcaraz, "Exercicis de Desaparicio ll," 2010, 67 3/8 x 87", at Jack Rutberg Fine Arts.
6. . . .
Jack Rutberg Fine Arts
Los Angeles, California
In his first American showing, Jordi Alcaraz introduces a sensibility well calibrated between the playful and the profound in a series of large and small scale works that reveal themselves in layers. Books appear literally and metaphorically to make you think as much about what you don't see as what is visible. Frames are routinely made integral to the physical presence of this work. Plexiglas is selectively melted to drill holes onto the surface or into the very heart of some pieces. One mirrored surface draws your eye to the single scarification, which sucks your reflected image down its drain hole as you move towards it. Just as frequently the glass nearly invisibly casts shadows that are clearly intended as a drawn element, often echoing forms painted, drawn, or appearing in relief.
The blacks and grays of the cast shadows reflect Alcaraz' dominant color palette. The effect is to keep you focused on the interwoven layering of the formal elements, which might otherwise be drowned out in a cacophony. Surfaces are active, compositions are lyrical, but a good deal of more or less open space lends permission to linger on the details and marks. Cardboard segments stapled together convey rapidly worked urgency and a desire to know what might otherwise be revealed beneath the paint and its support. The interaction gives you plenty to work with, but the holes in this work are not only of a sort to pull you into the depths but to generously release you into your own imaginative pursuits.
- Bill Lasarow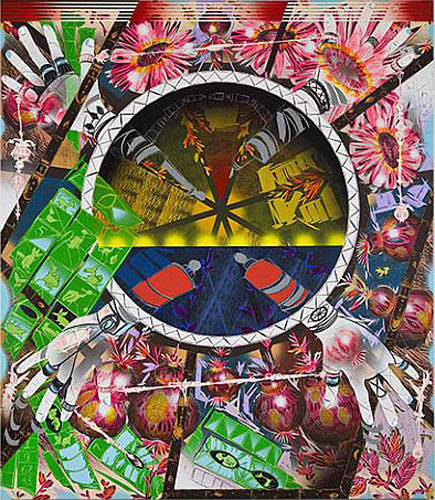 Lari Pittman, "Untitled #2," 2010, acrylic, Cel-Vinyl and aerosol lacquer on gessoed canvas over panel, 102 x 88", at Regen Projects.
5. . . .
Regen Projects
West Hollywood, California
When Immanuel Kant wrote that aesthetics involved 'disinterested pleasure' he bred what is a mistaken suspicion for beautiful form on two counts -- pleasure and interest. Flagrant (that is too say, female, gay, primitive) pleasure is a dangerous and spontaneous force in a (still) masculinist society that dictates desire's boundaries, subjects, objects, normalcy, arenas of delight or prurience. As for disinterest, well, in mostly patriarchal capitalist and for that matter socialist (faux) utopias, the absence of interest is equally dangerous, since vested interest means commitment to the ideological flavor of the day -- and you need to be vested to get your way.
Enter Larry Pittman. There is not much left to say about Pittman that has not been penned; he is indeed an elder statesperson of art in L.A. Numerous of reviews have been written, most recently an interview reminding us how deep this 'disinterested pleasure' runs for Pittman -- he decorated the dinner dishes with his mother's jewels.
Now that is just the kind of delight in the senses that scares those who would control the contours of pleasure, and those who feel footless, out of control when such pleasure -- not its simulation -- wells up. When you engage a Pittman painting, you are awash in this, you cannot help yourself and you are likely to dig it.
- Marlena Donohue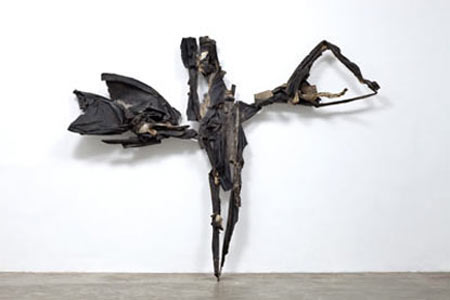 Robert Mallary, "Harpy," 1961, tuxedoes infused with plastic, at The Box. Photo: Fredrik Nilsen.
4. . . .
The Box
L.A. Chinatown, California
Robert Mallary's large sculptural slabs, full of sand, wood, cardboard, and resin, recall Anselm Kiefer and Eva Hesse with their distinctively brutish declaration of industrial presence and inner city found materials. That's fine, but what keeps this show from being nothing much more than historical nostalgia (Mallary died in 1997) are his sinister figures made from resin-impregnated tuxedos and steel armatures, which could take on one of Louise Bourgeois's spiders. Take "Harpy" (1962), for instance: she looms 7 1/2 feet high, a desiccated skeleton resembling road kill. Her dark leathery skin is made from the tuxedos of the dashing suitors she's presumably destroyed. She sends chills down one's spine.
- Jeannie R. Lee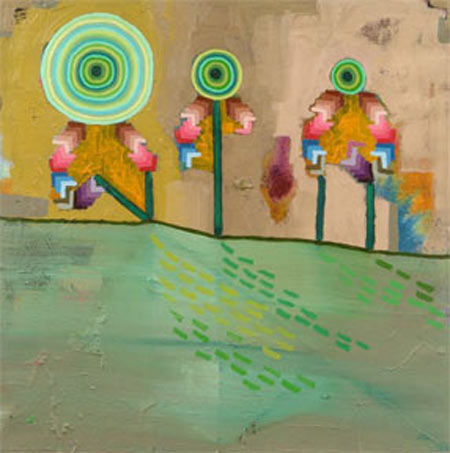 Steve Roden, "the silent world," 2003/04, oil and acrylic on canvas, at Armory Center for the Arts.
3. . . .
Armory Center for the Arts
Pasadena, California
Pomona College Museum of Art
Claremont, California
Steve Roden is one of the most intricate artists in Southern California, and perhaps all of America. One might say "intricate artistic thinkers," given the wealth of information he engages in producing his art and the variety of forms his art takes. But the intricacy resides not in Roden's mind so much as in the art itself, and among that art's signal strengths are the surprising lucidity of its contents and the reassuring clarity with which they are seen to drive the resulting images, objects, and sounds. Roden is concerned with producing things that are at once engaging as the results of processes and gratifying simply as things. They provide a certain level of spectacle, even beauty, engaging the senses with a (sometimes literal) low hum of attractiveness while engaging the mind with a similarly modest but irresistible churn of formulation, a persistent, even dogged game-playing that unfolds before one. It's all as gently surprising and engaging as a (really good) crossword puzzle - you know, one of those puzzles that is full of clever but recognizable clues, its esoteric diversions seemingly tailored to what you know.
- Peter Frank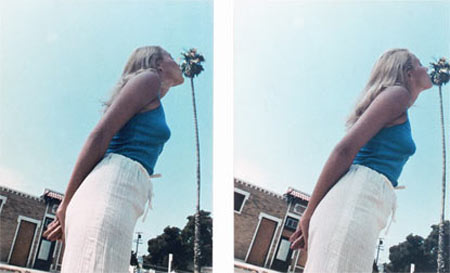 John Baldessari, "Kissing Series: Simone Palm Trees (Near)," 1975, two color photographs on board, 10 x 8" each, at Los Angeles County Museum of Art.
2. . . .
Los Angeles County Museum of Art [LACMA]
Los Angeles, California
So alert does John Baldessari seem to the reality of 21st century experience built from image-text bites, that one can bet he'd cringe at this isolated snippet recently read: Baldessari: Founder of West Coast Post Modernism.' Huge, titular, generic, proclamative, full of portent, full of hot air, and so familiar as to slither past any real scrutiny -- just the sort of loaded info packet the artist loves to stop us at, to toy with.
Ironically enough, its classic media speak, classic Baldessari fodder and quite possibly true.
Logging the 2009 Golden Lion for Lifetime Achievement award at the Venice Biennale, hundreds of solo shows -- seemingly one running somewhere in the world at all times -- an extensive body of erudite writing, scores of interviews where the poor man is asked the same lame questions, Baldessari's stature, work and themes are so ensconced as to make us wonder what we can learn from yet another (this will be his third) retrospective. Quite a lot, actually.
- Marlena Donohue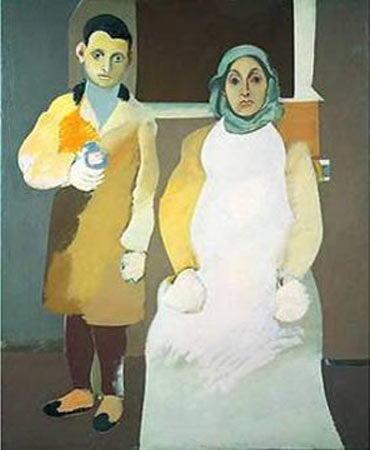 Arshile Gorky, "Betrothal I," 1947, oil on paper, 51 x 40", at MOCA.
And our pick for #1. . . .
Museum of Contemporary Art [MOCA]
Downtown Los Angeles, California
Given the high drama of his personal life -- seeing his mother die of starvation when he was a child, escaping the Armenian genocide, coming to the United States to carve out a revered niche in the tenuous wall of the New York avant-garde, then sinking into depression before committing suicide at age 44 -- Arshile Gorky is ripe for a flashy Hollywood treatment with someone like the always-intense Christian Bale constructing an over-the-top portrait of the anguished artist. Because he fits so well into the crazy painter trope, it may be difficult to see past the media buzz and look -- really look -- at Gorky's art. Yet those who manage to do so will be rewarded with surreal grace and intellectual insight offered by few other mid-century artists.
- Betty Ann Brown
ArtScene and Visual Art Source are the in print and online resources to fine art galleries and museums in Southern California and the Western United States. Visit us online or pick up a copy for complete listings of art venues and editorial Reviews, Recommendations and Previews of the best current exhibitions. Be sure to visit our Openings Calendar page so you can plan visits to the latest exhibitions--of wherever you may be in the Western States.
Want to opt-in for a free subscription to stay current every day on our Weekly Newsletter, as well as new shows, events and (if you are an artist) artists' calls? It's easy.