Presenting the second of our three Top Ten Exhibitions of 2010 lists, this one for the Northwest region. We posted our choices for the Southwest region yesterday, and the one for Southern California is coming tomorrow to mark the end of 2010. For each exhibition we have republished the article about it as it originally appeared in the Visual Art Source Weekly Newsletter.
Reviewing over 300 exhibitions that our editors and writers selected each week there were naturally shows that fairly jumped out at us. Their sheer visual strength, emotional authority, conceptual wit, and aesthetic authenticity serve as the guidelines by which we and our contributors separate top shows from also rans.
- Bill Lasarow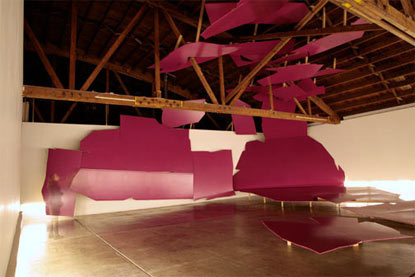 Jenene Nagy, "Tidal," 2010, installation, at Disjecta.
10. . . .
Disjecta
Portland, Oregon
In her expansive installation, "Tidal," Jenene Nagy questions the veracity of space and perception. The installation is the latest point along an unbroken line of inquiry for the artist, during the course of which she has evolved a distinctive style: planes of painted surface that begin on the wall but ultimately thrust outward into the viewer's personal space, thus becoming sculptural. In 2007's "False Flat" at Linfield College, a jagged, hot-pink painting seemingly escaped the second dimension, jutting out in organic shapes that were supported by wooden beams in the manner of a studio back-lot façade. With its curved forms whipping around like a tail, the piece looked like a minimalist painting that had mutated into a pink dragon.
- Richard Speer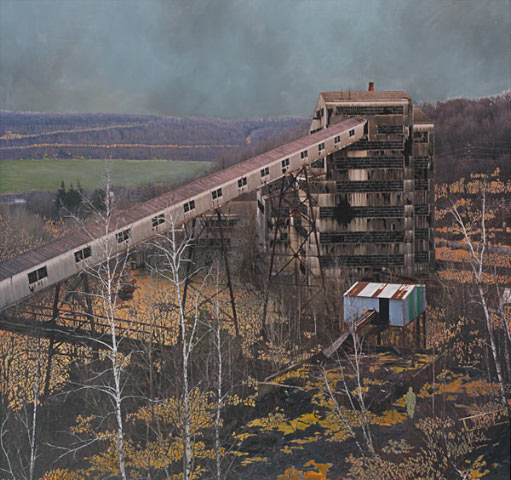 Bradley Castellanos, "Mahanoy City"  2010, oil, acrylic, photo collage, & resin on panel, 48 x 51", at Marx Zavattero Gallery.
9. . . .
Marx & Zavattero Gallery
San Francisco, CA
The landscape in western art has always been about more than picturesque scenery: it symbolized God's handiwork in premodernist art; with the modernists it became a vehicle for expressing how human perception and painterly transcription cooperate, or as a pretext/stimulus for expressionist gesture of vibrant color. In some of the best contemporary art, it has become a symbol of human culture's mixed legacy: the natural landscape is "spoiled" by development, but that development yields its own strange, hybrid, transient beauty, proliferating and/or collapsing before our eyes.
Such, at least, is the interpretation suggested by Bradley Castellanos's astonishing mixed-media photo-paintings of "an environment at odds with itself." In an interview with the San Francisco Chronicle's Nirma Nataraj, he said, "People retreat to nature for solace and rejuvenation, but at the same time they have completely corrupted it and exploited it for its materials. . ."
- Dewitt Cheng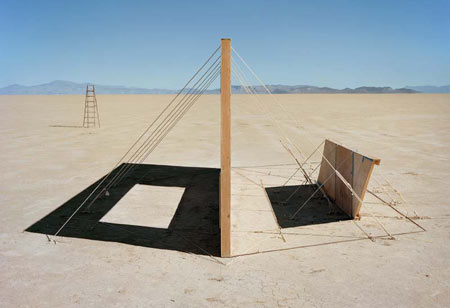 Chris Engman, "Inverse Negative," 2010, inkjet print, 38 x 48", at Greg Kucera Gallery.
8. . . .
Greg Kucera Gallery
Seattle, Washington
Photographer Chris Engman has zero interest in capturing time. On the contrary, his color photographs reveal temporality by shifting the viewer's gaze away from the often-mundane object at the center of the frame and towards peripheral shadows, changing climates and fluctuations in light.  In "Dust to Dust" Engman uses images of constructed (and deconstructed) environments to highlight the temporary nature of all things. "Life," says Engman "is one of those things that just doesn't stay still."
Engman isn't content to stay behind the lens. His images are often the end result of labor-intensive architectural projects painstakingly planned out, built and documented while alone in the middle of the desert. In preparation, Engman envisions every aspect of the project from beginning to end, creating a highly detailed shooting schedule with notes on the position of the sun and the direction of the camera. In addition to food, camping equipment, sunblock, and a lot of water, Engman hauls his camera equipment, materials such as rope, plywood and cinderblocks, and the tools necessary to build his structure on site. "Once I'm out there I have to make do with what I've got."
- Suzanne Beal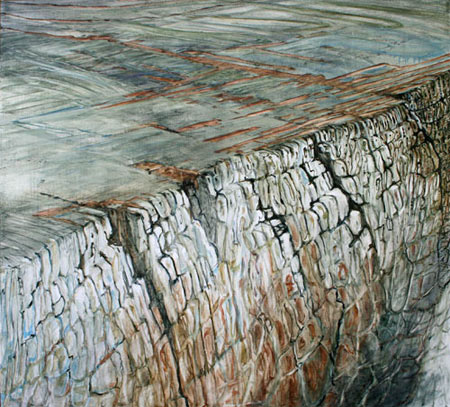 Judith Belzer, "The Order of Magnitude #2," 2010, oil on canvas, 38 x 42", at George Lawson Gallery.
7. . . .
George Lawson Gallery
San Francisco, California
The natural world was not so long ago considered the criterion by which we judged art: during the nineteenth century, fidelity to observable Creation paid homage to God's creation (with God hiding behind the clouds, listening in); during most of the twentieth, the creation of personal mythologies would serve as surrogates for lost faith. In recent years, contemporary art's embrace of new technology, of the commercial art market, and of literary-philosophical theories concerned with cultural symbols led to the general disappearance of nature from galleries.
Naturally, there were artist-dissenters, like Berkeley's Judith Belzer. Her last series of polyptychs was entitled "The Inner Life of Trees;" in the current show of oils and watercolors entitled "Order of Magnitude," she continues painting the natural world at a remove, finding micro and macro structures equivalent regardless of scale.
- Dewitt Cheng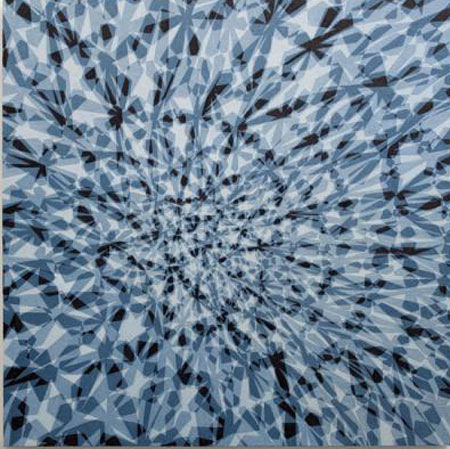 Michael Knutson, "Tripolar Colis VI (Grays)," 2010, oil on canvas, 60 x 60", at Blackfish Gallery.
6. . . .
Blackfish Gallery
Portland, Oregon
Known for creating patterns of spiraling geometric shapes, Michael Knutson presents two exhibitions placed fourteen years apart. The earlier works are from 1996, made after the artist saw the Mondrian retrospective at MOMA. Titled "Cubic Knots," all the canvases are octagonal and painted in the De Stijl palette of the primaries plus black and white. Knutson takes formal cues from Pennsylvanian Dutch hex signs, but the patterns are more random. Each piece contains eight interlocking cubes, which play with the eye and suggest a transparency that doesn't really exist.  
 
Nonetheless "Cubic Knots" rocks steady and is easily read next to the companion exhibition of all new work called "Transient Fields." Here Knutson uses the shape of a star that is repeated and overlaid, creating several layers of lattices in any given canvas. Some of these paintings are multicolored, some are monochromatic. Two of the canvases rely completely on Payne's Gray. The complexity he is able to achieve with such a limited color scheme boggles the mind. The push of the paint is all wedged in by hand, bestowing a thick, mosaic-like character. That heaviness of the material contradicts the trajectory of the imagery and the buoyant optimism of Knutson's palette.
 
- Eva Lake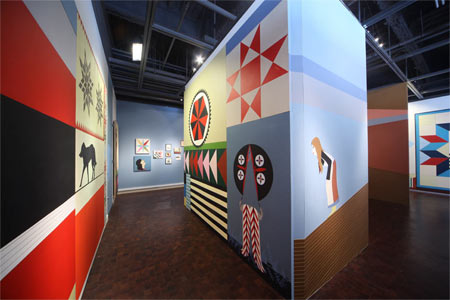 Clare Rojas installation view, 2010, at the Museum of Craft and Folk Art.
5. . . .
Museum of Craft and Folk Art
San Francisco, California
In keeping with past work, this show is bright and graphic. The flatness of the work references Clare Rojas' printmaking past; the influences of folk art, outsider art, street art, cartooning, illustration, and quilting remain strong. Rojas is rightly associated with the area's "lowbrow" Mission School, which also encompasses artists McGee, Chris Johanson, and Margaret Kilgallen, among others. Comparisons among the artists can readily be drawn.
 
But Rojas is not simply a product of influences. Her voice, iconography, and message are distinctive and evolving. In this show, Rojas presents both smaller works, which are hung salon-style along one wall, and then numerous enormous works that cover the rest of the walls from floor to ceiling.
- Chérie Louise Turner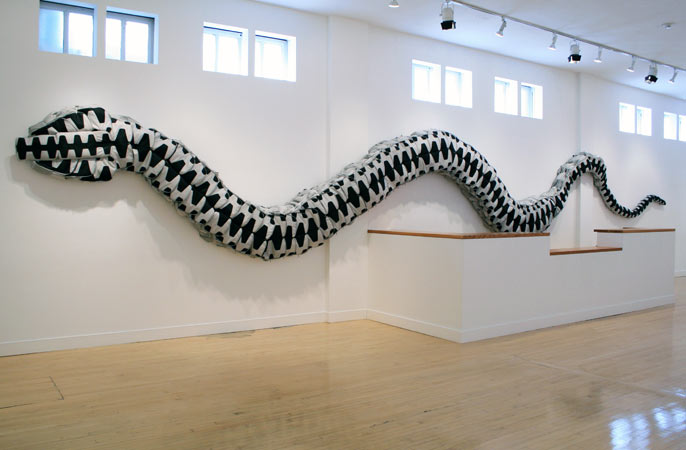 Ai Weiwei, "Snake Bag," 2008, 360 back packs, 15 3/4 x 27 1/2 x 670", at Haines Gallery.
4. . . .
Haines Gallery
San Francisco, Calfornia
This Ai Weiwei show is important for many reasons, not all of which have to do with the specific work on view. Hailing from Beijing, Weiwei is at the forefront of the increasingly vibrant conversation the international art world is having about contemporary Asian art, especially that coming out of China. An activist and forceful critic of the Chinese government (he was beaten by the Chinese police last year and suffered life-threatening head injuries because of it), Weiwei's art gives outsiders an intimate insight into Chinese culture and current issues through the universal language of objects and concepts. Similarly to other mega-artists, Weiwei employs loads of assistants to transform his vision into form.
Weiwei is a conceptualist; the greater message of his pieces is not immediately evident. Where his work succeeds is that it engages us to the point of curiosity. The pieces included here -- all recent sculpture (2006-2010) in various mediums, including porcelain, marble, and canvas packs -- are pretty, sometimes luscious, and simple. They are easy points of entry to sometimes difficult subjects.
- Chérie Louise Turner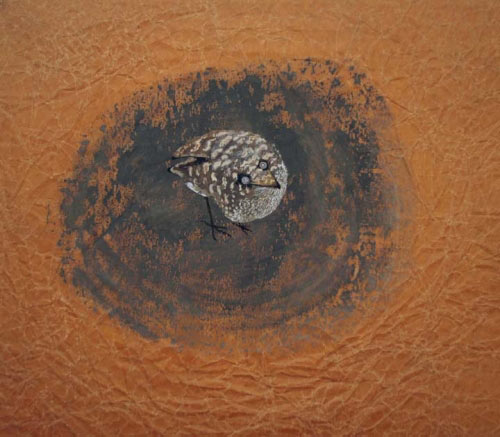 Morris Graves, "Bird of the Spirit," 1943, gouache on waxed paper, at Meridian Gallery.
3. . . .
Meridian Gallery
San Francisco, California
The mysterious, silent paintings of Morris Graves make for a noble alternative to mass culture's increasingly invasive and acquisitive razzle-dazzle, as this retrospective of his work, curated by the art historian Peter Selz, a Graves admirer since 1941, proves. It's a fitting hundredth-birthday tribute, comprised of almost fifty pieces borrowed from various public private collections.
All phases of Graves' lengthy career are represented, from an atypically religious resurrection image, "If Eye Be Lifted Up," an early watercolor reminiscent of Egon Schiele, Gustave Klimt and even Diego Rivera in terms of its expressionism, to the trademark temperas/gouaches on Oriental rice paper of the middle period with their spiritualized animals, plants, vases, urns and chalices. The late tabletop landscapes such as "Quiet Still Life" (1991) present lineups of vessels that are more than vessels. Less familiar is a sculpture from Graves' "Instruments for a New Navigation" series, inspired by the U.S. space program, invoking human-scaled totemic columns, pillars (or devices) synthesizing and harmonizing the scientific/intellectual and natural/intuitive realms.
- Dewitt Cheng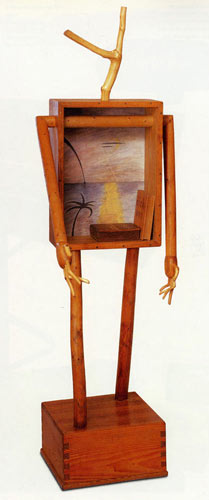 H.C. Westermann, "Female Figure," 1977, wood, glass, ink, watercolor, photograph, 79 3/4 x 24 1/8 x 31 1/4", at John Berggruen Gallery.
2. . . .
John Berggruen Gallery
San Francisco, California
This funky, fun show highlights work by two highly accomplished and similarly offbeat artists, William T. Wiley and H.C. Westermann. Wiley is one of the founders of the West Coast Funk movement and a masterful watercolorist, and Westermann is known for his inventive child-art or "low brow" aesthetic ,with doses of Surrealism. Make no mistake, this is finely crafted work, a fact particularly discernable in his sculpture. Of particular note is the use of unusual materials.
The two are linked art-historically for their 1960s and '70s fine-art counterculture ways. Specifically, the artists turned away from mainstream art trends, be it minimalism or Abstract Expressionism. The two are also linked on more personal terms. Wiley (the younger of the two) was influenced by Westermann's work; a mutual admiration developed over the artists' years-long friendship and correspondence.
-- Cherie Louise Turner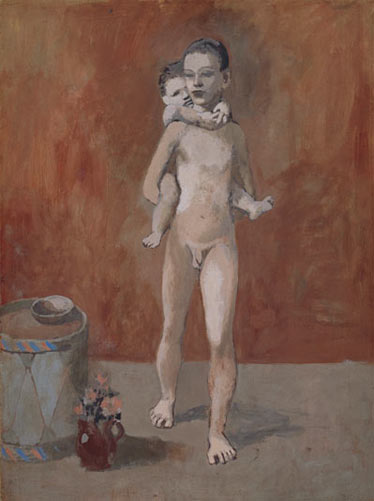 Pablo Picasso, "Two Brothers," 1906, oil on canvas, 31 1/2 x 23 1/4", at the Seattle Art Museum.
And our pick for #1. . . .
Seattle Art Museum
Seattle, Washington
Pablo Picasso's life was notoriously messy: two wives, numerous lovers, a penchant for political activism (communist), and a tendency to go back and forth between different - even contradictory - artistic styles. Despite its scale, the more than 150 works on view in "Picasso: Masterpieces from the Musée National Picasso, Paris" form a tight show that offers viewers a sense of the non-linear nature of Picasso's defiantly sprawling production.
  
Part of what lends coherence to what could easily have been an unwieldy exhibit is the division of the artist's works into chronological categories. Even so, and perhaps all the more so because of it, viewers are exposed to the give-and-take of ideas: the absolute fruitfulness of a creativity that refused to be structured by set standards. Just when you thought Picasso had moved on to abstraction, "Olga in the Armchair," a portrait of his first wife, Russian ballerina Olga Khokhlova, is depicted as realistically as if the artist had single-handedly decided to reject any notion of aesthetic progress.
- Suzanne Beal