It's the hottest time of the year in the great Southwest. That means it's the high season in the unique cultural oasis of Santa Fe. Earlier this month the SOFA West art plus design fair and the decade-old Art Santa Fe presided over consecutive weekends. Charlotte Jackson moved her contemporary fair from its previous El Museo Cultural location at the Railyard into the Santa Fe Convention Center (even as she opened her fine new space back at the Railyard; see below). The newest fair, The Santa Fe Show (produced by the same team that operates the Los Angeles Art Show) opens on August 13, presenting an unusual mix of art, ethnographic objects, decorative art, and fine books. If you are in Texas and much of the rest of the region, you'll understand "hot" more literally, so head over to air conditioned exhibitions for both spiritual and pragmatic purposes. It's the off season in the galleries, but the Texas museums are running some of the finest shows you'll find anywhere right now.
Here is a selection of six of the top exhibitions currently on view in the Southwest part of the country according to our editors and writers. We include closing dates for each show, so if you are in the area you can more easily plan your visits; the shows are linked to the host venue pages that includes address, map, contact information, and more. Be sure to visit our Openings Calendar page so you can plan visits to upcoming exhibitions wherever you may be in the Western States.
ArtScene and Visual Art Source are the in print and online resources to fine art galleries and museums in Southern California and the Western United States. Visit us online or pick up a copy for complete listings of art venues and editorial Reviews, Recommendations and Previews of the best current exhibitions. Want to opt-in for a free subscription to stay current every day on our Weekly Newsletter, as well as new shows, events and (if you are an artist) artists' calls? It's easy.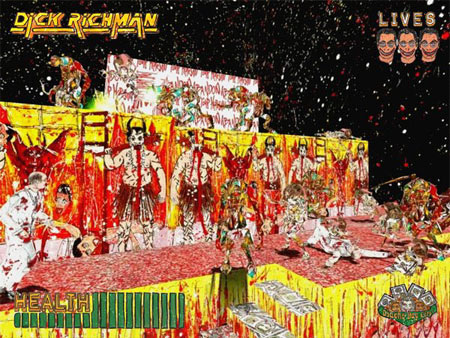 Frederico Somis, "Douche Bag City," 2010, still from animation, at SITE Santa Fe.
Continuing through January 2, 2011
SITE Santa Fe Santa Fe, New Mexico
"The Dissolve" surveys an emerging, yet historically-rooted, impulse within contemporary artistic practice. Offering contemporary animation as a point where "the homespun meets the high-tech," this Eighth International Biennial is a fully moving-image-driven edition of SITE's lauded program. The idea here is how the human body plays a role in countering the dehumanizing agencies inherent in contemporary modes of vision. Implementing an exhibition design greatly assisted by collaboration with architect David Adjaye, co-curators Sarah Lewis and Daniel Belasco present a selection of twenty-six contemporary works. Standout recent pieces result from new commissions by Bill T. Jones, in partnership with OpenEnded Group, and Mary Reid Kelly. The new works are constellated with four historical animations that trace the lineage of what the exhibition's catalogue essay terms a "collective, yet uncoordinated aesthetic." Departing from the content-driven principles of previous Biennials, "The Dissolve" is distinctly process-oriented.
- Alex Ross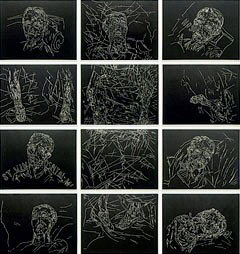 Kiki Smith, "Mortal," 2007, portfolio with 12 woodcuts in black and white, at Charlotte Jackson Fine Art.

Continuing through August 9, 2010
Charlotte Jackson Fine Art in the Railyard, Santa Fe, New Mexico

For Charlotte Jackson's inaugural exhibition in her new space in the Railyard Arts District, the gallery wanted to do something quite different than present the minimalist, monochromatic works it is known for. In an inspired move, Jackson turned curatorial duty over to Ms. Bobbie Foshay, a "committed collector" and former president and chair of SITE Santa Fe's board. "Charlotte requested that I do a show with works entirely different than she normally exhibits. Portraiture seemed to fill this bill rather nicely," stated Foshay.
Fleshing out the understated space -- refreshingly bright and simple in its renovated incarnation -- "Self and Family... A Recent Look" is a terrific grouping of works that reference the construction of selfhood through the tropes of portraiture. Standout pieces were those by Hendrik Kerstens, who photographed his daughter wearing a napkin as a Dutch girl's hat with surprisingly effective Vermeer-esque results; Monika Bravo, whose mirrored surfaces force the viewer to contemplate herself, literally, while sonar beeps and computerized lines track time; and Ellen Harvey's two installations that deal directly and provocatively with the self-portrait.

-Kathryn M Davis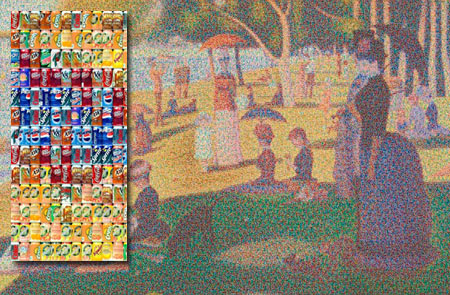 Chris Jordan, "Cans Seurat" (insert, detail view), 2007, depicts 106,000 aluminum cans, the number used in the US every thirty seconds, 60 by 92", at the Austin Museum of Art.
Continuing through August 15, 2010
Austin Museum of Art - Downtown, Austin, Texas
The painter Hieronymus Bosch was, you could say, 15th century Europe's go-to guy for effective depictions of the afterlife in Hell, assumed to be each person's possible fate in those days. Here in the more secular 21st century, Hell is more often the concern what we might make of life on earth with poor sewardship. The point of Chris Jordan's work, in his mindblowing "Running the Numbers" show currently complicating the walls of the Museum's big downtown venue, is that it's not what one can make of this world but what all of us together - 1 x 6.5 billion of us - are making of it. The artist takes statistics of worldwide environmental and social damage - so many kilowatts of electricity wasted per hour, so many millions of cell phones discarded each day, so many gun-related deaths per year - and renders them in roomsized photographs that jar the eye and the mind in equal proportions.
The giant images are either montages riffing off of familiar works (Seurat's "Grand Jatte," the "Mount McKinley" and "Wonder Lake" photographs of Ansel Adams) or, more often, original designs as eye-popping as the damning facts they represent. You may have seen these images online or watched the video of Jordan's presentation for the TED Talks series. The impact of his urgent, obsessive photo-manipulations can be fully felt only when they're life-size and nearly overpowering the gallery around you.
- Annabelle Sanders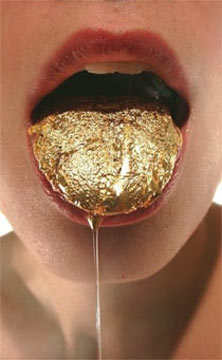 Lauren Kalman, "Hard Water (Tougue Gilding)," 2006, digital print laminated on acrylic, 35 x 23", at the Contemporary Arts Museum Houston.

Continuing through July 25, 2010
Contemporary Arts Museum Houston, Houston, Texas
The works on display in "Hand+Made: The Performative Impulse in Art and Craft" emphasize the ways objects are used, worn, brandished and destroyed as part of a larger conceptual whole. (Live performances have been scheduled as part of the ongoing exhibit.) Many pieces have been augmented with video elements that demonstrate that very thing. For instance, Michael Rea's terrific "Rock Band" collection of naked wooden musical instruments and equipment, like horns, a keyboard, electric guitars, amps (even a theremin) is accompanied by a hilariously deadpan video of the instruments being "played" in concert. Ryan Gothrup's glass basketball is indistinguishable from a real one. He presents a video of a player shooting real balls and shattering glass ones at a public court. The video takes a disturbing turn when a threatening intruder interrupts filming and destroys the artist's controlled environment with violent anger. Glass features largely in the exhibit. Heat practically radiates off the screen in a video documentary of collaborative group Plan B doing some very dangerous things with molten glass -- like juggling hot balls of it and using a long, hot strand of it as a jump rope. "Do not attempt at home" goes without saying.
- Troy Schulze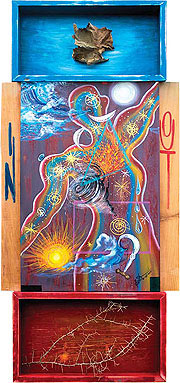 Bert Long, "Soul," 2010, acrylic on canvas with frame of white pine, sycamore leaf, Mexican thorn branch, 87 x 40 x 5", at HCG Gallery.
Continuing through August 14, 2010
HCG Gallery, Dallas, Texas
Bert Long takes Jung's Red Book or "Liber Novus," the Latinate version of "New Book," as a point of departure for some stellar art dredged from the recesses of his own psyche. He's tapped into, tamed and framed some interesting images that sometimes work merely as acrylic on canvas -- "It" is a great example -- or operate as a composite of photographic image, paint and unusual presentation techniques. "It" shows us an amorphous dark shape indicative of an embedded memory or psychic event that's being -- literally -- funneled out for our delectation.
Meanwhile, "Creativity Imprisoned" is anything but. This is loosened fare that shows Long peering at us from behind bars. He's locked inside this strangely surreal world; however, one gets the feeling he's not fettered. Instead, he's come undone and that's a good thing. In fact, the whirring fan-like image in the lower-right corner gives us the feeling that that's just about the velocity at which Long's psyche spins. It's fast forward.

- Patricia Mora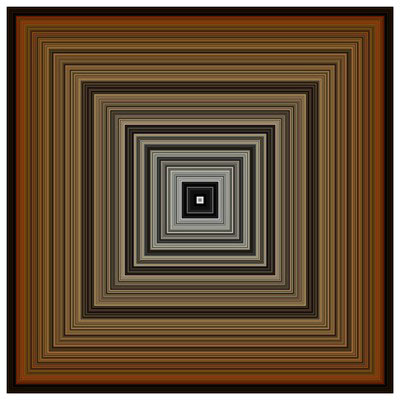 Jason Salavon, "Baroque Painting," 2010, digital C-Print, 59 x 59", at Eight Modern.
Continuing through July 25, 2010.
Eight Modern, Santa Fe, New Mexico

Born in 1970, Jason Salavon grew up with ever-evolving computer technology; it is natural, then, that he teaches classes in visual arts and the Computation Institute at the University of Chicago. His "Spigot (Babbling Self-Portrait)" features two projections, meeting where the walls adjoin, of what he's googled over the past two years. Fittingly, the litany of well over 11,000 searches visually references Jenny Holzer, on the right, and Josef Albers' "Homages to the Square" to the viewer's left. Although Holzer and Albers worked with repetition, their purposes and content remain entirely different both from one another's and from Salavon's. His art's formal aspects alone were chosen from an endless pool of possibilities -- rather like plucking a handful of stars from the billions in our universe.
I find it refreshing the way that Salavon refers to art history in all of his work. It is, in fact, one of the only unifying characteristics in this exhibition, which runs a gamut of genres from 17th-century Dutch memento mori to the above-named modern and postmodern artists; from Baroque painting to French Impressionism. Salavon pulls a post-Francis Bacon tactic by deconstructing roughly 80 of Diego Velazquez's portraits, and recombining the pixellated results into a portrait of the master himself. All reference to Bacon's great work is quickly dispelled, however, by a close-up look at Salavon's "portrait." It is rather disappointingly evident that this is a print, as flat as it can be; and while I could go on about the notion of super-flatness as a positive position in the digital age, computer screens and glass-encased prints will never replace the frank opulence of painting. That Salavon's works trick the eye into lusting after the old-fashioned medium is a tribute to his art, however. His version of computer-programmed trompe l'oeil is both remarkable and maddening: a striking combination that adds up to art.
- Kathryn M Davis