ArtScene and Visual Art Source are the in-print and online resources to fine art galleries and museum in Southern California and the Western United States. Visit us online or pick up a copy for complete listings of art venues and editorial reviews, recommendations and previews of the best current exhibitions. Want to opt-in for a free subscription to stay current every day on our Weekly Newsletter, as well as new shows, events and (if you are an artist) artists' calls? It's easy.
Don't think for a moment that things grind to a halt in Los Angeles during the summer -- it's rich in cultural choices. Here is a selection of six of the top exhibitions currently on view according to our editors and writers. We include closing dates so if you are in the area you can plan your visits more easily; each venue is linked to a page that includes address, map, contact information and more. Be sure to visit our Openings Calendar page so you can plan visits to upcoming exhibitions wherever you may be in the Western States.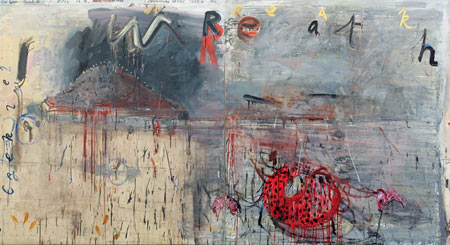 Patrick Graham, "Wreath," 2005-06, oil on canvas, diptych, 72 7/8 x 134 5/8".
Continuing through August 31, 2010
Jack Rutberg Fine Arts
A museum-caliber show of recent drawings and selected paintings done over the last 25 years by Patrick Graham remind us with definitive authority that at the base of all compelling abstraction is a mastery of form and draftsmanship so innately owned by its maker that it becomes the given, the breath and armature from which every other experiment emanates and succeeds. Graham's drawings display both skill and connotative power, but he is not content with that. He has the courage -- or Celtic madness -- to go back and bury the visually accessible and alluring original image with layers and layers of just as carefully applied paint, with gestures that seem to find themselves as he works, and with added scribbled words that tumble from tumultuous Ab Ex fields. A deeper mode of expressing comes shining through in the language of gestures so raw they singe us. What is wonderful about this show is that you get to see aspects of this process unfold at many points. The smaller drawings contain assiduous figurative passages -- a foreshortened neck inclines away from us, is brute, sexual, delicate and suffering, as well as perfectly achieved with one or two adroit lines. There are excellent canvases on view as well. In these, peeking out from the chalky, inchoate surfaces you see that very perfect limning acting as the formal and emotive fulcrum
- Marlena Donohue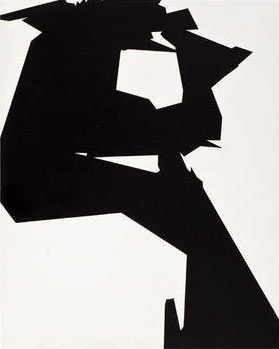 James Welling, "Quadritlaterals," 2008, from suite of nine photo engravings with aquatint.
Continuing through August 29, 2010
Hammer Museum
Beautifully presented and installed, the complete editions from Edition Jacob Samuel provide a showcase for artists' prints. The artists in the exhibition share little in common beyond their collaboration with the publisher. Samuel, well-known in the international art world, was an unfamiliar name to art audiences until this summer. He occupies the enviable position of being an entirely independent publisher and printmaker who can pick and choose his projects. What makes his practice unique is his "portable studio," the printmaking materials, which he brings to the artist's studio, no matter where she/he lives. Using the available materials on site, the artist is in charge of the creative process and it is Samuel's purpose to realize the creator's vision. Samuel is a meticulous craftsperson who puts his considerable skills at the service of the artist, serving as a discrete intermediary who uses his deep understanding of a particular artist's work in the pas-de-deux of collaboration. To respond to Rebecca Horn's aversion to the mirror image, Samuel used a new kind of paper that was transparent, thus preserving the artist's original images. The result was a suite of prints the color of blood, mounted on paper that matched the creamy skin of the redheaded artist. Just as the flow of blood is one of Horn's trademarks, the prints of Anish Kapoor are immediately recognizable as the artist's aesthetic, with the velvet surfaces and the deep colors mirroring his trademark powdered pigments. Conversely, the prints from Chris Burden are entirely unlike his tough-guy ethos: charming tales of encounters with coyotes, written on notebook paper in a childlike hand, with illustrations interspersed. Many of the suites of prints are combined with the artist's writings, so this exhibition has attracted the literary crowd. Spread through a number of rooms, this compelling collection of master prints reveals both new and familiar sides of some of the great artists of our time (, West Los Angeles).
- Jeanne Willette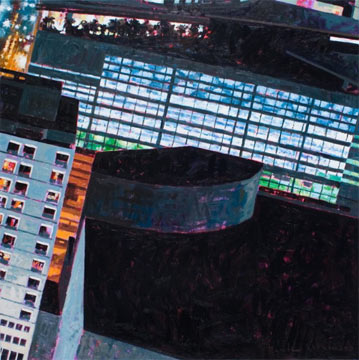 Gustavo Acosta, "Silencio (Silence)," 2010, acrylic on canvas, 24 x 24".
Continuing through July 31, 2010
Latin American Masters
Edgy urbanscapes have become commonplace, replacing bucolic or tranquil vistas captured both in plein-air and from photographs. Among this mass, the architectural paintings straddling fantasy and reality by Gustavo Acosta stand out. Devoid of people, geometric and somewhat abstracted compositions like "Historia Del Rio" offer viewers an option of immersing themselves in the scene. Not inclined to spoil a perfectly good composition with leading details like bodies to denote scale, Acosta negates any comparison to architectural illustration. He prefers to create worlds that belong to him rather than a client.
- Daniella Walsh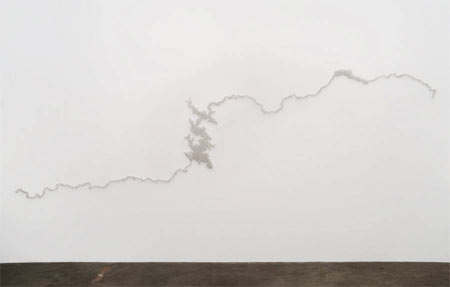 Maya Lin, "The Tuolumne River," 2010, pins.
Continuing through August 14, 2010
William Griffin Gallery
"Wall Installations" is a stunning group exhibition presenting works by Teresita Fernandez, Kira Lynn Harris, Maya Lin, Richard Long, Karin Sander, James Turrell, Robert Therrien and Peter Wegner that in more cases than not, are painted on or embedded into the wall. Exhibitions featuring site specific works like this are bold in that the works exist only for the duration of the show, and to be acquired or seen again must be recreated. Galleries do not often stage exhibitions with multiple artists making temporary works, and besides this fact what makes this show stand out is how beautifully the works look together and how they inform and enhance each other's content. Wegner's "BLAZING SUN / SUMMER SUNSET" presents an expanse of two colors, yellow and orange, accompanied by their color names. When seen in relation to Karin Sander's almost invisible glossy white rectangle and Lin's "The Tuolumne River," depicted by inserting thousands of pins into the wall, a landscape theme clearly begins to emerge. The experience of a typical Richard Long walk is represented in words; while Fernandez' circular compositions are readily seen as the Earth during night and day. Harris brings us back indoors with fragments of the Bradbury building's interior as chalk drawings on a black wall. The gallery's large space gives each work room to breath. Most of these works have a strong individual presence, but it is in the context of one another that they truly resonate.
- Jody Zellen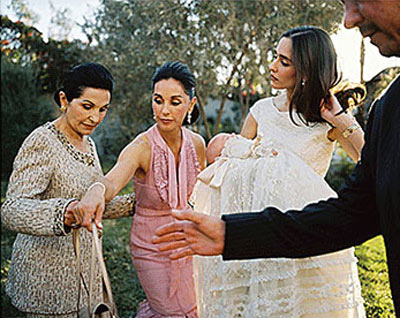 Yvonne Venegas, "Bolsa" from "Maria Elvia de Hank" series, digital print, 40 x 50".
Continuing through August 28, 2010
Shoshana Wayne Gallery
Photographs by Yvonne Venegas explore the eccentric and socially paradoxical life of the wife of millionaire and former politically corrupt Tijuana Mayor, Jorge Hank Rohn. "Maria Elvia de Hank" explores the wife's life of privilege in Mexican culture, but the chaos and frenzy represented by the Tijuana media and the suspicion surrounding her spouse's spurious dealings are blatantly absent in the series. A distinct division of gender roles is prominent as the wife serves as protector of the child about to be baptized, and is bound to the sphere of domesticity and private parties. Meanwhile men escape to vast mountainous landscapes, and are associated with the construction of a casino, bullring and football stadium. Perhaps the juxtaposition of public spaces under construction and the private sectors of family life are meant to draw comparisons between the personal and protected lives of the very publicly watched Mayor. An image like "Nirvana" captures a pre-adolescent boy and girl dressed in prim party clothes with their heads resting against gold plates. It seems that despite (or because of) the world of privilege, ennui sets in at an early age. Issues of shady ethics are oddly deferred when this world is recorded for posterity.
- A. Moret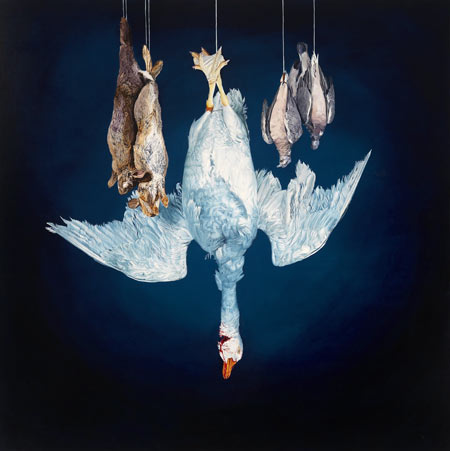 Charlotta Westergren, "La Mature Morte," 2009, oil on linen, 50 x 50".
Continuing through August 1, 2010
Arin Contemporary Art
Seven paintings by Charlotta Westergren are meticulous in their renderings and brush strokes and profound in command of her media, including automotive paint and oils. Deeply colored automotive paint over aluminum (with details in oil) in two larger works provides a luminous background for precise compositions of animals and flowers. The horizontal composition, "La Nature Morte au Cochon," depicts a pig's head and other body parts surrounded by floating flowers and butterflies. The vertical "Unicorn," a large unicorn head with blue eyes set against deep blue sky and flowers, lends the mythical animal human qualities. While being drawn to these compelling images, we soon questioned their symbolism. The artist explains that the pig in "La Nature Morte au Cochon" "is a symbol of gluttony, and the butterfly, the transformation of the soul." With this work and with "Unicorn," she explains, "context is intentionally transformed through the medium." As unicorns were depicted in serious works of art centuries ago, and more recently in popular culture, this painting alludes to the artist's sense of an uneasy relationship between works from the Renaissance and those of today. These two paintings, plus five others in oil and acrylics, add up to a small show that is exceptionally immersive.
- Liz Goldner