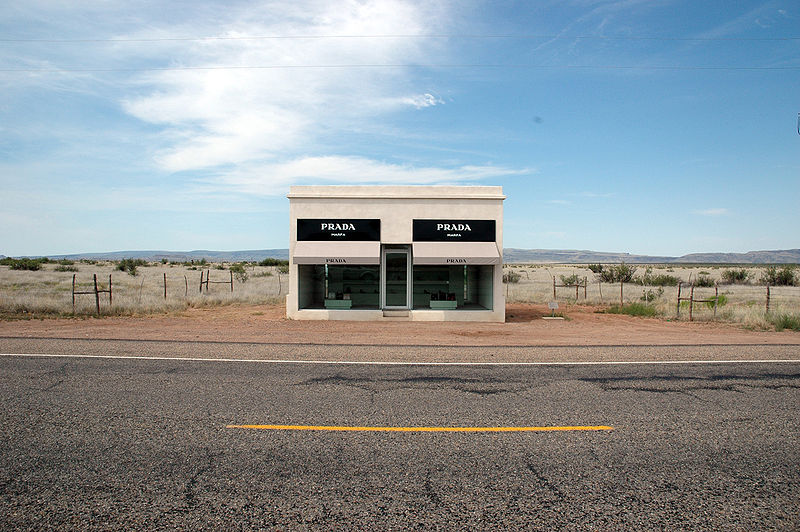 By Sandra Orellana Sears. Read the full version of the text on Artwrit.com.
Even today, more than 40 years since Donald Judd came to town, Marfa's skyline remains relatively unbroken. Besides the central townhouse and watershed hovering above the horizon line, the wide Texan sky dominates the low-rise architecture. Judd was attracted to this particular plateau of the Chihuahua desert because it was unfrequented and underdeveloped. At times, Marfa appears to be a mirage. In the middle of a bone-dry desert, Judd has managed to leave the imprint of his own legacy of minimalism and the avant-garde.
The heart of Marfa is undoubtedly the Chinati Foundation, named for the nearby Chinati Mountains. This circuit of buildings was originally meant to exhibit the work of Donald Judd, Dan Flavin and John Chamberlain, but has expanded to include several other artists over the years. Installation was always one of Judd's founding principles as an artist, and the environment and exhibition of each work at the Chinati has been carefully considered. For every artist there is a designated building on the museum ground, the former military site of Fort D.A. Russell.
The permanent collection consists of Judd's piece, 15 Untitled Works in Concrete, which is installed along the perimeter of the previous military ground, amidst the overgrown yellow grass surrounding it. Produced between 1980 and 1984, this work is as striking up close as it is from a distance. Depending on the time of day, the large sculptures are illuminated at various angles, displaying a continuous modulation of outdoor light in unencumbered space. Accumulatively, this piece is one kilometer in length, and walking along each massive component is a kind of meditation on space, volume and environment. Though comprised of fifteen individual sculptures, Judd avoids fragmentation. The installation of continuous forms strikes a balance with the environment, creating a powerful gestalt sensation -- that magnificent feeling of a whole.
Just past these outdoor works lie the previous army barracks occupied by Dan Flavin's permanent piece, Untitled Marfa Project. This work is comprised of the artist's signature fluorescent light sculptures installed in six separate U-shaped buildings. Within each structure are two parallel corridors leading up to a fence constructed from pink, green, yellow and blue light tubes. The negative space between the tubes permits the colored light from the installation's opposite side to flow through freely, producing a mind-bending color bleed of complimentary hues that starkly contrasts with the arid desert's pale whites and sandy yellows. The fracturing of chromatic luminescence is repeated within each structure, but is slightly altered by the position of the windows, angles of the walls, as well as the selection of colors. Each repeat view is no less imposing. Seeing pink and green, yellow and blue wrestle with one another and ricochet off the long walls sends vibrations straight to the base of the viewer's optic nerve.
The collection's work by John Chamberlain can be found in the center of town in the former Marfa Wool and Mohair Building, whose architecture was modified by Judd before installing the series of twenty two large-scale, chromium-plated steel sculptures. Each building is slightly unique with high ceilings lined with wooden beams, divided by Judd's signature square doors that swing open on a rotating axis, requiring no handle of any kind. The tripartite Mohair Building is the ideal environment for a large family of Chamberlain's widely known crushed car sculptures. Terlingua, Roxanne Loup, Broken Toe and Gondola Ezra Pound compete with one another, but harmoniously so. Ultimately, the building's ample space allows for each work to settle into its own visual rhythm while still engaging in an overall cohesive visual effect.
Also included in the permanent collection is Carl André's Poems, which highlights his written works, instead of the deadpan, linear sculptures he is usually recognized for. There is something painterly about this series of one hundred sonnets, which are meticulously written on a manual typewriter and installed in wooden vitrines designed by the artist himself. On each sheet of paper the artist has typed a small block of text that consists of a single repeated word, beginning with I, then moving through parts of the body (knee, calf, heel, toe) and eventually dissolving into the landscape (rock, sand, wind, earth, rain). They are loosely narrative, but like his sculptures, do not necessarily adhere to an orthodox design. André's words are free to be the shapes of letters, space and sound--exquisite drawings that can be read vertically or horizontally without relying on a particular base orientation. Though tucked neatly into lettered boxes, their beauty lies in their complete abandon of a conventional literary framework.
The Chinati Foundation also has a rotating temporary exhibition program that complements their outstanding roster of artists on permanent display. Recently on view, Hiroshi Sugimoto's Five Elements in Optical Glass, an elegant installation of twenty-four sculptures by the world-renowned photographer in celebration of the museum's twenty-fifth anniversary. The piece consists of a sequence of pagodas constructed from stacked glass geometric shapes. Each is six inches high, constituted of a sphere, cube, pyramid, semi-orb and, finally, a tear-like droplet. Contained within each sculpture's sphere is a sealed black and white photograph of a small-scale seascape, which Sugimoto has been photographing for over thirty years. The titles themselves bring an array of aquatic bodies to mind: Bay of Biscay, Bakio; Black Sea, Ozoluce; Marmar Sea, Silivli; Dead Sea, En Gedi; Gulf of Bothnia, Holic. The sunlight refracts sporadically off the curved glass, covering the room and miniature photographs in spackled light beams radiating in all directions. The ethereal union of photography and sculpture is refined and invigorating, a reverie of light and space.
Outside, Sugimoto installed "the simplest Japanese art garden," and indeed it is. The stones have been scrupulously raked to create subtle troughs in the material that match the corrugation of the building's rooftop with absolute precision. Sugimoto had a special rake made for this very purpose. A shallow bed of smooth purple pebbles, this minimalist sanctuary is composed of a single element, a perfect homage to Judd's restricted and always purposeful refinement.