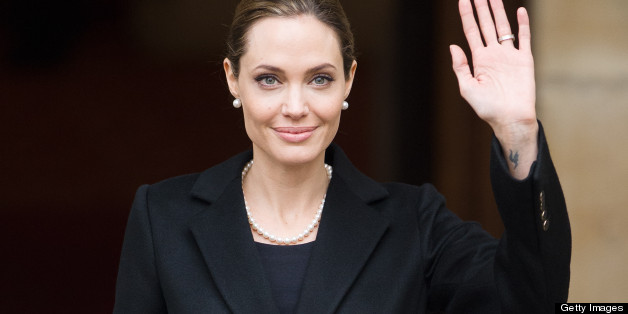 Hollywood star and United Nations High Commissioner for Refugees (UNHCR) special envoy Angelina Jolie, who is loved and admired for her peacemaking efforts in Africa and the Middle East, has become a role model for health with her revelation about her decision to have a preventive double mastectomy because of her high genetic risk of breast cancer.
I have always respected Jolie not only because she is a great actress but also because she has sincerely made an effort for world peace. As a UNHCR special envoy, she has been on field missions in more than 30 countries around the world. I always admire her courageous trips. She even visited war-torn areas such the Darfur region of Sudan during the Darfur clash in 2004, Chad during its civil war in 2007, Iraq during the second Gulf war in 2007 and 2009, Afghanistan during the war in 2008 and 2011, and Libya during the revolution in 2011. She also visited Pakistan after the Kashmir earthquake in 2005. Now we are discussing cancer and mastectomies as an elective, preventative care choice as a solution to cancer after her brave and honest editorial, which was published in the New York Times about undergoing a double mastectomy.
This fearless woman, who has visited many war-torn areas in the world as a goodwill ambassador to bring peace, is now visiting our homes to invite us to learn about and discuss cancer and preventive care and is trying to raise awareness of this serious disease. According to experts, breast cancer is often caused by mutations in the BRCA1 and BRCA2 genes. These genes are known as tumor suppressors. A woman's risk of developing breast, ovarian and/or colon cancers is greatly increased if she inherits a mutation of one of those genes. In her op-ed, Jolie states, "I am writing about it now because I hope that other women can benefit from my experience."
There is no doubt as to how valuable her disclosure is in raising awareness about cancer, and many health experts agree with her choice to fight back. Biochemical expert Hakan Örmen, co-owner of Academi Tani Laboratuvari in Nişantaşı, İstanbul, said: "She did a wise thing. From now on, analyses of genes will show us the risk factors. This is the stage that gene technology has reached. Jolie is a great pioneer."
However, some experts have differing points of view. Dr. Hüseyin Çopur, an obstetrician and gynecologist practicing in New Jersey, suggests testing only if someone has more than one first-degree or a few second-degree family members who are diagnosed with cancer. He emphasized that tests for both BRCA mutations are conducted by only one company in the U.S., Myriad Genetics, Inc., which is why testing is costly. "It is covered by major health insurers and managed care organizations only if a woman has a significant family history of breast, ovarian or colon cancer," he stated. He stressed that Jolie's decision to have a preventive double mastectomy because of her high genetic risk of breast cancer should encourage women to look into their family history. However, he noted that "there are less aggressive options" and instead advises very close monitoring with screenings via ultrasound or MRIs twice a year. "Nowadays, with an early diagnosis, cancer is totally curable," he declared. Even though Çopur wouldn't suggest a double mastectomy in the first place, he said, "It's a very personal decision. If the patient cannot comfort herself spiritually and cannot ease her fear of cancer or death, of course it can be used as a preventive measure."
At this point, I will cite a spiritual opinion from Züleyha Çolak, a coordinator and lecturer at Columbia University. She believes that having a double mastectomy before being diagnosed with cancer is assuming that we can be all-knowing, which humans are not. "We have limits and weaknesses. We, of course, need preventive care, [must] search for alternative treatments, pray for the good and then surrender to God's will," she said "When we are terrified, we might act bravely. We are so vulnerable that it brings us peace when we embrace it, rather than denying it," she added.
I agree with Çolak; we have to accept that we cannot control everything. A big risk might not result in anything harmful, and a little risk can carry us to a huge disaster. We should focus on the moment and not the past or the future. If we want to maintain our peace of mind, we should remember that everything is uncertain in our lives. All we need to do is be positive and keep our spirits high to live with uncertainty in peace. "Health is hidden in the details in the very present moment," says Mrs. Çolak.
The best of people is the one who works for humanity. Jolie, as a goodwill ambassador, did something great to raise awareness of preventive care for cancer. Yet I hope that Jolie's disclosure will cause only greater awareness, but not growing numbers of women choosing to have healthy breasts removed when it's not necessary.
This article was previously published in Today's Zaman