A concerned Egyptian journalist friend of mine called me asking, "Are you able to go to your country?" A Russian-American friend said: "You are in my prayers. I hope Turkey won't close its borders."
An Iranian colleague asked if I can still go back to my country! Because she told me previously that she burned her past to protect her children's future when coming to the US, I immediately understood what she meant. A cartoon that appeared in The New York Times the other day is still in my mind. It shows Erdoğan slicing a Turkish flag-wrapped gyro while an EU representative watches him in deep concern. As he is cutting it millions get hurt. The pain is so real in the hearts and so heavy to carry...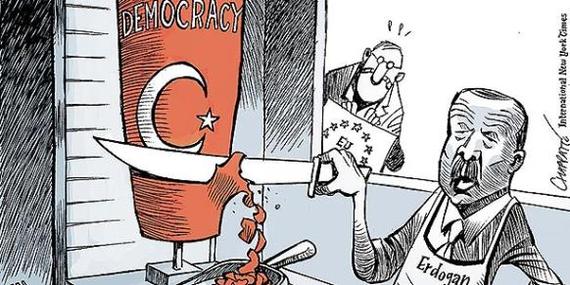 This cartoon was published in The New York Times on December 16, 2014
This is the current image of Turkey in the international arena after the raids on the Zaman newspaper and Samanyolu TV the arrest of 31 journalists, television producers, scriptwriters and editors. Many people agree with Human Rights Watch, who released a statement saying: "The detention of journalists and editors in the context of this latest, wider operation of arrests looks like another attempt to crack down on critical media. The burden is on the government to produce evidence to justify accusing Zaman and Samanyolu group editors and journalists of being part of an organization that attempted to capture state power, as the Istanbul judge's detention warrant states." Numerous pro-Justice and Development Party (AK Party) supporters think that way.

Since he became president, Recep Tayyip Erdoğan talks about a "New Turkey," one that we do not know. Regardless, we all agree that "Turkey is old Turkey no more." The ailing justice system and strength of democracy have worsened since last Dec. 17-25 when a corruption investigation was made public. The Turkish Judicial Reform Act 2014, signed into law by President Abdullah Gül on Feb. 26, 2014, restructured the governance of the judicial system. In particular, the law altered the regulatory powers of the High Council of Judges and Prosecutors (HSYK), transferring control from the HSYK to the minister of justice over a range of matters, including the appointment of judges, the management of judicial disciplinary investigations and the selection of judicial training personnel and HSYK staff. They also want to keep critical media that refuses to forget about the corruption allegations silent.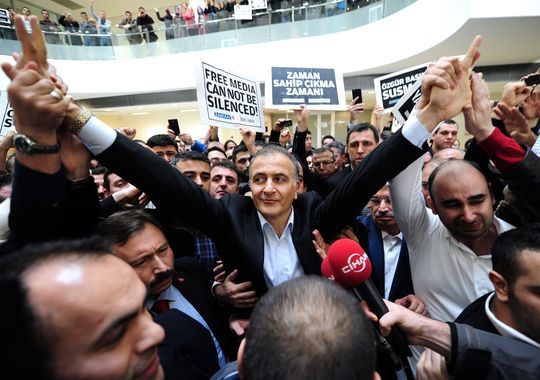 Meanwhile, as Erdoğan's government and the Parliament establish laws and enforce them, it is the ability of media to speak freely that holds the government to account. Without each institution playing a balanced role, democracy dwindles and so do the rights of citizens and the future of the nation. Actually, in democratic countries a key role of the government is to safeguard a free and independent press and media to ensure pluralism and promote transparency and accountability.

Nations that embrace democracy cannot violate their citizens' trust by muzzling its media. That is why there have been so many disapproving reactions to what's going on in Turkey from the US. People from all over the world have criticized Erdoğan's government. World-renowned philosopher and linguist Noam Chomsky declared that "Erdoğan's actions are another very serious attack on freedom of press, and another unfortunate sign of regression in Turkey towards a more authoritarian and repressive society, reversing the democratic gains of earlier years of this millennium."
Et tu Turkey?
"If President Obama decided that he didn't like the way a soap oprah was talking about a certain group or a party and have them arrested or if a football team decided that they were protesting because they were cutting down trees in my city they were arrested if the editors or reporters of New York Times and Wall Street Journal were arrested because he didn't like what they say about him if one of our literary Nobel Prize winner was put under attack I'd be pretty scared that's what happening in Turkey" said Hollywood star Bruce Davison after the demonstration in Los Angeles "it's important to find some way to have things we consider about what's happening in that country because one this direction end well in history." he concluded...They are only a few among many others.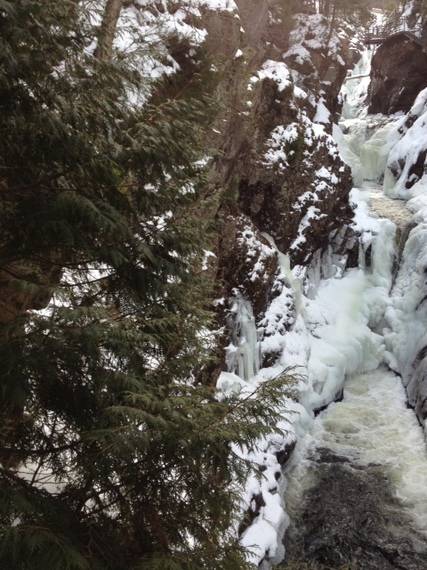 "Et tu Turkey? Arrest of journalists is not a practice of free and democratic societies." Tweeted Ingrid Mattson,a Muslim religious leader, a professor of Islamic Studies and an interfaith activist. "Turks will lose their freedom if they allow the government to rule through conspiracy theories." she continued.
Even though Erdoğan says "mind your own business" to the EU and the rest of the world, the problem is not only Turkey's problem. "Recent developments in Turkey are dismaying for anyone concerned about human and civil rights, interfaith relations and peace efforts in the Middle East. The government clampdown on media outlets is not only a violation of democratic norms and freedoms, it is also a blow to those who believe that Islam and democracy can constructively coexist," said Yehezkel Landau, a Hartford Seminary Professor, who is a scholar-practitioner in interfaith education and Israeli-Palestinian peace efforts. He emphasizes that the appearance of an anti-Israel, pro-Hamas stance of the current leaders in Ankara is lamentable. "They have tragically forfeited the role of the trusted intermediary that Turkey used to play in that war-ravaged region," he concluded.
Unfortunately, with a total lack of wisdom and a strong-headed attitude Erdoğan is turning Turkey into an isolated despotic state. The violation of the rule of law and fundamental rights denies Turkey the chance to of being an EU member and the European values and standards that comes with membership.

On the other hand, the world needs Turkey to play a leadership role in the Middle East. The current Turkey is not even close to where it needs to be in this regard. This insanity must end soon. We have wasted so much time and energy.

Yes, when President Erdoğan stages public arrests of those he believes threaten his power, when he labels all those who hold contrary opinions as enemies of the state, dark conspirators and fanatics, he fails the test of democracy. He fails to see his opponents as humans, equal in dignity to himself.

Although, it is never too late to get back on the right track, Erdoğan and the current government should see the situation clearly: It's not possible to build a future on injustice. It's not possible to create a peaceful society by feeding the population with hatred. This mentality cannot survive anymore. Erdoğan should admit that the majority of Turkey does not want his "New Turkey" and it does not have any place in the global world.
For more Arzu Kaya-Uranli click