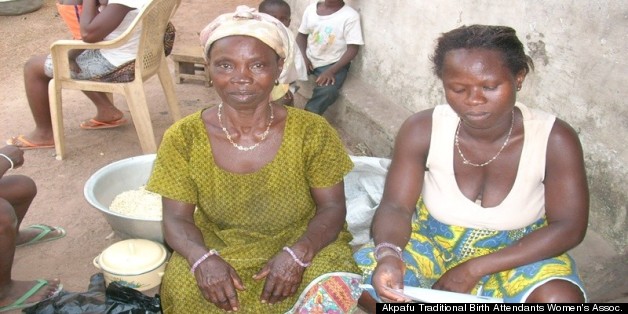 The still night was pierced by a shrill cry; people rushed out of their homes to see what was happening. Sadly, a 24-year-old woman had died giving birth to her first child.
I grew up with these cries in the Akpafu mountainous region of Ghana. The district I call home spans about 870 miles and is comprised of 171 villages with a population of over 260,000 people. There are only 15 qualified midwives here.
We need a change:
It is impossible for these few trained midwives to reach every mother, so communities rely on Traditional Birth Attendants (TBAs) for maternal healthcare. They practice in almost every village and deliver about 56 percent of babies born.
TBAs are often the preferred choice because their services are cheaper and they know the local customs and language. They are sometimes the only ones providing basic health care, support and advice during and after childbirth, even though they may perpetuate local misconceptions surrounding pregnancy, such as the dangers of contraception, dietary restrictions for pregnant women and the harmful effects of prenatal care.
After I became a registered nurse and midwife, I realized that the cries that haunted my memory could have been avoided had TBAs received proper education and training. I saw first hand that while TBAs and their traditional knowledge is extremely valuable, if it is not supplemented, their clients would end up collecting death certificates instead of birth certificates.
Traditional birth attendants in the Akpafu region of Ghana.
So, when the Ghanaian government dubbed our high maternal and infant mortality rate a "national menace," I knew I had to do something. Thus, Akpafu Traditional Birth Attendants Women's Association (ATBAWA) was born.
Doing our part:
Since we started our work, things have changed for the better. In partnership with the Ghana Health Service, we have trained over 140 practicing TBAs in 70 communities to administer safe pre and post-natal care, and serve on Malaria and diarrhea prevention teams.
Never stop pushing for human rights:
ATBAWA's success is in part because our partners like Global Fund for Women and Johnson & Johnson give us the support we need to ensure our human right to safe pregnancies and deliveries. Even though we've made progress, there are still about 680 untrained birth attendants practicing in our district
-- something that, with the proper resources, can be easily fixed.
This month, as many of my colleagues around the world celebrate motherhood, I work towards a future where all the mothers in my community have access to safe and healthy pregnancies -- a future free of the cries that once filled the homes of my neighbors.