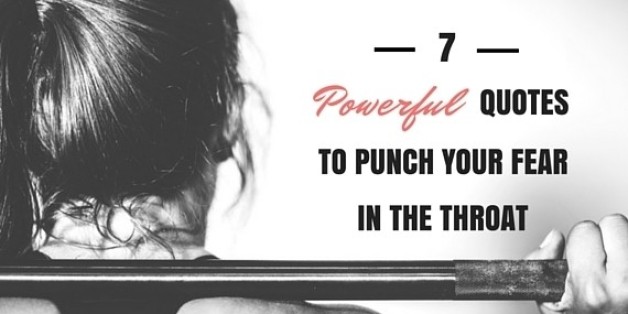 Fear is an interesting thing. It can motivate you. It can paralyze you. It can Drive. You. NUTS. It's slapped me around a time or two (or 20, but who's counting?). Even with the fear present, I've jumped into unchartered waters. Sometimes the fear was an afterthought while other times it was a massive weight. Yet there is something about doing things scared. It gets you closer to where you want to be and less concerned about the terrible "what-if" scenarios occupying your mind.
The reality is the presence of fear is normal. Whether you are currently sailing through this season or barely making it, these wise words will help you show fear that you mean business. Get to reading and punch your fear in the throat already!

Hard Work
Not to be overlooked...
"Dreams are lovely. But they are just dreams. Fleeting, ephemeral, pretty. But dreams do not come true just because you dream them. It's hard work that makes things happen. It's hard work that creates change."
-- Shonda Rhimes

"Everyone wants to win. But to truly succeed - whether it is at a sport or at your job or in life - you have to be willing to do the hard work, overcome the challenges, and make the sacrifices it takes to be the best at what you do."
-- Ronda Rousey, My Fight / Your Fight

Courage
Muster it up we must...
"Courage is the most important of all the virtues, because without courage you can't practice any other virtue consistently. You can practice any virtue erratically, but nothing consistently without courage."
-- Maya Angelou

"When I dare to be powerful, to use my strength in the service of my vision, then it becomes less and less important whether I am afraid."
-- Audre Lorde

Take Action
Yes. No? Um, yes boo. You've got to adult...
"Inaction breeds doubt and fear. Action breeds confidence and courage. If you want to conquer fear, don't sit at home and think about it. Go out and get busy."
-- Dale Carnegie, Dale Carnegie's Scrapbook: A Treasury Of The Wisdom Of The Ages
"You gain strength, courage, and confidence by every experience in which you really stop to look fear in the face. You must do the thing which you think you cannot do."
-- Eleanor Roosevelt
"Thinking will not overcome fear but action will."
-- W. Clement Stone

BONUS:
It was too hard to stop at 7...
"Often fear is the same emotion as excitement. It means you are breaking ground."
-- Anya Hindmarch
"The amateur believes he must first overcome his fear; then he can do his work. The professional knows that fear can never be overcome. He knows there is no such thing as a fearless warrior or a dread-free artist."
-- Steven Pressfield, The War of Art: Break Through the Blocks and Win Your Inner Creative Battles

"Panic at the thought of doing a thing is a challenge to do it."
-- Henry S. Haskins

What are you pressing though fear to do? It's okay, do it scared. Please share your thoughts and goals in the comments...
Follow Ashley Behnke on Instagram: @AshleyBehnkeDesign
Follow Ashley's blog: www.ashleybehnkedesign.com